Lexus NX200T vs BMW X1 xDrive25i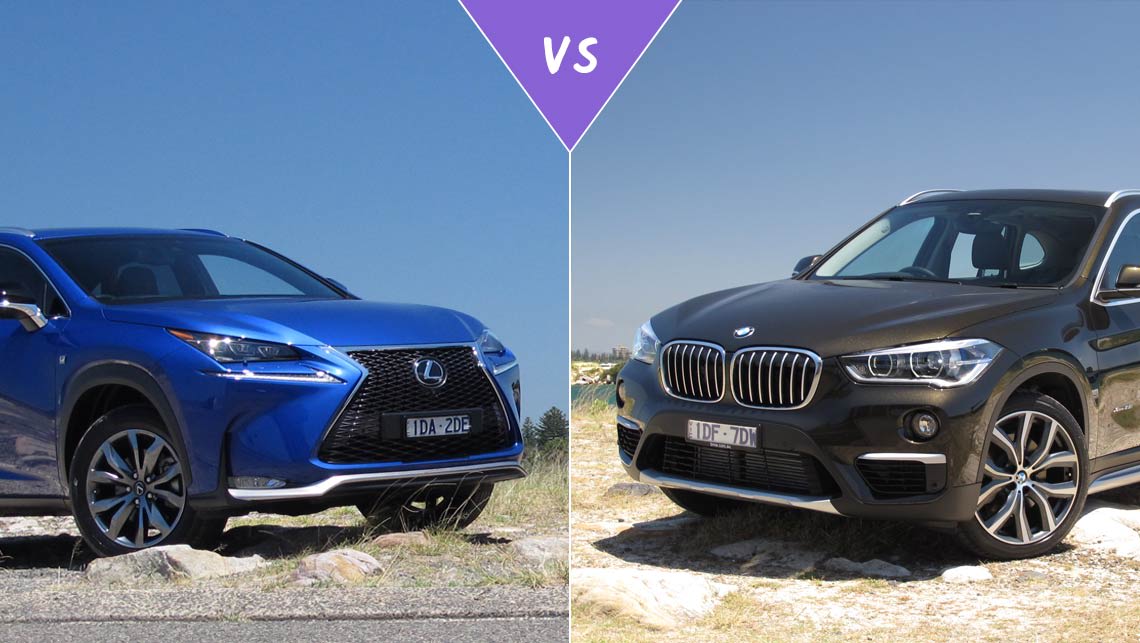 The compact prestige SUVs have 2.0-litre turbo petrol power, all-wheel-drive grip and a similar starting price. Joshua Dowling finds their points of difference.
The NX range starts at $52,500 plus on-roads but the model tested is the $63,127 all-wheel-drive F Sport. Options such as premium audio, collision warning, radar cruise control, lane departure warning, heads-up display, automatic high beam, sensor key, panorama roof and metallic paint blow the cost out to $72,127 plus on-roads.
BMW has turned the tables on Lexus when it comes to value. The latter built its reputation on loading cars to the hilt but the Germans have fought back. The X1 starts at $59,900 plus on-roads and comes standard with radar cruise control, forward collision warning for cars and pedestrians, automated parking, heads-up display, a larger navigation screen, sensor key and the usual mod-cons.
With its massive grille there's no mistaking the Lexus for anything else. Iit has a heavily creased body and a futuristic interior yet it's largely based on Toyota RAV4 underpinnings. It's roomy and functional but the Lexus cabin control setup is not as intuitive as other cars.
It's more conservative looking than the Lexus but BMW buyers prefer it this way, apparently. The large window area provides excellent visibility all around, and the cargo space is massive. There's more room for heads, shoulders, knees and toes in the BMW, too.
The 2.0-litre turbo petrol engine (175kW/350Nm) matched to a six-speed auto is a quiet and smooth operator, with strong urge across the rev range. But with an average fuel consumption rating of 7.9L/100km, it's not as economical as the BMW. As with the BMW, it insists on premium unleaded (95 octane minimum).
The BMW's 2.0-litre turbo petrol engine has almost identical outputs (170kW/350Nm), runs on premium unleaded and is a smooth operator with plenty of urge across the rev range. Matched to an eight-speed auto, it's extremely economical (6.6L/100km) as it gets off the line smoothly and quickly slips into the most efficient gear. However, we couldn't match this figure in the real world.
Eight airbags are standard and — a most unusual observation — Lexus has highlighted that the vehicle is equipped with seat belts! They've been compulsory in Australia since 1973. The optional "pre-crash" technology warns if you are about to crash and will hit the brakes if you don't in time. Lexus says the technology can reduce the severity of an accident.
Six airbags are standard (as are seat belts!) and it earns a five-star crash safety rating. Unlike the Lexus, there is no automatic emergency braking available, even as an option. But a rear-view camera and front and rear sensors are standard fare. And it will prime the brakes if it senses a collision but won't slam on the stoppers.
In our opinion, the NX is the least Lexus made by Lexus. That doesn't make it a bad car but it's not the same polished driving experience as the Lexus IS sedan — or other SUVs in this class. In theory, this F Sport model gets more sporty suspension. It's softer and quieter over bumps than the BMW but doesn't feel as sure-footed in bends.
The X1 hugs corners as you expect a BMW would, with sharp and accurate steering and minimal body roll in corners. It's among the reasons it could do with better seats. But the trade-off is that the tyres are noisy on most surfaces, and the suspension thumps loudly over bumps. Overall it's not as comfortable to drive as the Lexus.
The NX is not typically Lexus and the XI is all you'd expect from a BMW.