Honda CR-V vs Kia Sportage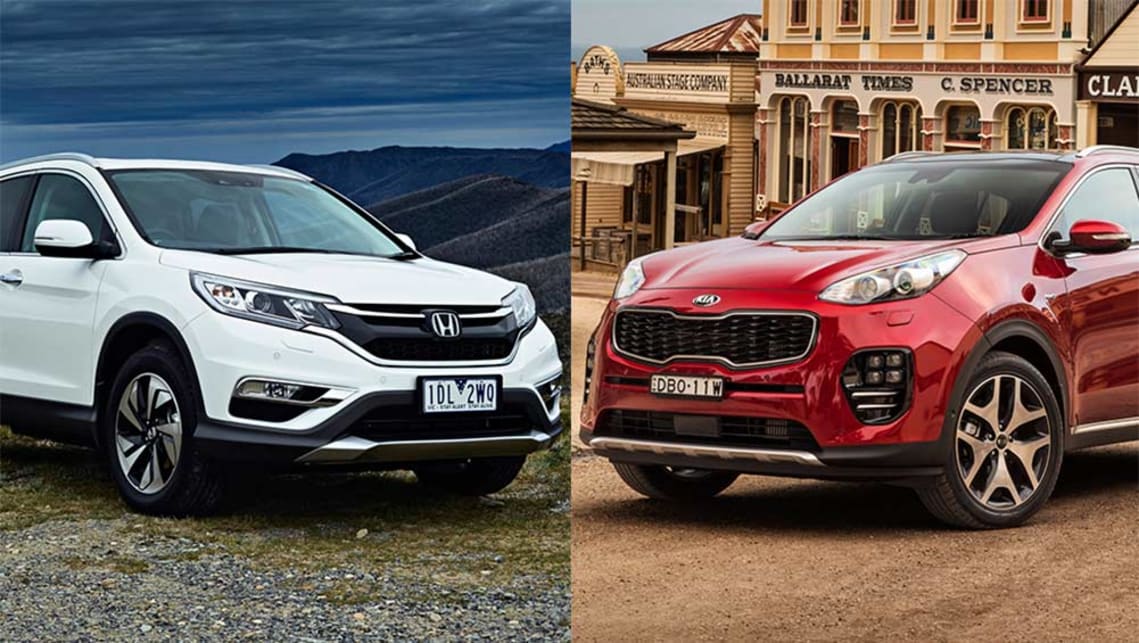 An established favourite takes on a rising star in the battle of the family-friendly softroaders. Chris Riley is the judge.
Honda CR-V VTi-L ADAS AWD
$45,790
All the creature comforts including leather trim, climate control aircon, satnav, sunroof and keyless entry with push-button start. Trouble is it costs $2000 more than the Kia. Service is a bit expensive too at $1952 for three years or 60,000km (that's with extras included and services every 6 months).
Kia Sportage AWD Platinum
$43,490
Gets more gear, with larger 19-inch wheels and sweeteners such as park assist, auto high beam, wireless phone charging, Android Auto (Apple CarPlay is still under negotiation) and power tailgate that opens when you stand next to it. Warranty is seven years and service is cheaper at $1152 for three years/45,000km.
Honda CR-V VTi-L ADAS AWD
Current model was launched 2011, facelifted early last year and a completely new one is coming next year. Because of this sales have slipped but it remains a solid, well rounded package that has plenty to appeal, including comfortable seats, Siri voice control for iPhone, one of the largest boots in the segment and Honda's "magic" seating — the rears fold flat at a single touch.
Kia Sportage AWD Platinum
Slightly shorter than CR-V but with a longer wheelbase. A blunter nose gives the latest model a stronger road presence. Feels more luxurious than its predecessor, with a redesigned dash. Touchscreen is one of the easiest to use and navigate but you need a compatible phone and phone cover to exploit wireless charging. Rear knee and legroom are good but the boot could be larger.
Honda CR-V VTi-L ADAS AWD
Engine
The 2.4-litre 4-cyl direct-injection petrol engine (140kW/222Nm) matched to a five-speed auto falls short of the competition — particularly as Honda once had a diesel with nine-speeder. Claimed thirst is 8.7L/100km and we got 8.9L over 500km. Not bad for a vehicle of this size and style.Will tow 1500kg.
Kia Sportage AWD Platinum
Engine
Same size as the Honda. Delivers slightly less power but more torque at 135kW/237Nm. It's the torque advantage that counts. It's hooked up to a six-speed auto giving it a better spread of ratios and there is four-wheel drive on demand. Fuel consumption is about the same — the claim is 8.5L/100km and we were getting 9.3L after 400km. Can tow 1600kg.
Honda CR-V VTi-L ADAS AWD
Awarded five stars in crash testing, despite a risk of lower leg injury for the driver. ADAS pack includes the latest driver aids including auto braking, blind spot alert and lane departure warning. Also has front and rear sensors, camera view when merging left and reversing camera.
Kia Sportage AWD Platinum
Comes with all the latest driver aids including forward collision warning with autonomous emergency braking, as well as blind spot and lane departure warnings, reversing camera plus front and rear sensors. Gets five stars from ANCAP. Points deducted for a marginal result for lower leg protection.
Honda CR-V VTi-L ADAS AWD
Smooth ride, sits nicely on the road and is easy to steer. There's nothing special in terms of performance but it's still very liveable. The main touchscreen can be temperamental and difficult to operate on the run but the new, more detailed reversing camera makes it easier to reverse park. Dash changes colour to warn when you're driving with a lead foot. Four-wheel drive kicks in when wheel slip detected.
Kia Sportage AWD Platinum
Feels smoother and more responsive than the CR-V, with three drive modes to choose from: standard, eco for economy and sport for a more dynamic drive. Ride quality is noticeably better thanks to many hours of local suspension tuning. Also provides a digital speedo, speed limit reminder and warnings for cameras and school zones.
Honda CR-V VTi-L ADAS AWD
Kia Sportage AWD Platinum