Honda Civic vs Mazda 3 2016 review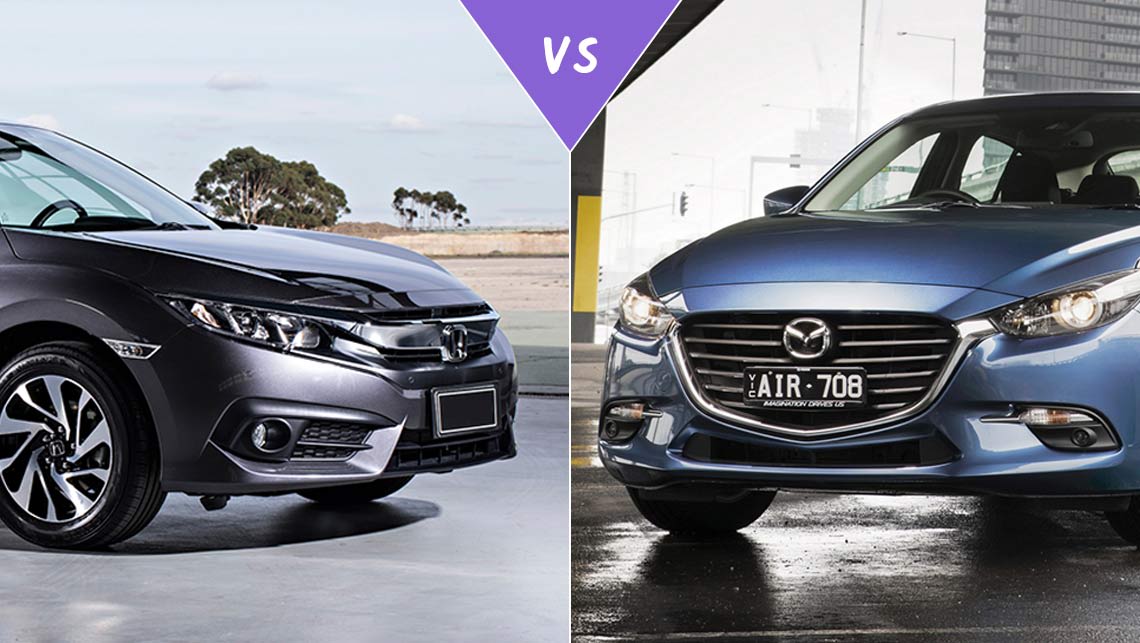 Small-car staple models play leap-frog in styling and tech terms. Richard Blackburn is the judge.
A $400 advantage over the Mazda but doesn't get integrated satnav or the Maxx's driver assistance systems. It will mirror your smartphone menu on the centre screen. Other comforts include digital radio, front and rear parking sensors, push-button start and reversing camera. Servicing is $1193 over three years, with intervals at 10,000km. Warranty is average at three years/100,000km.
Fog lights, leather wrapped steering wheel and gear knob, paddle-shifters and digital radio are standard. The aircon can't be set to a temperature, though. It lacks front sensors and electric park brake. Built-in satnav is more reliable in remote areas than Google Maps. Standard safety package is much better. Servicing is $1367 for three years, including filters/fluids. Warranty is three years/unlimited km.
Modern looking instrument panel and touchscreen integrated into the dash make the Mazda look dated and underdone. The displays are clear and precise and the digital speedo is handy. At night, the Honda lights up like a space ship. The cabin is more spacious, with better legroom, more rear shoulder-room, bigger boot and ample storage space. Add quality materials and classy finishes.
Looks old-fashioned despite a recent update. Lacks a digital speedo and the instrument readouts pall against the Honda. There's a manual handbrake and storage space is tight. Materials and finishes are high quality. Dial-operated menu for the centre screen is easier to use and less distracting on the move than the Honda. Attention to detail falls away in the rear, where hard plastics dominate.
The 1.8-litre four-cylinder is adequate rather than inspiring. It's slightly thirstier than the Mazda, using a claimed 6.4L/100km compared to the Mazda's 5.7L despite being down on power (104kW to 114kW) and torque (174Nm to 200Nm). Put that down to the Mazda killing the engine at the lights; the Honda doesn't. The continuously variable transmission makes the most of the modest power, though, keeping the engine in its sweet spot — if a tad noisily.
The engine has enough oomph to match most competitors and uses less fuel thanks to its stop-start fuel-saving feature. The six-speed auto, with paddle-shifters for changing gears manually, is less obtrusive in the cabin than the Honda's CVT and allows you to hold on to lower gears for more drive out of corners.
Apart from the reversing camera, six airbags and the "LaneWatch" blind spot camera (which monitors only the passenger side of the car), it's light-on for driver assistance gadgets. It has seat belt reminders for all five seats. Hasn't been crash-tested yet but the previous model scored five stars.
Comprehensive safety package includes automatic emergency braking and blind spot monitoring. It will even slam on the brakes if it spots something or someone in your path when you're reversing. The driver assistance is backed up by six airbags and a five-star crash result where it scored 36.4/37.
Comfortable and competent on the road. The steering is a highlight; it feels sharp, well-weighted and accurate. The car also soaks up road imperfections better than most small cars, although it can feel a little floaty over bigger bumps. It lacks Mazda's sporty feel but corners with confidence and is above average for the class.
A midlife update brings "G-vectoring control" — new technology aimed at making cornering more precise by adjusting engine torque as the car approaches a bend. It's hard to pick the difference but Mazda says it requires less steering correction by the driver. The Mazda3 was always great to drive and still is. Comfier ride and noise suppression improvements are more noticeable — owners complain about road noise but this example was no noisier than the Honda.
The Honda will win the showroom showdown with its more modern, spacious cabin but the Mazda is more fun to drive, with a better engine and more safety gear.