Holden Barina vs Toyota Yaris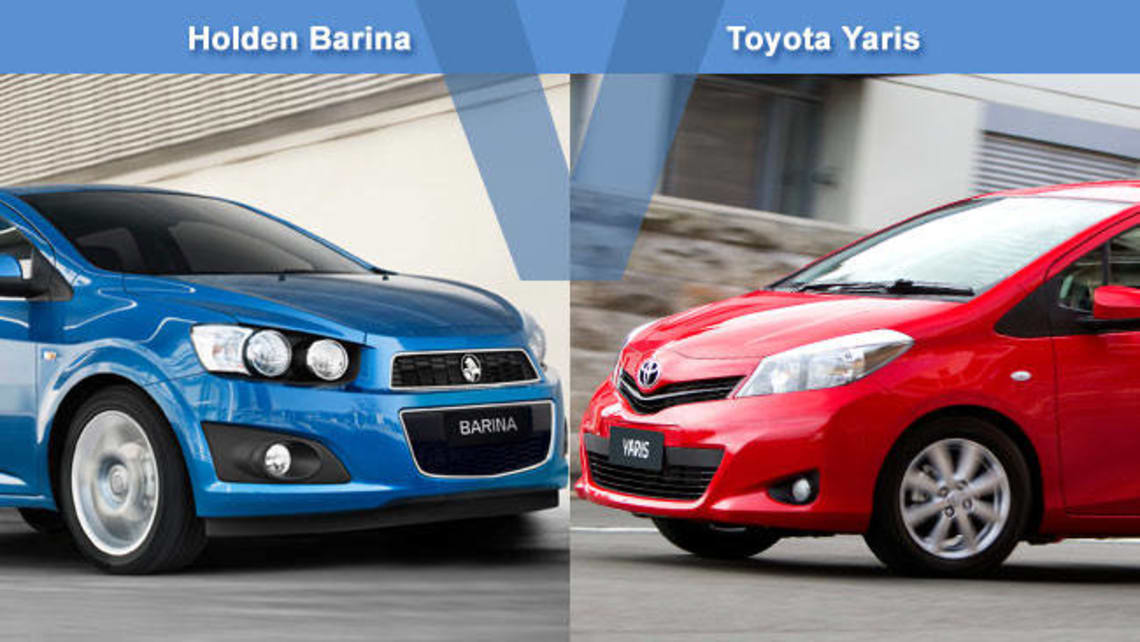 Holden Barina and Toyota Yaris go head-to-head in this comparative review.
Holden Barina
from $15,990
At $15,990 plus on-road costs for the base model manual, the Holden Barina is one of the cheapest among the full-size city cars. Be sure to twist an arm, though, some dealers have been selling the manual Barina CD for $15,990 drive-away with the recent Holden bonuses. Holden has a special offer each month so be sure to ask the dealer about the latest promotion.
At $15,690 plus on-road costs the base model manual Toyota Yaris five-door undercuts the Holden Barina by a few hundred dollars – but this price only buys the 1.3-litre YR version, not the gutsier 1.5-litre YRS model. Aim for about $15,990 drive-away – with some haggling you should get close to this, but you may not be eligible for Toyota's low interest rate offers at this price.
Former Holden designers based in South Korea and North America were involved in the Barina's styling and layout, and ample storage areas. It might look small but it has one of the roomiest interiors in its class. It's a shame the plastics look cheap and are hard to the touch, and some of the black plastics (near the rear door handles, for example) scuff easily.
The Yaris was styled in Toyota studios in Europe and Japan and has attempted to take on a more masculine appearance for the latest model. The interior plastics have a high quality feel – but the overt shapes and mismatched textures are in the love-it or hate it category. Sadly, the Yaris has taken a few steps back with this model: no digital speedo, no full-size spare, no adjustable rear seat, no more hidden cubbies.
Holden Barina
Hidden Costs
Metallic paint is $550 and only two colours are exempt from this charge (white and red). Holden's capped price servicing deal is middle of the road compared to the industry average – the charges are $185 for each of the first four services. But it runs out at 60,000km (when the expensive services start) and requires a dealer visit every nine months (not 12 as offered by most other brands). Total: $740 for three years' servicing.
Toyota's online pricing calculator says metallic paint adds $400 to the cost of the Yaris, but a dealer quoted us $350 over the phone. Either way, it's at the cheaper end of the spectrum. Toyota's individual servicing costs seem cheap at $130 per visit. But you must return to the dealer every six months (not 12 as per most brands) and capped price servicing runs out at 60,000km – just when the expensive maintenance starts to kick-in. Total servicing cost over three years: $780.
Six airbags, five-star safety and good road-holding. The Barina is about 150kg heavier than its peers because it has a bigger body, designed to meet US crash standards – which includes simulating a full-size pick-up ramming into the side.
The Yaris uses seven airbags (the extra one is for knee protection near the steering column) to achieve its five-star rating. Stability control is standard (it's now compulsory on all new cars) but the Yaris system is not as refined – and, in a slalom test, isn't as sure-footed – as the Holden Barina.
The 1.6-litre four-cylinder engine is smooth and refined but uses more fuel than its peers because the car is a little heavier. The automatic transmission was criticised when this car was released a year ago (it shifted too early, or inconsistently) but Holden has done a new calibration for the 2013 model.
Toyota has cut some corners with the new generation Yaris. It lacks some handy features its predecessor had, and doesn't feel quite as nice to drive. Toyota's proven reliability and resale value will be rated highly by most buyers but the reality is the Yaris is not as good as it could be – or the competition.
The Toyota Yaris may be a top-seller largely driven by fleet sales, but private buyers would be wise to take the updated 2013 Holden Barina for a test drive before they sign on the dotted line.