Commodore SSV Redline vs FG X Ford Falcon XR8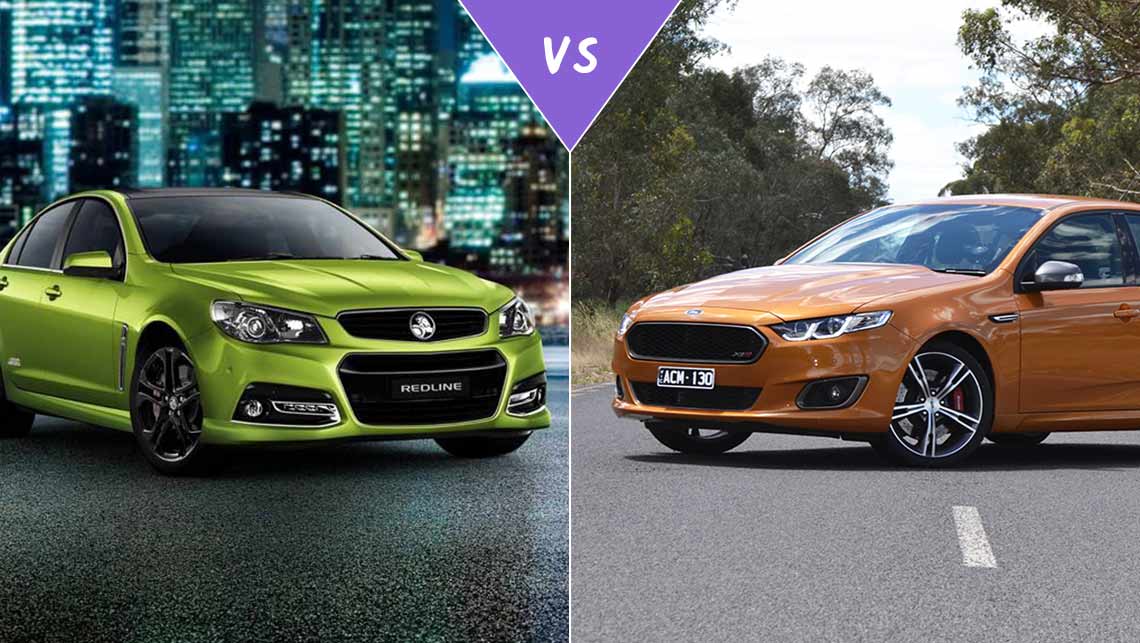 Priced identically and with big-bore V8s, the Holden and Falcon bear the makers' standards as the genre comes to an end.
Commodore SS V Redline
$52,490
You can get a Commodore SS for $42,990, which is great value considering there is a 6.0-litre V8 in the nose. However, that is the price for the base model. The SS V Redline tested here is at the top of the Commodore range. It gets all the luxury items available, as well as upgrades to the suspension, and wears the same Brembo front brakes as the XR8.
FG X Ford Falcon XR8
$52,490
At $52,490, nothing else comes close in terms of bang for your bucks. The supercharged V8 officially makes 335kW but peaks at 375kW most of the time (though not in first gear). It gets all the suspension components and wider wheels (nine-inch) from the previous FPV GT R-SPEC, which cost $76,990 just last year. Luxury gear includes leather seats, satnav and big touchscreen, but lacks some of the latest tech such as head-up display and blind spot warning.
The VE was an absolute cracker of a design but the VF that replaces it is busier and less aggressive - Holden designers had to shape the SS Commodore with the US market in mind. However, the SS is still an imposing presence on the road. Changes for VF II are limited to wheels and some extra items, such as the black roof on the white car (which also has black wheels).
The XR8 has been heavily influenced by Ford in Detroit, and the new look is very similar to the new Mustang and FusionMondeo twins. The W-shaped LED daytime running lights look very mean. Some people like the big hungry mouth grille. No exciting colours because Ford Australia could only use the 'global' palette. Interior is a bit drab.
The engine in the SS hasn't changed since it was introduced all the way back in 2006. It is a 6.0-litre Chevrolet-sourced V8, which can shut off four cylinders to save fuel when coasting. It produces 270kW with a six-speed manual and 260kW with a six-speed automatic. SS V Redline gets self-parking and the very cool head-up display.
The most exciting tech is under that bulbous bonnet, although other cool gear includes a new multimedia setup and touchscreen. FPV developed the 5.0-litre supercharged V8, codenamed Miami, for $36 million for introduction in GT models in 2010. It uses a six-speed manual or six-speed ZF auto (there are no paddle-shifters).
It has six airbags, stability control and a five-star ANCAP safety rating. There are a reversing camera and lane departure and blind spot warnings. The SS V Redline also detects an imminent collision, warns the driver and prepares the brakes and safety gear.
It has six airbags, stability control, reversing camera and gets a five-star ANCAP safety rating. The 'Sync' multimedia system can call for help should you crash, as long as there is a mobile phone signal.
The SS is great fun. It is a fast Australian muscle car, which handles well and has loads of space for the family. It is fun to rev out the big V8, which gets the job done without a turbo or supercharger (fuel efficiency figure is 11.8L/100km).
This is what Australian muscle cars are all about. It's heavy on fuel (13.6L/100km) but is a snorting beast with performance to match some cars that cost twice as much. Some aspects are dated but it's such fun, chances are you just won't care.
Both are great Aussie muscle cars but - for sheer bang for your bucks - the SS V gets blown away by the supercharged XR8.