BMW 328i vs Mercedes-Benz C250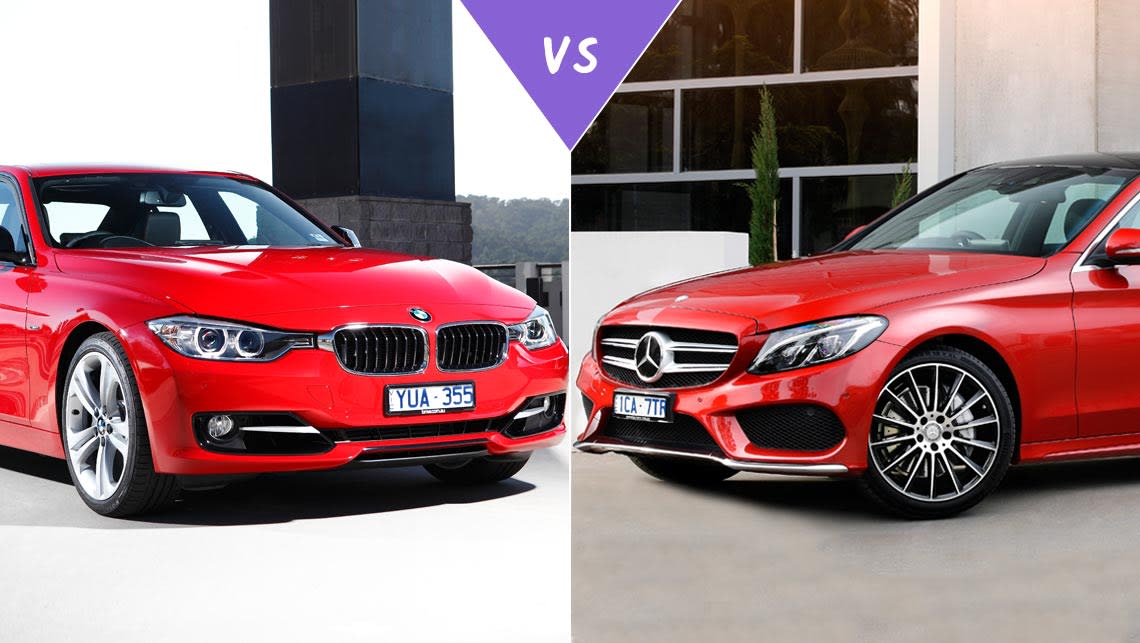 BMW 328i High-line Sport
from $69,400
BMW hits Benz head-on thanks to the High-Line range, with plenty of features to reflect the prestige badge. The 328i is a good buy though the 320i is a lot cheaper (nearly $5K) and almost as satisfying. Leather, satnav, nine-speaker audio and an extensive safety kit are alluring. No capped-price service and resale is 57 per cent, same as the Mercedes.
Mercedes-Benz C250 Avangarde
from $68,900
No prize for picking there's a price/feature war between Merc and BMW. The winner is you. New C-Class is a gem and counters the well-equipped 328i. Similar equipment - satnav, high-end audio, leather and so on - make the contest difficult, as does the same servicing position and three-year resale value. You could also buy the C200 and save $8K.
Some heavy-handed designs predate this 3 Series but the latest redeems past indiscretions. It's neat, roomy (for four), has a decent 480L boot (a match for the Merc) and a subdued but highly effective dashboard. Good use of materials - leather and gloss trim - raises the ambience. Best of all, it looks expensive.
Mercedes-Benz C250 Avangarde
Looks a tad like the previous model until you put them alongside each other. New model is an absolute ripper, pinching style lines from the bigger E and S-Class range to boost its prestige. Cabin is far simpler than before though right-side gear shifter needs familiarisation. Boot is 480 litres.
Turbocharged four-cylinder 2.0-litre petrol engines are becoming popular. This one (180kW/350Nm) delivers pleasing performance - 0-100km/h in 5.9secs and reasonable thirst, 6.3L/100km on 95 RON. Eight-speed auto is as smooth as single malt and rear drive enhances handling. Run-flat tyres so there's no spare (ditto Merc). Welcome features include head-up instrument display.
Mercedes-Benz C250 Avangarde
As with BMW, Merc finds economy and performance in a turbo petrol four. The 2.0's outputs are decent (155kW/350Nm), its 0-100km/h sprint takes 6.6secs and it averages 6.0L/100km. The seven-speed automatic sends power to the rear wheels. All physical dimensions are within a whisker of the BMW. Wheels are odd-sized (narrower tyres at the front).
Germans love their safety and all brands sport top-shelf features. This one gets a five-star rating with six airbags, tyre-pressure monitor, self-parking, lane-change warning with passive steering, surround camera with front and rear park sensors, collision warning with low-speed braking and bi-xenon headlights with auto-on function.
Mercedes-Benz C250 Avangarde
Top-shelf standards here with all the sophisticated stuff to match the BMW but adding LED headlights and daytime running lights, three more airbags (totalling nine) and blind-spot sensor. No spare wheel but there is a tyre-pressure monitor. Park sensors and rear camera make light work of parking.
Feels as dynamic as a sports car. The engine is sparkling in its response - though still a bit harsh - and the eight cogs slide up and down with seamless ease. It's quick but more impressive is the handling and the sense that it's on rails. But it's tailored more for the sporty driver and could be a bit more comfortable.
Mercedes-Benz C250 Avangarde
I felt more cramped behind the wheel of this compared with the BMW. But the Merc is still comfortable, with a more compliant ride than its rival. The engine is also a bit harsher than one would expect, though under way it's willing and smooth. Having one fewer cog in the gearbox makes no difference to performance, though the less-stressed engine isn't as perky.
Mercedes-Benz C250 Avangarde
Difficult to split the features, abilities and value of these two. It comes down to what you want - comfort (Benz) over sportiness (BMW). Comfort wins.