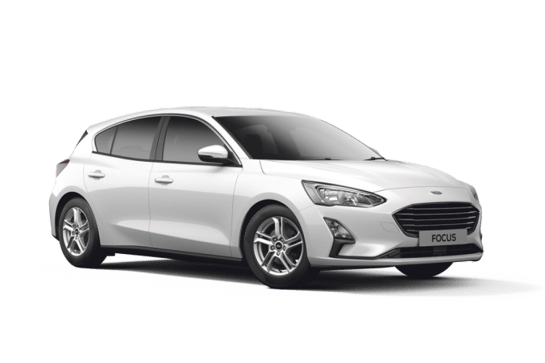 COMPARE
Ford Focus
VS
Toyota Camry
Ford Focus
Likes
Refined styling
Roomy interior
Advanced safety equipment
Dislikes
Blind spot warning standard only on Titanium
Auto transmission can seem indecisive
No manual gearbox
---
Summary
Ford Focus
Ford has just released its new-generation Ford Focus. Do you know what that means? It means we're at a monumental point in history that, while nobody will ever really remember it, could impact you greatly.
Because like the automotive equivalent of planetary alignment, we are reaching a moment when Toyota, Mazda, Hyundai and Ford will have all brought their latest-gen small cars to market at about the same time.
Okay, you may not find that exciting. But it means you've now got the most current technology, styling and safety features to choose from right across the board, with Ford the latest to throw everything it's got at its new small-car contender.
This new Ford Focus has a three-cylinder engine, so does it have enough power to get out of its own way, then? How may ANCAP stars did it get in its crash test? And are there any surprises in store?
All that and more as we take you through the launch of the 2019 Ford Focus, where we tested the hatch in the Trend and ST-Line grades, and the new wagon, too.
| | |
| --- | --- |
| Safety rating | |
| Engine Type | 1.5L turbo |
| Fuel Type | Regular Unleaded Petrol |
| Fuel Efficiency | 5.8L/100km |
| Seating | 5 seats |
---
Toyota Camry
I've got a line of Camry jokes that stretches to Mars and back, and I'm not alone. Heck, even Akio Toyoda sledged his own company's products when he famously delcared it would produce "no more boring cars". To be fair, the company is still struggling with that promise.
The new version has, sadly, knocked some of the stuffing out of my established Camry repartee. Until today, I had not yet had a go in the new car,  and thus it was something of a shock to realise that it doesn't even look terrible any more.
My cruel colleagues, however, muttered darkly that this was still a Camry, just not as we've always known it. 
Hmmm. I'm getting too old to deal with change. This Camry Ascent Sport Hybrid had better be boring.
| | |
| --- | --- |
| Safety rating | |
| Engine Type | 2.5L |
| Fuel Type | Hybrid with Premium Unleaded |
| Fuel Efficiency | 4.2L/100km |
| Seating | 5 seats |
Verdict
Ford Focus
8/10
Different but more refined looks, a smaller but powerful-for-its-size engine, plenty of advanced safety equipment and more room than ever before, the new Ford Focus is much better than the model before it. And it has to be – the competition is fierce.
The sweet spot in the range is the ST-Line hatch with its long list of standard features, comfortable ride and impressive handling.
Is the new Focus a car to take on the might of Hyundai and Toyota? Tell us what you think in the comments section below.
---
Toyota Camry
7.4/10
It's a pity families don't buy sedans any more, because this is a terrific family car, particularly if you're not bothered by badge cache or speed, but do like an easy-to-drive, cheap-to-run car. Just a few years ago it would have been almost laughable to contemplate a car this big, for this money, being so cheap to own and run.
I'm also really annoyed that my hackneyed Camry jokes are no longer just not funny, they're not funny because they're not (as) true. No, it's not a super-fun excitement machine, but that's not the point. It is a very good car, with all the Toyota goodness of old, added warranty and the bonus of genuinely feeling good to drive. And you're a mild shade of enviro-green to go with it.
Is it true? Has the Camry shaken off most of its dowdy image?
Design
Ford Focus
8/10
This new-generation Focus is completely new, and that goes for its design, the structure of the vehicle and the platform that underpins it all.
That grille, though poutier than before, still makes this new car recognisable as a Focus, but the rest of the car's styling is a fairly big step away from the look of the previous model. The nose looks more elongated and turned down, and the headlights have an irregular shape (which somehow works) and they're helped to look more defined by the LED running lights that sit above each headlight like an eyebrow.
That front-end may take some getting used to, but I think most will like the rear exterior styling straight away. The hoisted-up style to the rear of the previous car is gone and the illusion is now a car which sits lower and level. I particularly like the Focus badging across the tailgate, too, which is reminiscent of Fords of the 1960s.
The car's profile has changed, too, with the window structure simplified. Previous versions of the car had rear quarter glass; a small porthole which looked into the boot. That's now been incorporated into the door glass, which means the rear passenger aperture is larger.
Inside, the cabin has been decluttered of its galaxy of buttons, and that busy interior has given way to a more minimalist design with many of the functions moved to the large dash-top screen. That said, the steering wheel still has way too many buttons for my liking or need.
Telling the grades apart may not be obvious at first, but the ST-Line car is recognisable thanks to the blacked-out grille, more aggressive bumper treatment with its air-blade style design around the fog lights, and its twin exhaust. The car itself sits 10mm lower on sport suspension.
You can pick a Titanium from the inside by its leather-accented seats, multi-colour ambient lighting and the B&O sound system speakers.
The ST-Line's seats are upholstered in a mesh-fibre material with leather accents and red-stitching, and there's a flat-bottomed steering wheel and metallic brake and accelerator pedals. The wagon version of the Focus only comes in the ST-Line grade, and it comes with roof rails and a cargo cover.
The Active grade is the most recognisable of the Focus family due its higher-riding stance and its plastic wheel-arch cladding. The Active suspension has it sitting 35mm higher than a Trend grade, and while that doesn't seem like much, the overall affect is quite dramatic, giving the Active a true SUV-like appearance.
There are nine colours to choose from, including Ruby Red, Orange Glow, Desert Island Blue, Blue Metallic, Shadow Black, Magnetic, Moondust Silver, Metropolis White and Frozen White.
At 4378mm end to end, the Focus hatch is 18mm longer than the previous model, while at 1454mm tall  it's 13mm shorter, and it's 1979mm wide including the wing mirrors.
---
Toyota Camry
Some key changes to the design approach on the new Camry means it's not as knock-kneed and simpering as the last, um, six or so generations.
To be fair, the previous one wasn't terrible but there are actual hints of mild bravery, with an angry front-end look, some interesting surface detailing and, even what might be called a "Lexus-lite" look for the rest of it.
The new Camry is lower, has big wheel arches that the 17s struggle to fill but it has some genuine style, rather than looking like the clay modellers knocked off before lunch. The dual exhaust seemed incongruous to me, but is, in fact, a styling win.
Jokes aside, I don't mind it at all. It's no Supra, but it's no mid-90s Camry, either. Yeah, I bet you don't remember which one I'm talking about, either.
I really like the cabin. The dash design is quite something and shows some real flair. William Chergowsky told me last year that this interior was going to be more emotional and memorable. And it really is, along with Toyota's impressive build quality. Even the volume knob feels substantial, the materials are nice but the steering wheel is... well, more of that later.
Practicality
Ford Focus
8/10
The new Focus is longer by about 18mm, but it's the wheelbase which has increased the most dramatically (by 52mm) and that means more space inside.
I'm 191cm tall and I can just sit behind my driving position without my knees touching the seatback – I wasn't able to do that in the previous Focus. Headroom is also great for me in the backseat.
The entire cabin feels roomy, actually. For this new model the dashboard was moved 100mm further forward, opening up more space in the cockpit. Even the gear shifter being a rotary dial has freed up room.
Storage throughout is pretty good, with a deep centre console bin covered by the armrest and a hidey-hole in front of the shifter, plus two cup holders and big bottle holders in the doors up front. The door pockets in the back are big, too, but there are no cupholders in the second row.
Boot space is for the hatch is 341 litres packed to the cargo cover with a space saver spare, while the wagon's cargo capacity is 575 litres. With the back row down, the hatch can fit 1320 litres and the wagon can do 1620 litres.
---
Toyota Camry
The new, stretched wheelbase has meant a lot more interior space for passengers, particularly in the rear. The Camry hasn't really been small for a very long time, but this one's generous rear legroom is probably why it's a smash-hit with the Uber crowd. The seats are comfortable too, if trimmed in what appears to be neoprene.
Front and rear passengers each have a pair of cupholders for a total of four, plus there's a deep central console bin and a space under the stereo for a phone. There's even a coin slot. Each door also has a bottle holder.
The boot in the Ascent Sport is a voluminous 524 litres - the Ascent has a full-size spare that swallows up 30 litres of that space. The seats fold down 60/40, but the cargo volume when they are down is not readily available.
Price and features
Ford Focus
8/10
Ford has priced its new Focus competitively compared to rivals like the Toyota Corolla, Hyundai i30 and Mazda 3, but its most affordable grade does kick off at a slightly higher level than the entry-level cars for those other brands.
That start point for the Focus hatch range is the Trend grade, with a list price of $25,990. Above it is the ST-Line, which is a sporty spec, for $28,990. And at the top of the hatch range is the $34,490 Titanium. There's also a wagon version of the Focus in the ST-Line grade for $30,990.
But wait, there's more. Ford is offering an SUV-style version of the Focus for the first time. It's called the Focus Active, and it'll cost $29,990. We'll cover the physical differences between it and the rest of range in the Design section below.
Coming standard on the Trend is an eight-inch display screen with sat nav, Ford's Sync3 voice activated media system, Apple CarPlay and Android Auto, digital radio, a six-speaker stereo, a Wi-Fi hot spot, single-zone climate control, rain-sensing wipers, a rotary-style gear shifter, LED running lights, paddle shifters, halogen headlights and 16-inch alloy wheels.
The mid-spec ST-Line takes the Trend's features and adds dual-zone climate control, wireless phone charging, floor mats, puddle lamps, privacy glass and 17-inch alloys wheels. There's also the sports suspension, which we'll cover in the Driving and Engine sections.
The top-of-the-range Titanium brings a B&O 10-speaker sound system, heated front seats, leather accented upholstery, roof rails and LED headlights.
---
Toyota Camry
The hybrid drivetrain is available on the Ascent, Ascent Sport and SL. I had the $31,990 Ascent Sport for the week.
It comes with 17-inch alloy wheels, a six-speaker stereo (with CD player!), dual-zone climate control, cloth trim, with space-saver spare wheel, electric driver's seat, auto LED headlights, keyless entry and start, sat nav, reversing camera, active cruise control, front and rear parking sensors, an impressive safety package, power mirrors and windows. Did I mention the CD player?
The six-speaker stereo is powered from the 8.0-inch touchscreen and the software is...um...not great. Which wouldn't matter if it had Android Auto and/or Apple CarPlay but Toyota Australia stubbornly refuses to include them. The damn Seppos get it in their Toyotas, so it's not like it's impossible. But our version does have a CD player. Hipsters rejoice!
Engine & trans
---
Toyota Camry
While the standard Camry packs the same 2.5-litre four-cylinder, the Hybrid's ICE output is slightly lower, at 131kW. When paired with a hybrid motor, the total power figure is a pretty decent 160kW, but the torque figure appears to be unaffected, at 202Nm. Toyota doesn't quote combined torque figures, because it's tricky with the type of transmission it uses.
The front wheels are driven by Toyota's favoured e-CVT, with six artifical steps to make it feel like a proper auto, if you're feeling racy.
Fuel consumption
---
Toyota Camry
The Hybrid's windscreen sticker makes the bold claim of 4.2L/100km on the combined cycle, which is amazing for a big sedan. Reality isn't quite so amazing. In our week with the car, 5.7L/100km was the best I could get, but it was mostly city driving, the weather was really humid and, it turns out, this isn't a bad thing to drive, which means you're tempted to hit the throttle regularly.
As it's a typical Toyota hybrid, there isn't a plug to charge it, so you'll not be running on batteries the way you can in, say, a Hyundai Ioniq PHEV.
Driving
Ford Focus
8/10
The Active and Titanium grades weren't available to drive at the Australian launch of the Focus, but I did get to drive the ST-Line in hatch and wagon form, as well as the Trend hatch.
The ST-Line hatch is the sporty one in the Focus range, even though it has the same 1.5-litre, three-cylinder turbo-petrol engine as the Trend (and the Titanium). What makes it sporty is its sports suspension. Does it work? Absolutely, although I didn't realise just how well until I drove the Trend hatch after steering its ST-Line brother for a few hours first.
Three-cylinder engines tend to have a satisfying little burble to their exhaust notes, but the ST-Line hatch I started in had a particularly deep growl to it at idle. While the ST-Line does have a dual exhaust, the engine output is the same as any other Focus, and so the gravelly voice is more theatrics than suggesting the car is any more potent than a Trend.
What the ST-Line does do without any drama is handle well, because even though it has a torsion bar set-up in the rear (like the Trend), it also has a lowered ride height and a sports suspension tune. It's not Focus ST-level of agility by any means, but the ST-Line hatch felt nicely pinned down in the bends, with excellent steering feel and accuracy ensuring it is a genuinely fun car to drive.
 
What I didn't know until I drove the Trend hatch is that the firmer sports suspension actually gives a more comfortable ride in the ST-Line than the base-grade car. The Trend, like the Titanium, has softer suspension, which you'd think would offer the best ride, but I found that over the bumps and bruises of country roads, the Trend's ride was comfortable but bit bouncy, while the ST-Line was more composed and meant the occupants weren't jiggled around as much.
The award for the most comfortable ride and best handling of the three cars I drove goes to the ST-Line wagon with its sports-tuned multi-link rear suspension. Yup, the cargo hauler of the range was also the best to drive from a comfort and fun perspective, with its compliant suspension keeping life civilised inside the cabin over bumps, while also feeling planted in the switchback and hairpins that cut through country Victoria.
Shifting gears is an eight-speed automatic (you can't get a manual), but it's super keen to shift to a higher gear as early as possible, and when sitting at about 100km/h on a motorway, it was indecisive about which gear it wanted to be in; go 104km/h and it shifted up, drop to 97km/h and it shifted down. Up, down, up, down, up... well, you get the idea.
When it came time to drive roads which went all bendy, the transmission still tried to take the fun out by shifting up and bogging the car down in lower revs. The solution was to leave the car in Sport mode, which instructs the gearbox to cling to lower gears for longer. I kept the Trend and ST-Lines in Sport mode most of the time I drove them – it didn't affect the ride (the cars suspension isn't adaptive), but the throttle response and shifting was perfect for all driving, whether I was flinging through the winding country roads or trundling through town centres.
All three – the Trend hatch, ST-Line Hatch and ST-Line wagon - performed well, with the ST-Line duo feeling like they were approaching or even matching Volkswagen Golf levels of agility and composure.
At no point did I feel that the three-cylinder was under powered - it's a surprisingly responsive and grunty engine.
---
Toyota Camry
All the Camry markers are here. It's easy to get in and out of and easy to get comfortable. The dash isn't too high and, uh, the steering wheel is plastic, which is genuinely disappointing. A Mazda6 (no, not a hybrid, I know) doesn't have a plastic steering wheel. The Toyota one is pretty cheap-feeling.
Pressing the start-stop button, you hear the electrics switching on and, if you're backing out of the drive, you won't hear the engine until you're on the gas driving away. You may not hear anything, but your passengers might hear your tutting. The brakes are very grabby when you're in stealth, I mean, electric mode, whether you're going forward or backwards. No doubt it's something you will become accustomed to, but it's there. Toyota hybrids seem to be behind the game on this particular score.
In every other way, the Camry is exactly as it has always been. Except it isn't. Toyota kept all the good things - it's smooth, it's quiet and it rides well. Everyone is comfortable and everything works. I've already mentioned it was stinking hot the week we had it and the Camry's air-conditioning was super-fast cold.
The bit that's different, though, is that, just like the styling, things are better. Camrys past had over-light steering, marshmallows for suspension and as much grip on the road as Kanye West has on reality. This one has body control. The steering feels good. There is actual grip and you feel like you're driving the car rather than just steering it around.
Safety
Ford Focus
8/10
The Focus scored the maximum five-star ANCAP rating when it was tested in 2018. Standard across the range are seven airbags, AEB with pedestrian and cyclist detection, and lane keeping assistance and traffic sign recognition - the latter of which can read speed limits for you.
The Titanium comes standard with a lane-centre system, which I tested and found it works seriously well – drift out of your lane and the system rapidly yanks you back in again. Only the Titanium comes with blind spot warning, which is odd considering the impressive advanced safety tech that's already standard across the range
Auto parking is optional only on the Titanium, and can be used for parallel or perpendicular parking. Also standard on all is a 180-degree split-view camera, but front parking sensors are only available to option on the Titanium – again, that's a bit odd.
A space-saver spare is found under the boot floor for all grades. For child seats, you'll find two ISOFIX points and three top tether mounts in the second row.
The new-generation Focus was developed in Europe and built in Germany.
---