The best seven-seat electric and hybrid cars in Australia

If you've sat down to search online for the best 7-seater electric car, chances are you fall into two categories: you've been tasked with ferrying a sports team, or perhaps a rock band about, or, more likely, you've got a family situation not far off that of NSW Premier Dominic Perrottet, and what you need is a plus-sized people-mover to accommodate your many, many children. 
You also sit in a separate category that contains people who want to do the right thing for the environment.
Currently, the Australian market has 7-seater cars in a variety of environmentally conscious flavours: all-electric and plug-in hybrid (both requiring you to, you guessed it, plug in to an external power source to charge the battery), plus self-charging hybrids, and even mild hybrids with electric motors installed to give the internal-combustion engine some extra back-up. 
Read more about electric and hybrid cars
Seven-seater cars are ideal for those who need a generous amount of cabin space, and the best way to find the right one for you, especially if you've got a big family, is to get the whole brood to the showroom to test the comfort and space of whatever model you've got your eye on in-person. No matter how good it looks on the brochure, you've got to get in and see if it's going to fit you, and yours.
Larger vehicles like seven-seaters are of course heavier, making them less fuel efficient and economical than smaller vehicles. 
This makes the emergence of EVs, plug-in hybrids and hybrids a blessing for families keen to save a buck, as they'll all save money on fuel costs - EVs in particular, since electricity costs are significantly below that of petrol or diesel fuel.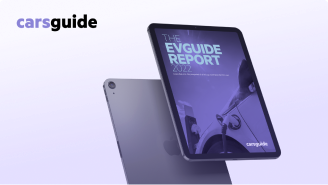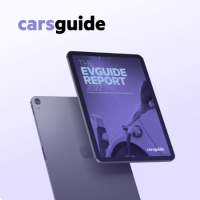 Download the EVGuide Report, 2022
Australia's one-stop snapshot of all things relating to electric cars.
Download for free
Below is a list of what's currently available in Australia, and what's coming soon, so you can find the best hybrid or electric 7-seater to suit your needs. 
Hyundai Santa Fe Hybrid

Price: TBC
Due in the first quarter of 2022, Hyundai's SUV rival to the Toyota Kluger is all-wheel drive (AWD) - unlike its petrol variant - and comes packing a 1.6-litre turbocharged four-cylinder petrol engine coupled with a 44.2kW electric motor, delivering a combined output of 169kW and 350Nm. A PHEV version is available overseas, but we won't be seeing it here any time soon. 
Kia Sorento PHEV

The Sorento PHEV is just one offering in a lineup which also includes HEV, petrol, and diesel.
Price: From $80,330, plus on-road costs
When the self-charging Kia Sorento Hybrid arrives in Australia in early 2022, it will give Kia the distinction of being the first car company in Australia to offer a petrol, diesel, PHEV and hybrid version of one of its models. Until then there's the excellent PHEV version, which packs a turbocharged, 1.6-litre four-cylinder petrol engine and an electric motor, the pair offering combined system outputs of 195kW and 350Nm.
Mercedes-Benz EQB

Price: TBC
Coming in 2022, this mid-size SUV from Mercedes-Benz's EQ electric sub-brand is based upon its current GLB series. Whether you're ferrying about humans or other cargo, there's plenty of room: the third row of seats folds down to create 465 litres of boot space; fold down the second row and that expands to 1620 litres. Expect to see it come with a 66.5kWh lithium-ion battery that offers a range of around 478km. Impressive. 
Mercedes EQS SUV

Price: TBC
Unlike the EQB, the EQS isn't based upon a pre-existing Mercedes-Benz model, and instead has been built new from the ground up. This top-of-the-line SUV is expected to be capable of a range of around 600km, and for those with a bit of extra coin in the back pocket, there'll also be an ultra-luxurious Mercedes-Maybach version of the EQS available. Expect to see both some time in 2022. 
Tesla Model X

Price: From $189,159, plus on-road costs
A new version of Tesla's 7-seater electric car, with a significant upgrade for the interior, is on its way to Australia in late 2022. Tesla further commits to its minimalist design approach with a rectangular, stalkless steering wheel, no indicator stalk and no gear selector. Instead, expect to find a horizontal 17.0-inch touchscreen in the front, an 8.0-inch touchscreen for rear occupants and a a 960W sound system with 22 speakers. Range is claimed to be a very impressive 580km. 
Toyota Kluger Hybrid 

Price: $54,150, plus on-road costs
One of Australia's most popular seven-seat AWD SUVs now comes as a hybrid, packing a 2.5-litre four-cylinder petrol engine coupled with three electric motors and an electric continuously variable automatic transmission (e-CVT). Those with young kids will be pleased to know there are three top-tether anchor points and two ISOFIX points in the second row.
Volvo XC90 Recharge PHEV

Price: From $118,990, plus on-road costs
The 2022 upgrade of the top-of-the-range XC90 from Volvo comes with an 18.8kWh lithium-ion battery pack that enables 68km of all-electric driving, and a 2.0-litre turbocharged and supercharged petrol engine. Outputs are 335kW and 709Nm, and the XC90 Recharge can go from zero to 100km/h in 5.4 seconds.