Subaru hybrid cars in Australia: Everything you need to know

Compared to other car companies, Japanese car manufacturer Subaru is a little late to the electric vehicle party, but its excuse would be that it was already attending a hybrid party instead, just down the street, where the cool kids were.  
Subaru's first mass-produced EV, the Subaru Solterra (perviously known as the Evoltis), will not arrive in Japan, the US, Canada, Europe and China until the first half of 2022. This is is a little surprising since it's been dipping its toe in the EV waters for almost two decades now.
Read more about Subaru's electric cars
The history of Subaru EVs and hybrids
Way back in 2003, Subaru unveiled the R1e concept vehicle at the Tokyo Motor Show; an electric microcar capable of a range of 80 kilometres and a top speed of 100km/h.
Designed with a 'flowing eggshell shape", the R1e was taken to prototype stage with the assistance of Tokyo Electric Power (TEPCO), yet despite receiving an award from the Ministry of the Environment in 2006 and Subaru planning to market the R1e as a city commuting car, it was never mass-produced, with TEPCO only using 40 models in commercial capacity.
By 2007 the R1e was already superseded by the Subaru G4e ("green for the Earth"), a lithium-ion-battery-powered EV with an improved range of 200km and the ability to be charged to 80 per cent capacity in as little as 15 minutes. 
Subaru unveiled the Stella EV in 2008, a kei car (a Japanese vehicle category for the smallest highway-legal passenger car) powered by a lithium-ion battery pack that allowed it a range of 90km. 
Sadly it, too, never made it to the mass-production stage.
Subaru's development of Subaru hybrid vehicles also dates back to 2003 with the excellently named Subaru B9 Scrambler, a two-seat convertible sports car powered by a 100kW electric motor that incorporated Subaru's history of aircraft into its design, with a front end made to look like the cross-section of an airliner. 
A number of other concept Subaru hybrid cars followed: the Subaru B5 TPH, 2009's Subaru Hybrid Tourer (a concept sport utility/grand touring vehicle with fancy gull-wing doors) and the Subaru VIZIV, a series that ran from 2013 to 2015 and included hybrid concept sports SUVs (since 2016, the VIZIV concept cars' hybrid powertrain has been dropped in favour of a petrol-powered engine and all-wheel drive). 

Subaru started getting a little more serious about developing EVs in 2018 when it joined a Toyota-led group featuring Suzuki Motor, Hino Motors and Daihatsu in an effort to pool resources and share research costs in regards to developing EV technology. 
As far as hybrids in the commercial market, Subaru sold the Crosstrek hybrid, featuring a self-charging battery, in the US between 2014 and 2017, and then a Crosstrek plug-in hybrid - based on Toyota's Prius Prime platform - that was only sold in California and parts of the East Coast, the vehicle only offering a piddling range of 27km. 
Subaru hybrid vehicles in Australia
Currently Subaru sells two hybrid models in Australia, each coming with Subaru's patented Boxer generation hybrid power unit - a combination of its Symmetrical All-Wheel Drive (AWD) and a Boxer engine. 
Subaru places its hybrids' electric motor near the vehicle's centre, while the battery and other components sit above the rear axle.
Subaru XV Hybrid L

Price: $35,490, plus on-road costs 
Coming with a 110kW/196Nm 2.0-litre four-cylinder boxer engine and a 12.3kW/66Nm electric motor, the XV Hybrid L is a compact SUV that still manages to pack a reasonable punch. A big selling point is the vehicle's safety features, including Subaru's EyeSight Driver Assist technology.
Subaru XV Hybrid S

Price: $40,790, plus on-road costs
The Hybrid S comes with everything that the Hybrid L does, but for an extra $5300 it also adds a raft of extras, including a whole lot more safety features (Blind Spot Monitor, Front View Monitor, High Beam Assist, Lane Change Assist, Rear Cross Traffic Alert and Reverse Automatic Braking among them), plus sunroof, satellite navigation, leather upholstery, heated front seats and more.
Subaru Forester Hybrid L and S

Price: $40,490, plus on road costs (Hybrid L), $46,490, plus on-road costs (Hybrid S)
Subaru's mid-size Forester Hybrid SUV comes in both L and S flavours, with fuel consumption of 6.7 litres per 100km (slightly higher than the XV Hybrid's 6.5 litres per 100km). The internal-combustion engine and electric motor specs are the same as the XV Hybrid, meaning you're mostly paying for the extra space that the Forester offers. 
The future of Subaru hybrid cars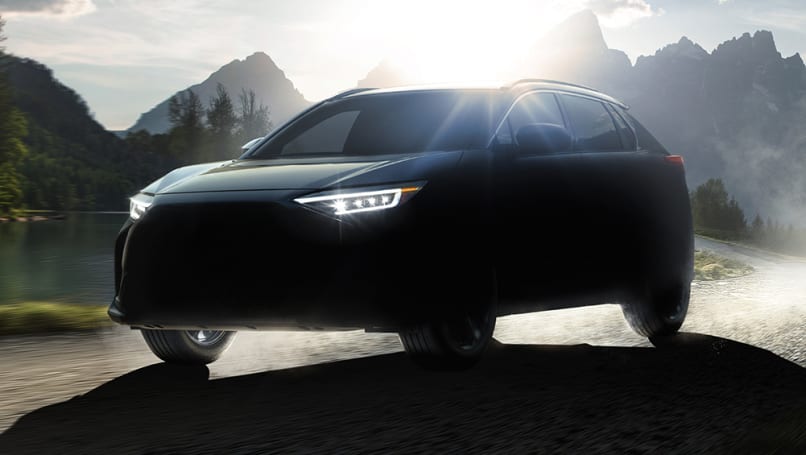 Although the Forester-sized Subaru Solterra, which shares the same platform as the Toyota bZ4X, will hit several international territories in the first half of 2022, no announcement has been made in regards to it being offered in Australia, yet. 
Subaru has also recently announced its desire to "accelerate environmental response by giving the Technology Development Department the task of supervising each function on the value axis and setting up a team to promote electrification," so expect more Subaru EVs and hybrids in the near future.