Used Volvo XC90 review: 2003-2012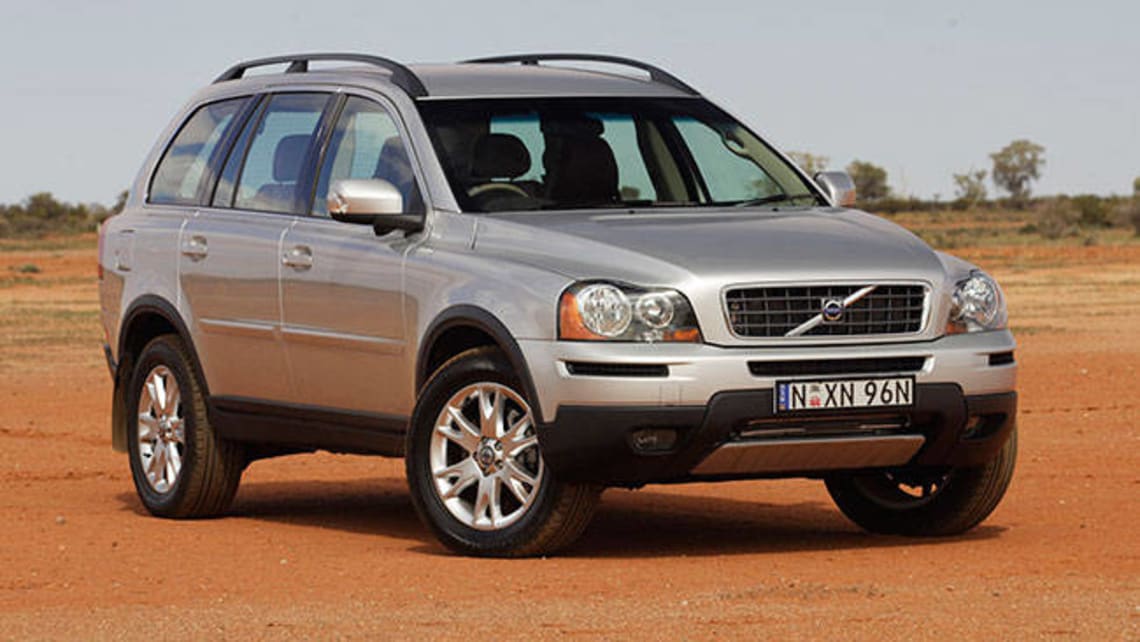 Ewan Kennedy road tests and reviews the used Volvo XC90 2002 - 2012.
What we like
Excellent 7 seat packaging
Volvo safety
Cheap used
What we don't
Volvo maintenance costs
Limited off-road potential
Petrol engines thirsty
What we like
Excellent 7 seat packaging
Volvo safety
Cheap used
What we don't
Volvo maintenance costs
Limited off-road potential
Petrol engines thirsty
The Volvo XC90 is more of a people mover than true sports utility vehicle (SUV). Which makes a lot of sense these days because very few SUV buyers fall into the 'I dream of crossing the Simpson Desert one day' category.
As it's aimed at the family there's a big emphasis on space and comfort inside the large Swedish wagon. The cabin sits well forward thanks to the use of a transversely mounted engine instead of the longitudinal units used by most large SUVs; thus increasing interior length in the Volvo.
Volvo assures us there are no fewer than 64 seating/luggage combinations. The centre seat in the second row can be moved forward until it almost touches the two front seats. This brings a young child within easy reach of the two front occupants. The seat even has a built-in child seat that can be set up in a few seconds.
With the exception of the driver's, all seats can be folded flat. Making it suitable for carrying long items such as ladders and surfboards. The rear-seat squabs slide under the rear luggage area to minimise the space they take up when the seats are folded down. The only disadvantage of the cab-forward layout is that the front wheelarch intrudes into the front passenger's footwell, making it rather narrow.
A practical feature of the body design is large areas of plastic protection strips, just the thing for reducing damage caused in shopping centre carparks. Or even when you squeeze through narrow bush trails if you're one of the few who take a Volvo XC90 to explore the Aussie bush.
Though the design of the Volvo XC90 goes all the way back to 2002 (2003 in Australia) it has stood the tests of time extremely well and is right up to date in appearance and practicality. Power is normally taken only to the front wheels, with the rear wheels coming into play if the fronts begin to lose traction. An off-road 4WD it's not, but the big Volvo XC90 wagon can be taken fair distances from sealed surfaces if driven sensibly.
On sealed roads the ride is good while the steering and suspension work well. The XC90 isn't the most nimble of vehicles, but it hangs on well in corners and you are protected by electronic traction controls. This includes a program that helps resist vehicle rollover. Power was originally provided by a choice between two petrol engines – one a five-cylinder 2.5-litre turbocharged unit, the other a twin-turbo straight-six of 3.0 litres. 
In October 2006, Volvo introduced a fascinating 4.4-litre petrol V8 engine and a turbo-diesel with a capacity of 2.4 litres was introduced. In April 2007 the straight-six 3.0-litre engine was expanded to 3.2 litres. The larger engine has less power than the smaller, but the wider spread of torque makes up for this. The five-cylinder unit was discontinued at the end of that year.
Transmissions are all automatic, with four-speed and five-speed units in earlier models and six ratios from 2007 onwards. Volvo is long established in Australia with a dealer network that covers all metro areas as well as quite a few country centres.
Service, repair and parts costs for the XC90 are about average for a vehicle in this class and we have heard of no real complaints about the availability of spares. Check on insurance costs with several companies as there seems to be a bigger than average spread in premium charges.
WHAT TO LOOK FOR
Engine oil and filter changing is important on any turbocharged engine, check the service books. Ideally the work should have been done by an authorised Volvo dealer, but there are some high quality specialists who understand the vehicle well.
Automatic transmissions should be smooth and all but imperceptible on their changes at low throttle openings. Some shift feel at big openings is acceptable, but too much may indicate auto problems.
Listen for suspension noises, especially on rougher roads, there's no need to find a dirt road for this, many suburban roads in poor condition will show up any problems.
Look over the body for signs of damage or crash repairs. Check the interior, including the luggage area, for signs of hard use and damage.
Very few XC90s are ever taken off-road but if you do come across one with scratches on the lower bumper corners and the door sills it has probably been dabbling in the great Aussie bush.
CAR BUYING TIP
Always start a car inspection by doing a general walk around rather than diving straight into minute detail. This way you can eliminate the obvious duds in a minimum amount of time.
 
Pricing
| Year | Price From | Price To |
| --- | --- | --- |
| 2012 | $16,390 | $25,410 |
| 2011 | $13,750 | $23,650 |
| 2010 | $11,770 | $20,570 |
| 2009 | $8,910 | $17,710 |
| 2008 | $7,480 | $15,510 |
| 2007 | $6,380 | $13,530 |
| 2006 | $6,490 | $11,110 |
| 2005 | $6,050 | $9,680 |
| 2004 | $6,050 | $9,130 |
| 2003 | $6,050 | $9,130 |
Pricing Guides
$7,590
Based on third party pricing data
Pricing Guide
$2,500
Lowest price, based on 32 car listings in the last 6 months
View cars for sale
Similar Cars
BMW X5

Audi Q7

Volkswagen Touareg

Toyota Land Cruiser