Toyota Prius i-Tech 2009 review
They won't all be bearing the Prius nameplate – a Hybrid Camry is on the way, and will start rolling out of Toyota's Altona plant in Victoria next year.
But the Prius — the world's first mass-produced petrol-electric hybrid vehicle — continues to do well here, with 9,300 Australian sales in 2009 showing sales are still improving year on year, and providing a solid base for the third generation Prius due here in July.
Drivetrain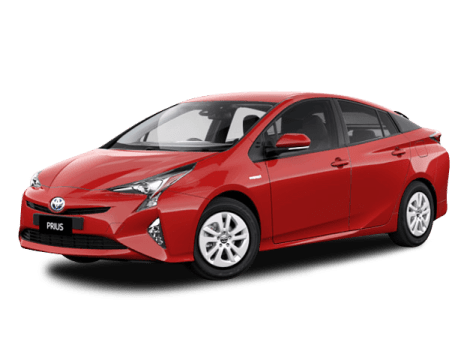 Explore the 2009 Toyota Prius range
As we all (should) know by now, the Prius uses what Toyota calls Hybrid Synergy Drive technology which utilises the benefits of its petrol engine and electric motor for optimum efficiency. The petrol engine is used for power in the high speed range and the electric motor uses its spontaneous high torque from rest.
The petrol engine cuts out when the car is stationary, or under low-demand conditions like downhill driving and coasting. A regenerative system also captures energy from the brakes and stores it as battery charge. The Prius – and the Camry that will follow it – can drive for short distances on electric power alone, and the four cylinder DOHC petrol engine alone creates 57kW at 5000rpm and 115Nm at 4000rpm. Maximum output for the hybrid system adds another 25kW to 82kW.
An electronically controlled continuously variable transmission gets power to the front wheels.
Toyota claims that using the recommended 91 RON unleaded fuel will result in an impressive 4.4l/100kms.
Exterior
The Prius bob-tailed body has become something of a signature shape – and that has been a handy marketing ploy for Toyota in spreading and raising the profile of the car. So they've never mucked around with that, and this soon-to-be superceded second generation was merely dressed with body coloured bumpers and multi-reflector headlights, plus 15 inch alloys, a rear spoiler and a rear bumper skirt to give it a sporty touch.
Interior
Inside, the Prius is minimalist and mildly space-age, with a centrally positioned digital speedo and distinct lack of clutter. Otherwise there isn't too much that sets it apart from other mid-range models in the Toyota line-up, with a tilt adjustable multi-function power steering wheel, power windows and mirrors and cruise control standard on the Prius. Map pockets, door pockets a decent centre console and cup and sunglass holders give it ample room to stow away travel nick knacks.
Safety
Earning itself a five-star ANCAP crash test rating, the Prius safety feature list is impressive and includes a comprehensive airbag package, ABS, electronic brakeforce distribution, brake assist and traction control.
Pricing
The second generation Toyota Prius is priced from $37,400. The Prius i-Tech which adds a six-stacker stereo, leather seats and wheel, Bluetooth, a satnav and vehicle stability control costs $46,900.
Driving
The Toyota Prius is an important car. It effectively kick started the whole hybrid/green sector for motor vehicles. Now 12 years old, the Prius was launched in 1997 in Japan and has effectively been the only mass-produced Hybrid up until last year.
It is also possibly the only example of a significant technology that has not had its roots on the race track. It goes against the old adage that what you see on the tracks this year you will see on the streets next. This year sees the reverse with the introduction of KERS or Hybrid technology to formula One.
Driving a Prius can be both fun and frustrating. The silent take-off is still novel. The Energy Monitor screen, if you leave it on, will make you either drive conservatively or annoy the hell out of you if you are accelerating up a hill. It just shows you how much you are draining the battery and the tank.
The driving experience is not too different to any other medium size Japanese car. It is extremely competent and whines under acceleration. It is simply a good car with excellent packaging.
It is just too expensive….. And very boring to look at. I can't wait for the Tesla.
Summary – good, ground-breaking, important. I just don't want one
Pricing Guides
$13,415
Based on 20 cars listed for sale in the last 6 months
Pricing Guide
$6,500
Lowest price, based on 5 car listings in the last 6 months
View cars for sale