Used Toyota Camry review: 2006-2011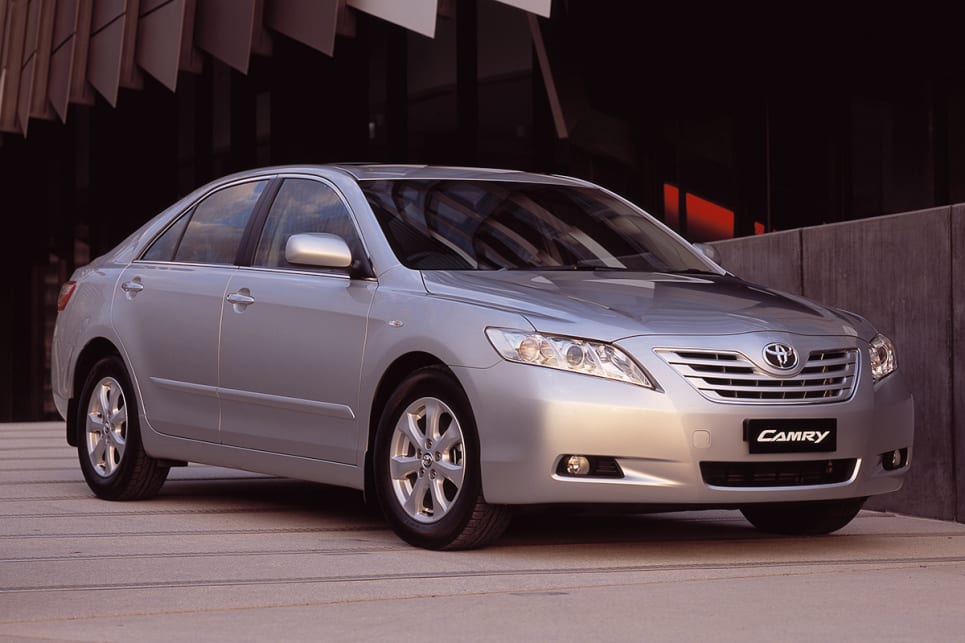 The market was in a state of transition in 2006 when Toyota released this locally produced Camry; buyers were shifting away from the traditional big sixes and seeking out more fuel-efficient models.
The market was in a state of transition in 2006 when Toyota released this locally produced Camry; buyers were shifting away from the traditional big sixes and seeking out more fuel-efficient models to combat spiraling fuel prices.
Although it was slightly smaller than the Falcon and Commodore it was competing with, the Camry promised a family-sized package with four-cylinder economy.
In pursuit of even lower fuel consumption and emissions Toyota went high-tech and introduced a petrol/electric hybrid version in late 2009.

2006 Toyota Camry (overseas model shown)
Models
With five seats in a spacious cabin the Camry was aimed at the family, but unlike its main rivals in the race for the family dollar, it was front-wheel drive, was only available as a four-door sedan, and the only engine on offer was a four-cylinder petrol engine.
The new model was a trifle longer than its predecessor, it rolled on a longer wheelbase and a wider track, and to make it more appealing Toyota's local styling team had given it a cosmetic makeover.
Four models (consisting in ascending order of trim), the Altise, Atevo, Sportivo, and Grande made up the range at the launch in 2006. That was expanded in 2009 with the addition of a Hybrid, which came in standard and luxury versions.

2009 Camry Hyrbid.
Standard with the Altise was air conditioning (not climate control), four-speaker stereo sound with CD player and speed dependent volume, remote keyless central locking, cruise control, MP3 connectivity, electric driver's seat, multi-function steering wheel, tilt and reach steering column, power windows front and rear, power mirrors, remote releases for the boot and fuel filler, and cloth trim. Alloy wheels, a rear spoiler, and metallic paint were options.
Alloy wheels became a standard feature of the Atevo, but metallic paint was still on the options list, along with a sunroof.
Also on the Atevo's list of standard features were climate control air conditioning, six-speaker stereo sound, in-dash CD stacker, electric passenger seat, fog lamps, trip computer, and leather-look gear knob, handbrake lever and steering wheel.
The sporty Sportivo featured 17-inch alloy wheels, sports seats, pedals, instruments, suspension, strut braces front and rear, and automatic light sensitive headlamps. Leather trim and a sunroof were optional extras.
There were no optional extras on the Grande, it came with all the fruit, among them leather, woodgrain and metallic trim, rain sensing wipers, sat nav, map reading lamps, rear sunshade, and a sunroof.
It also had Bluetooth to allow for the synching of an Iphone or Android device.
Missing from the Camry were parking sensors, a reversing camera, and park assist.
When it joined the range in 2009, the Hybrid was similarly equipped to the Grande, but it also had a multi-function touch screen, cloth trim, proximity starter button, and regenerative braking.
Cabin
Inside, the Camry's cabin was airy, spacious, functional and modern.

2006 Camry Sportivo interior.
Front seat passengers were accommodated in much improved bucket seats that were both comfortable and supportive.
They enjoyed plenty of head and legroom; there was even good rear legroom.
It wasn't just the cabin that was spacious, the boot space was also generous at 504 litres, and that was with the full-size spare wheel in place. The Hybrid's boot was smaller.
The noise intrusion, including annoying road noise, was also noticeably reduced thanks in part to the use of new noise absorbent materials.
While the Camry's cabin was a quiet and serene place to be, the Hybrid was even quieter and more serene, particularly when the electric motor was doing the work.
The Altise had cup holders in the front, the other models also had cupholders in the rear, and there were a number of storage options for small items to be carried.
Engine
The engine powering the Altise, Atevo, Sportivo and Grande was a revised 2.4-litre four-cylinder petrol unit featuring variable valve timing.

2006 Toyota Camry Altise.
Its output peaked at 117 kW (or 157 horsepower) and 218 Nm of torque, which was modest considering it was being asked to haul around a full-sized sedan weighing in at around 1500kg
Compared to its six-cylinder rivals the Camry's performance was steady rather than spectacular.
Weight also had an impact on its fuel consumption, which at 8.9 - 9.9L/100 km combined was nothing to write home about.
The Camry Hybrid was an all-out attack on fuel consumption and exhaust emissions using a combination of a conventional 2.4-litre petrol engine and an electric motor.
It was mostly aimed at city use when the electric motor primarily provided the power, but both power sources came into play when more performance was needed.
Out on the highway it was the petrol engine that was doing most of the work, so the advantages of the Hybrid fell away in that environment.
A bank of batteries provided the power to drive the electric motor, and they were recharged by energy generated by the braking system (when braking).
Fuel consumption of the Hybrid was slashed to 6.0L/100km combined, as claimed by Toyota.
And with the instant peak torque of the Hybrid's electric motor available take-off was quite sharp.
The gearbox options were a five-speed manual gearbox or a conventional five-speed automatic transmission on all models except the Hybrid, which had a CVT auto.
Driving
With the suspension tuned for local conditions by Toyota's Australian engineers the Camry displayed reassuring road manners and coped well with potholes, speed humps and broken bitumen found around cities.

2006 Toyota Camry Grande.
Its driving dynamics were excellent, it went where it was pointed without fuss, and clung to the road with admirable grip.
Camrys with the petrol engine had a towing capacity of 1200kg when towing a trailer with brakes or 500kg when the trailer didn't have brakes, but Toyota didn't recommend towing with the Hybrid and didn't provide a towing capacity for it.
Safety
All models in the range were rated at four out of a maximum five stars by ANCAP.
Passive safety features on the base model Altise included front airbags for the driver and front seat passenger, front seat belt load limiters and pretensioners, and lap sash seat belts front and rear.
Active safety systems included ABS braking, Emergency Brake Assist (EBA), and Electronic Brakeforce Distribution (EBD).
For extra safety there was an optional 'Enhanced Safety Pack', which added front side and full-length curtain airbags.
The Atevo and Sportivo had all six airbags standard, and if you went to the top-of-the-range Grande you got the added active safety features of Electronic Stability Control (ESC) and traction control.
Rear lap sash seat belts allowed for the fitment of a baby car seat, but it was too early for ISOFIX child restraint location points (legal in Australia from 2014).
The Hybrid had the full safety kit.
Any common issues?
Toyota has built an enviable record for reliability over the many decades it has been selling cars here, and despite some hiccups with recalls in recent times, it is still highly regarded for its quality and dependability.
While many Camrys found their way into family ownership many were pressed into service in government and company fleets, and as rental cars.
It was government departments, local councils and a handful of environmentally conscious companies that mostly bought Hybrids.
When shopping for a used Camry be aware of the presence of these fleet and rental cars in the market, and avoid them unless they're a great deal.
While they might have been well serviced they will have been driven by a host of drivers, some of them ham-fisted and uncaring.
Owners of petrol-engined Camrys we surveyed were generally content with their cars. Those who did complain mostly criticised them for a lack of performance and disappointingly high fuel consumption.
Those who bought the Hybrid were high in their praise of its smoothness and low level of noise as well as its snappy performance and low fuel consumption.
The lifespan of the Hybrid's battery pack has long been the subject of debate. Toyota says it should last the life of the vehicle, whatever that might be.
For anyone buying a used one now it's something to keep in mind. The earliest of this generation of hybrid Camrys is now eight years old, so the prospect of having to replace a battery pack is a real one.
Toyota's recommended service interval for the Camry is 15,000km or 12 months, whichever comes first.
The four-cylinder petrol engine has a timing chain rather than a belt, which reduces the cost of servicing, and it should last the life of the car.
It was released before the introduction of capped-price servicing, but service costs are not generally excessive and most local mechanics are capable of doing it.
When new the Camry had a warranty of three years/100,000km, but with the latest of this model now six years old the warranty no longer applies.
Recalls affecting the Camry include one to check for a sticking driver's side power window master switch, and another for a possible crinkled fuel supply hose.
MORE: If anything crops up, you'll probably find it on our Toyota Camry problems page
Owners' views
Nicole Scott: I'm very happy with my Altise; it looks great, drives well, and the engine is quiet and responsive. My only complaint is the fuel consumption, which I thought would be lower than 10.5L/100km, which is what I get.
Jen Albert: The 2007 Altise looks okay, and it's comfortable, and has a large boot, but I find the blind spots awkward when changing lanes.
Robert Jason: My 2008 model hasn't given me any mechanical trouble at all, and I like it, but the dash is deteriorating, and it uses too much fuel.
Mitchell MacGregor: I found my Camry work car uncomfortable on long trips, hard to park, underpowered on the highway, and the fuel consumption was high.
Anthony Laven: The Toyota Camry Hybrid is the ultimate in technical simplicity and my 2010 model is a most delightful car in every respect. It provides the ultimate of smoothness no matter what the driving conditions, and accelerates well for a relatively large vehicle.
Christine Preston: My Hybrid is quiet and powerful, and I get 6.5L/100km on average. I haven't had any problems with it, and I get it serviced by my local mechanic
Alex Beamish: I've done 70,000km in my 2010 Hybrid without any trouble at all. It has plenty of space for the family, it's comfortable, and it's very fuel-efficient. The only negative thing is the small boot.
Verdict
Far from flashy, but good all-round reliable family transport.
Have you owned a Toyota Camry before? Tell us your experience in the comments below.
Pricing
| Year | Price From | Price To |
| --- | --- | --- |
| 2011 | $5,700 | $12,870 |
| 2010 | $5,100 | $12,100 |
| 2009 | $4,400 | $10,010 |
| 2008 | $4,000 | $9,130 |
| 2007 | $3,700 | $8,470 |
| 2006 | $3,400 | $8,910 |
Pricing guides
$6,999
Based on 119 cars listed for sale in the last 6 months
Range and Specs
| Vehicle | Specs | Price* | |
| --- | --- | --- | --- |
| Altise | 2.4L, ULP, 5 SP AUTO | $3,700 – 5,940 | 2006 Toyota Camry 2006 Altise Pricing and Specs |
| Altise Limited | 2.4L, ULP, 4 SP AUTO | $3,600 – 5,830 | 2006 Toyota Camry 2006 Altise Limited Pricing and Specs |
| Altise Sport | 3.0L, ULP, 4 SP AUTO | $4,400 – 7,040 | 2006 Toyota Camry 2006 Altise Sport Pricing and Specs |
| Ateva | 2.4L, ULP, 4 SP AUTO | $4,100 – 6,600 | 2006 Toyota Camry 2006 Ateva Pricing and Specs |
Pricing Guide
$2,990
Lowest price, based on 103 car listings in the last 6 months
View cars for sale
Similar Cars
Toyota RAV4

Mazda CX-5

Honda CR-V

Toyota Corolla

Disclaimer: The pricing information shown in the editorial content (Review Prices) is to be used as a guide only and is based on information provided to Carsguide Autotrader Media Solutions Pty Ltd (Carsguide) both by third party sources and the car manufacturer at the time of publication. The Review Prices were correct at the time of publication.  Carsguide does not warrant or represent that the information is accurate, reliable, complete, current or suitable for any particular purpose. You should not use or rely upon this information without conducting an independent assessment and valuation of the vehicle.