Toyota Camry 2012 review: road test
Goes to 2.5-litre, four cylinder engine
Six-speed auto transmission
New model called Atara in various grades
Hybrid model continues
Striking new interior
Sheds 35kg, has better fuel economy.
Toyota's new generation Camry continues with a petrol and hybrid powertrain line-up, this time with a larger capacity 2.5-litre four cylinder engine (Atkinson cycle on hybrid) as the motivator for its front wheel drive. The arrival of a new Camry also heralds a new Aurion V6 which isn't too far away.
Camry is a huge seller internationally and Toyota has a lot riding on the model. It has traditionally been a rather conservative four-door family sedan with broad acceptance, a formula that has been tweaked this time around to offer more emotional appeal thanks to the styling and also engine performance.
TECHNOLOGY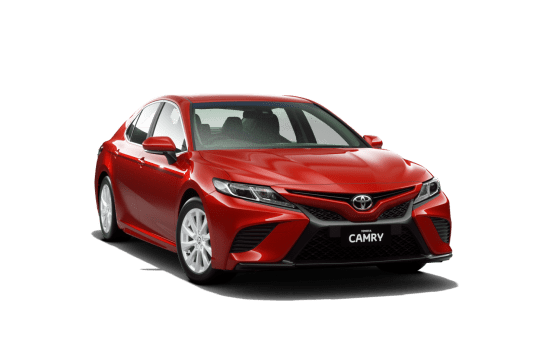 Explore the 2012 Toyota Camry range
Camry has shed 35kg through the use of high strength steel and optimised design which also makes it stronger. Better aerodynamics and energy saving (fuel and emissions reduction) measures extend to low rolling resistance tyres and other hidden stuff like a variable output oil pump.
The engine has been in US Camry for a few years and is designated 2AR featuring low friction, roller camshaft rockers and dual variable valve timing to generate around 135kW/235Nm, possibly a little more in Aussie spec'. It misses out on direct fuel injection.
A new model called Atara in 2.5S, 2.5SX and 2.5SL replace Ateva, Sportivo and Grande while base Camry Altise starts the ball rolling. The "S" models feature a large touch screen, Bluetooth (probably on all models), rear view camera and other goodies. Radar driven blind spot warning is a likely starter as is high beam assist.
Though not yet tested locally, new Camry should get a five star crash rating thanks in part to its seven air bags and stability control system.
DRIVING
A "sporty" Camry family sedan? Well, almost. It's definitely more engaging to drive and stands out from the crowd, particularly from the rear view. Toyota has taken every aspect of the car and improved it - fuel economy, smoothness and quietness, safety, handling and ride stability and interior quality.
It has stronger acceleration, particularly the hybrid model with maximum torque from its electric engine delivered from the get-go. Illustrating the new found urgency of Camry's performance is the hybrid model's 0-100kmh sprint in 8.4 seconds. The conventional petrol takes around 10 seconds. A six-speed auto is fitted to the petrol 2.5 while the hybrid gets a CVT continuously variable transmission.
We were able to sample the new generation NG Camry in US spec' a couple of months ago in Arizona and came away more impressed than we expected, particularly with the hybrid which will be manufactured here alongside the petrol four.
Exterior styling is a mix of evolution and revolution with the frontal area a refined version of the current model and the rear a totally new look. The side profile has an arcing coupe-like line to it and the car is quite handsome from all angles set off by side air intakes and well defined panel creases. The interior is where Toyota has made the biggest improvements lifting Camry from boring to striking with luxury European overtones to the dash and centre stack.
It's a roomy sedan for five with a large boot, even on the hybrid model which has its battery pack mounted more towards the middle of the vehicle. Naturally, Toyota Australia is in the process of localising Camry with its own suspension and (electric) steering tune among other things.
Along with the new look, expect more goodies inside, more room despite being roughly the same size externally as the current model and a quieter interior. All good...
CAMRY
WHAT DOES IT MEAN?
Camry: From the Japanese Kan-Muri, meaning "crown".
WHERE IS IT BUILT?
Camry and its four-cylinder engine are built at Toyota's Altona manufacturing plant in Melbourne, Victoria. Toyota directly employs 3,200 people in Victoria and more than 4,400 nationally.
HOW MANY?
Approximately 100,000 four-cylinder Camry sedans are produced at Altona each year. Approximately 70 per cent are exported, mainly to the Middle East. Camry has been produced in Australia since 1987.
HOW SUCCESSFUL?
Camry is now in its 18th year as Australia's best-selling mid-size car. It is also Australia's biggest automotive export earner, being shipped to more than 20 destinations.
BACKGROUND
Launched in the wake of the oil shocks of the late '70s, Camry has established itself as a true world car.
Planning for the Camry began in 1977, at a time when manufacturers globally were turning to smaller front-wheel-drive vehicles to overcome soaring fuel costs and stricter fuel efficiency regulations.
The emphasis of the program was on aerodynamics and lightweight materials.
Engine development focused on fuel efficiency, with engines built specially to drive the front wheels.
Around the world, Camry production has now passed 15 million units.
1983 – first generation (imported)
The Camry was introduced to Australia as an import in liftback guise in 1983.
It won several "best car" awards, including Modern Motor magazine's Car of the Year.
The car featured a new five-speed manual and ECT-equipped four-speed automatic transmissions with wide gear ratios.
The front-wheel-drive layout, without a transmission tunnel, allowed for a spacious interior.
Innovations in the first Camry included equal-length driveshaft arms, two-stage air conditioning and multi-adjustable seats.
That tradition of innovation continued throughout the life of the Camry and the brand is now synonymous with world-leading sophistication and quality.
1987 – second generation, but first locally produced Camry
It wasn't until the second-generation Camry that the car was built locally.
AMI-Toyota was the first Toyota subsidiary in the world to build the Camry and the local version incorporated extensive design changes – including three locally designed wagon variants.
The Australian-made Camry made its showroom debut in April 1987, replacing the locally built Corona.
With this generation, Toyota introduced a locally built twin-cam 2.0-litre 16-valve four-cylinder engine, followed in May 1988 by a new 2.5-litre quad-cam 24-valve V6. The engine was the world's first quad-cam V6 engine to feature in a mass production sedan.
This generation also saw the release of a station wagon to replace the hatchback.
Camry allowed Toyota to compete on equal footing with the other leading medium cars of the day – Mitsubishi's Magna, Holden's Camira and Nissan's Pintara.
The Australian-built car featured independent front and rear Macpherson-strut suspension, engine-speed-sensitive power steering and disc brakes front and rear. It brought a new level of sophistication and technology to the local market.
A revised Camry appeared in August 1989, incorporating local steering modifications that were to gain international acceptance within Toyota. An Australian team revised the steering valve and geometry to improve driver feel and response. The changes were later adopted for worldwide Camry production.
Toyota continued to push for quality improvements. It was determined that investment in a new plant was necessary to achieve further gains.
The proposal to build a new Camry plant at Altona was presented to Toyota Motor Corporation, which approved the plan to build a $420 million assembly plant at Altona.
1993 – third generation
In February 1993, the new wide-bodied Camry was launched publicly by Prime Minister Paul Keating, who described the car as "another quantum leap in the history of the Australian automotive industry".
Wheels magazine agreed and Camry came out on top in a comparison with Magna, Mazda 626 and Liberty. Camry was also the top-ranked local car in Wheels' annual quality survey and won the NRMA's gong for best medium car.
Camry grew up for this generation. It was larger in every dimension than the previous model, and became classified as "mid-size". The car was wider and longer than Cressida, with better performance, improved fuel economy, ABS and reduced NVH. It also had more local input into design and development. Built at a cost of $140 million, the range also featured a new brand name – the Vienta – for its V6 models.
Engines were now 2.2-litre four-cylinder units (producing almost as much power as the previous V6, but with four-cylinder economy), and 3.0-litre V6s.
That same year, Toyota began exporting the Camry to Thailand. By 1994, Altona exports were worth $160 million and the company announced that, by the year 2000, it aimed to export 30 per cent of its Altona Camry production. The year also saw Camry take over the mantle of Australia's best-selling medium car.
The last Camry to be built at Port Melbourne rolled off the production line in December 1994. Two weeks later, the Camry was being built at Altona. There was little difference between the Port Melbourne and Altona vehicles, except for a new water-borne, environmentally friendly paint process at Altona.
In 1996, Victorian Premier Jeff Kennett was on hand to send off the first shipment of Camrys to the Middle East.
1997 – fourth generation
A new range was launched in August 1997.
It was quieter, lighter and more powerful with better ride quality and improved handling.
With an additional 5cm in wheelbase, a lowered beltline and swept-back windscreen, the 1997 Camry's cabin was more spacious and inviting.
By this time, 40 per cent of Camry production was being shipped overseas to 24 destinations.
The line-up of four-cylinder Camry models consisted of the CSI, Conquest and CSX models, available as sedans or wagons. Camry V6 models consisted of CSI and Conquest.
Both of Camry's engines received power and torque increases.
In October 2000, a revised Camry range was launched with improved handling, higher feature levels, improved headlamps and reduced noise, vibration and harshness.
Two models were added to the Camry line-up - Touring Series wagon and top-of-the-range sports-luxury Azura sedan.
The Vienta V6 range was discontinued due to the launch of the Avalon sedan.
Pricing guides
$12,999
Based on 180 cars listed for sale in the last 6 months
Range and Specs
| Vehicle | Specs | Price* | |
| --- | --- | --- | --- |
| Altise | 2.4L, ULP, 5 SP AUTO | $6,000 – 9,350 | 2012 Toyota Camry 2012 Altise Pricing and Specs |
| Atara R SE | 2.5L, ULP, 6 SP AUTO | $6,300 – 9,790 | 2012 Toyota Camry 2012 Atara R SE Pricing and Specs |
| Atara S | 2.5L, ULP, 6 SP AUTO | $6,700 – 10,340 | 2012 Toyota Camry 2012 Atara S Pricing and Specs |
| Atara SL | 2.5L, ULP, 6 SP AUTO | $8,000 – 12,320 | 2012 Toyota Camry 2012 Atara SL Pricing and Specs |
Pricing Guide
$7,999
Lowest price, based on 170 car listings in the last 6 months
View cars for sale
Similar Cars
Toyota RAV4

Toyota Corolla

Honda Civic

Mazda 6