Porsche Panamera S Hybrid 2011 review
Sports cars made the Porsche name, but what made its fortune was an SUV and a sedan. The Cayenne offroader and the Panamera 'family car' have been two of the best decisions the brand has made. And they've kept remaking them with a continuing roll-out of variations. So, following in the trail of the five Panamera variants already here, and the diesel arriving in August, comes the hybrid version. Or two.
VALUE
You can knock $5300 off the $298,300 price by shelling out a mere $290 for the set of low rolling-resistance tyres that drop fuel consumption to 6.8L/100km -- bringing it in under the Luxury Car Tax 7L/100km discount barrier for a final price of $292,927.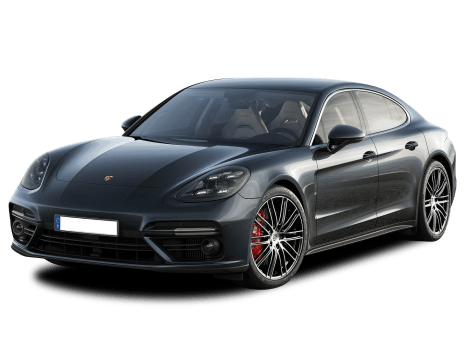 Explore the 2011 Porsche Panamera range
But with the standard wheels and tyres, the car's economy is still claimed to be a low 7.1L/100km – so if you want to show green cred but not give up speed or luxury, it's just as viable.
For that you also get a stack of luxury equipment, including the touchscreen 'comms' and Bose audio system, adaptive air suspension that adjusts ride firmness and height, dynamic cornering lights, bits of leather, 14-way power-adjustable heated front seats and two-zone climate-control airconditioning. But no spare tyre – there's a sealant kit instead.
TECHNOLOGY
The drivetrain is from the Cayenne S Hybrid: a 245kW/440Nm 3.0-litre petrol V6 supported by a 34kW/300Nm electric motor connected to a nickel metal hydride (NiMh) battery that stores energy captured while braking.
It's the first Panamera to get the Cayenne's 8-speed sequential auto, with gearchanges adapted to better suit hybrid driving and the top two gears set for reduced revs to help economy.
The fuel-saving story also includes a stop-start system and the separating clutch that at speeds up to 165km/h disengages the engine when you lift off the accelerator, allowing you to 'sail' (as Porsche calls it) without drawing on the fuel tank.
It gives an electric-only range of 2km on flat ground – not a great distance, but enough to make for a guilt-free run to the corner shop, thumbing your nose at cyclists and walkers along the way.
But the Panamera still has Porsche bloodlines under its greenish skin, so there are performance tricks like the boost mode triggered by accelerator kickdown, which combines the engine and electric motor's outputs and delivers a total 279kW and 580Nm for a brief few seconds. And it's no slouch at 6.0 seconds for 0-100km/h, with a top speed 270 km/h.
To bring the go back to whoa, there's a dual-circuit brake system with separate circuits for each axle, with six-piston anchors at the front and four-piston at the rear.
DESIGN
The Aston Martin Rapide and Maserati Quattroporte both succeeded in adding a couple of doors to a largely coupe design, and coming out stunners. Panamera… not so much. Its bulbous butt looks awkward attached to what is essentially a 911-themed nose. But it's form following function: in the Panamera's back seat you get usable space and comfort for two adults. In the Brit and Italian you get leg cramps.
SAFETY
It hasn't been crash-tested yet, but with a strong body and arsenal of safety features, it should rate the full five stars.
DRIVING
With our initial drive an economy challenge on the 'green' tyres, running the Panamera on the electric side was surprisingly pleasant. The changes as it switches from engine to battery are barely perceptible – although you notice when it changes back again – and the sailing mode is nearly seamless. Unless you have the 'E-power' mode activated to suppress the swap to engine, it tends to flick over there on the slightest accelerator input.
On an economy run, we managed to hit 6.9L/100km at one stage, and bring it in at 7.1L at the end of 90km. So the claimed fuel figures are achievable, but only if you keep constant watch on the instrument panel – and nobody wants to drive like that. Or at least, not in a Panamera.
The ride is firmer than you'd expect for a luxury sedan, but that isn't helped by the low rolling-resistance tyres, which clatter over patchy bitumen.
But while you're not going to push the car to track limits on that kind of rubber, they perform better than expected, holding on well enough for mildly enthusiastic driving even on a damp road.
What works against their fuel-saving is that the Panamera is so smooth that it's too easy to have the speed creep up without you noticing – which could be a danger to your wallet in other ways too.
Pricing Guides
$69,939
Based on 6 cars listed for sale in the last 6 months
Range and Specs
| Vehicle | Specs | Price* | |
| --- | --- | --- | --- |
| (base) | 3.6L, PULP, 7 SP AUTO | $52,800 – 60,720 | 2011 Porsche Panamera 2011 (base) Pricing and Specs |
| 4 | 3.6L, PULP, 7 SP AUTO | $55,990 – 64,350 | 2011 Porsche Panamera 2011 4 Pricing and Specs |
| 4S | 4.8L, PULP, 7 SP AUTO | $79,970 – 91,960 | 2011 Porsche Panamera 2011 4S Pricing and Specs |
| Diesel | 3.0L, Diesel, 8 SP AUTO | $53,350 – 61,380 | 2011 Porsche Panamera 2011 Diesel Pricing and Specs |
Pricing Guide
$63,880
Lowest price, based on 3 car listings in the last 6 months
View cars for sale
Similar Cars
Maserati Ghibli

BMW 5 Series

Audi A8

Jaguar XF