Roy and HG dubbed rugby league legend (and political enigma) Glenn Lazarus 'The brick with eyes', and it's not a bad take on the current Patrol's mammoth presence.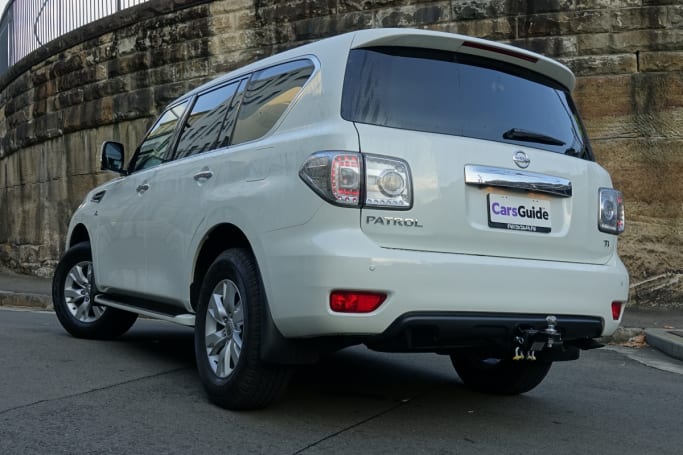 At more than 5.1-metres long, this is a substantial beast.
At more than 5.1-metres long, just under two-metres wide, and close to two-metres tall, this is a substantial beast. You've never seen 18-inch rims look so small.
Subtle bulges around the wheel arches and along the bonnet go some way to softening the large regions of only subtly contoured sheet metal. The front and rear bumpers are neatly integrated into the flow of the body, and the flashy, three-part chrome grille boldly announces the big Nissan's arrival.
The profile is bread-box geometric, with more bright metal finish on the window surrounds, door handles, front guard vents and proudly positioned V8 badges. At the back, the Patrol's upright stance is clear, with more chrome above the licence plate, and oddly intricate LED tail-lights that look like aftermarket specials from Tokyo's Akihabara electronics district.
Vast expanses of high-quality leather cover the faces of the classy and oh-so-comfortable seats, while a mix of gentle curves and arrow-straight borders define the dash and centre console.

It's worth noting Apple CarPlay and Android Auto are missing in action.
But then it's as if 'he of the tiny digits' choppered in and demanded custom touches, like yet more chrome around the console, instruments and key controls, as well as broad bands of high-gloss timber you'd swear was fake, but Nissan says is in fact "high-grade wood" trim.
But aesthetics is always a subjective call, and from a functional point of view the interior layout works beautifully. The switchgear is clean and simple, the multimedia interface is straightforward and intuitive and the ergonomics are thoughtful and considered.

Niggles include no digital dash and a steering wheel that won't adjust high enough.
That said, niggles include a steering wheel that just won't come up high enough (or a driver's seat that won't adjust low enough), the lack of a digital speedo read-out, multiple blanked-out switches at the base of the centre stack (not a good look), and an awkward, US-style pedal-operated parking brake. Curse you, middle America.