Nissan Dualis Hatch ST 2009 review
It will be one of your biggest secrets. The car that looks like an SUV - even hints at a 4WD - yet beneath its boxy, upright facade it has the off-road capabilities of roller skates. The Nissan Dualis Hatch looks exactly like its more dirt-friendly all-wheel drive sister, the Dualis AWD, yet is only a front-wheel drive.
It shares the 2.0-litre engine and transmission specifications, has the same dimensions including the 188mm ground clearance and yet will save you $4000 in purchase, a bit extra in fuel costs and 73kg in weight. The idea that something is missing beneath the seats is unlikely to occur to the driver and, considering about 90 per cent of SUVs never touch dirt, will never be missed.
The Dualis, itself based on the X-Trail, gets a front-drive version to compete with similar exercises including the Hyundai Tuscon City and Kia Sportage LX. It appears to be a no brainer until you recognise that in making a 2WD SUV, you are going head-to-head with conventional hatchbacks and wagons. It even exposes a rival in that very clever, yet a bit awkward, Skoda Roomster.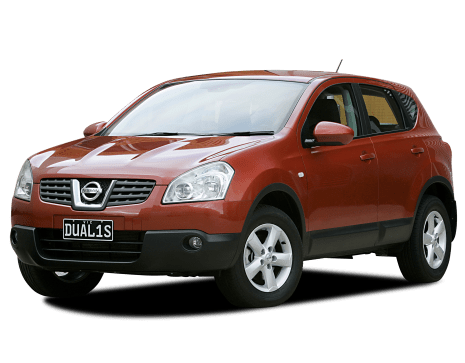 Explore the 2009 Nissan Dualis range
The Dualis Hatch comes in ST (as tested) and the more upmarket Ti guises and has appeal for people that want a small car footprint with flexible cargo space. The ST is a very simple hatchback that is modestly equipped and shows its entry-level pricing in its all-black plastic dash treatment. The CD player takes one disc, there are only two airbags and though the airconditioner is ducted to the glovebox, it isn't a climate-control system.
It will seat up to five adults — though if you were number five your smile would be short lived — with reasonable rear legroom. Though the rear seats are relatively comfortable, the front chairs are really comfortable — more like an armchair or one of those padded seats that endeared buyers to French cars.
The ride is also up there with some bigger cars. There's been excellent work in suppressing exterior sound and underbody road noise and that, together with the tall sixth ratio of the six-speed manual transmission, makes this a relaxed machine on the open road. A 2-litre engine is rarely inspiring though it has a broad power/torque band that suits the Dualis' primary role as a suburban family wagon.
It can be revved towards 6500rpm in the lower four gears but that's a waste of time and money. The smooth-shifting box is better used to upchange about 3000rpm where the engine is comfortable, quiet and fuel efficient.
Handling is reasonable. Remember this is a tall vehicle with most of its weight in the nose. It will tend to understeer when hurried and that will combine with bodyroll — mainly because of the car's height — to present some interesting dynamics. The all-wheel drive is slightly better because drive to all wheels can be provoked.
In saying that, the Dualis Hatch comes standard with electronic stability control and electronic brakeforce distribution, so there's help available from the car's nanny if needed. It's a neat package and has its appeal with buyers who may like the high seating position and, more importantly, owners who like the higher hip-point of the seats to ease entry and egress.
Those who are buying this just because they like the look of an SUV may be kidding themselves. By comparison, a Ford Focus LX hatch costs $700 less than the Dualis Hatch and adds alloy wheels, six airbags and at 7.1 litres/100km, is a lot more fuel efficient than the Dualis' 8.2 l/100km.
Pricing guides
$8,932
Based on 32 cars listed for sale in the last 6 months
Range and Specs
| Vehicle | Specs | Price* | |
| --- | --- | --- | --- |
| ST (4X2) | 2.0L, ULP, CVT AUTO | $5,900 – 11,490 | 2009 Nissan Dualis 2009 ST (4X2) Pricing and Specs |
| ST (4X4) | 2.0L, ULP, 6 SP MAN | $6,000 – 9,999 | 2009 Nissan Dualis 2009 ST (4X4) Pricing and Specs |
| Ti (4x2) | 2.0L, ULP, CVT AUTO | $8,950 – 10,000 | 2009 Nissan Dualis 2009 Ti (4x2) Pricing and Specs |
| Ti (4x4) | 2.0L, ULP, CVT AUTO | $5,989 – 12,990 | 2009 Nissan Dualis 2009 Ti (4x4) Pricing and Specs |
Pricing Guide
$5,989
Lowest price, based on 6 car listings in the last 6 months
View cars for sale