Chrysler 300 SRT8 Sedan 2012 review

The modern car that most closely resembles a classic gangster staff car comes from Chrysler. Its 300C, sold here from 2006, had the face and proportions of a 21st-century Capone-mobile. It offered something different to the Fords and Holdens made here and pinched some of their turf.
Back then it was a gnat-bite. Large sedans commanded 140,000 buyers a year in 2006 and the 300C sold a total of 7000 over five years.
Value
Now Chrysler is back with a new version and boss Clyde Campbell thinks it can do better this time. Two to three times better. "That segment (large sedans) hasn't received good press for 10 years,'' he says. "We think there's a way to make it work.''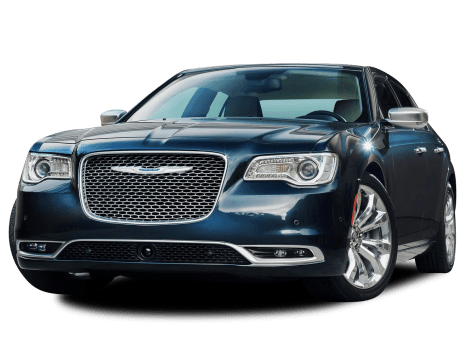 Explore the 2012 Chrysler 300 range
Campbell believes the 300 -- this time the "C'' denotes just one of three trim levels -- can do for the near-dormant Chrysler brand what the Grand Cherokee has done for Jeep, another member of the group. It's been selling its socks off.
The strategy is similar: load it up with gear and sell it at a super-aggressive price. The entry 300 gets a new 3.6-litre petrol V6 teamed with an eight-speed automatic -- unknown at this level -- for $43,000.
That's line ball with a Commodore SV6 and below a Falcon G6E. The flagship SRT8, with a 6.4-litre V8, big brakes and track pedigree, is $66,000. An HSV Clubsport with auto is $70,000 while an FPV Falcon GT is more than $71,000. On value they'll be hard-pressed to match the 300 because it's a lot of car for the money.
A great big gateau of a car, in fact, at more than 5m long and weighing about two tonnes. In top-spec SRT8 trim it gets 20-inch wheels, huge leather seats, heated or cooled everything, and a control screen IMAX would envy.
The sound system boasts no fewer than 19 speakers. Some kit, such as blind spot monitoring or forward collision alert, is not yet available on the locals. The base car misses out on leather, which feels essential in this car, but still gets park sensors, a reversing camera, power seats and auto lamps.
Technology
So there's a lot of icing on this cake but in engineering terms, it was baked the day before yesterday. The underpinnings were borrowed from Mercedes when Daimler was running Chrysler, and there are bits from the previous generation E-Class and an even older S-Class.
The five-speed transmission is also a vestige of that period and it remains the only option if you want the 3.0-litre diesel or V8, and both these engines are developments of the previous units. The parking brake is old-tech foot-operated.
The design has been refreshed and the cabin is a big lift in terms of material quality and sound insulation. However, interior space is modest for a car this size, with adequate rather than generous space in the rear.
The sunroof, if fitted, crimps head room in the front and the boot, at 462 litres, is smaller than the locals. Fit and finish is nothing special either.
The big V8, upgraded from the previous 6.1, sounds the part and has a thirst to match, with consumption of 13.0 litres per 100km on average. That's despite being able to shut down four pistons when cruising.
The V6s were sampled on a slightly drier road loop. The diesel is the economy champ, of course, at 7.1l/100km, and there's nothing equivalent in the Falcon-Commodore. It can sound coarse at idle but it's quiet on the move, with ample torque to lug the 300.
However, the 3.6 petrol would be my pick out of the two V6s; with its strong mid-range it can handle the car's mass and has a great soundtrack. It also has the advantage of a very smooth eight-speed automatic and on 20-inch wheels achieves 9.7l/100km economy, which at least puts it in the same ball park as the locals.
Design
The hoodlum in me warmed to the menace of the original's exterior design; this one just looks odd. Today's gangsters have moved on. Anyone who has seen a television series such as The Wire knows their preferred wheels are enormous SUVs with tinted windows and chrome rims.
Crims are just like the rest of us -- they've switched out of large sedans. The exterior design has lost its clarity. Its chin protrudes and the headlights have become generic. The SRT8 has a clumsy spoiler extension to the boot lid.
Driving
Phillip Island racetrack was the launch venue for the SRT8, which struggled to apply its 347kW in wet and slippery conditions. Any wayward throttle brought the stability control into play and I was tiptoeing through corners.
The SRT8's lowered performance suspension and track tuning failed to disguise its weight. This is not something you want to push around a rainy Phillip Island. It would have been a different beast in the dry.
Chrysler believes sub-5.0 second 0-100km/h times are possible when the sun shines. I recorded 5.7 seconds on one damp run and the wheels spun for a fortnight.
On those huge rims the ride is a bit detailed and fussy. Although the suspension has been tweaked and body stiffened, the 300 still feels ponderous when the roads get twisty. There's nothing alert about the way it changes direction and I was never certain when it was going to settle into a corner.
The steering and pedals are fine, but pressing on in either V6 requires concentration. In this respect, and most others, this 300 feels like an evolution of the previous car. It's better and it's cheaper, but essentially the same beast.
Verdict
Doubtless this 300 will steal a few buyers from the locals on the strength of its price and equipment, but the look that set it apart has been diluted to the point where it's neither here nor there. It's also playing to a much smaller audience, because disaffected Falcon-Commodore buyers have already moved on.
Pricing guides
$19,917
Based on 44 cars listed for sale in the last 6 months
Range and Specs
| Vehicle | Specs | Price* | |
| --- | --- | --- | --- |
| C | 3.0L, Diesel, 5 SP AUTO | $13,990 – 20,990 | 2012 Chrysler 300 2012 C Pricing and Specs |
| C Luxury | 3.6L, PULP, 8 SP AUTO | $16,880 – 22,999 | 2012 Chrysler 300 2012 C Luxury Pricing and Specs |
| Limited | 3.6L, PULP, 8 SP AUTO | $10,560 – 14,520 | 2012 Chrysler 300 2012 Limited Pricing and Specs |
| SRT8 | 6.4L, PULP, 5 SP AUTO | $23,990 – 30,888 | 2012 Chrysler 300 2012 SRT8 Pricing and Specs |
Pricing Guide
$23,990
Lowest price, based on 8 car listings in the last 6 months
View cars for sale