Used Mercedes-Benz C200 review: 2001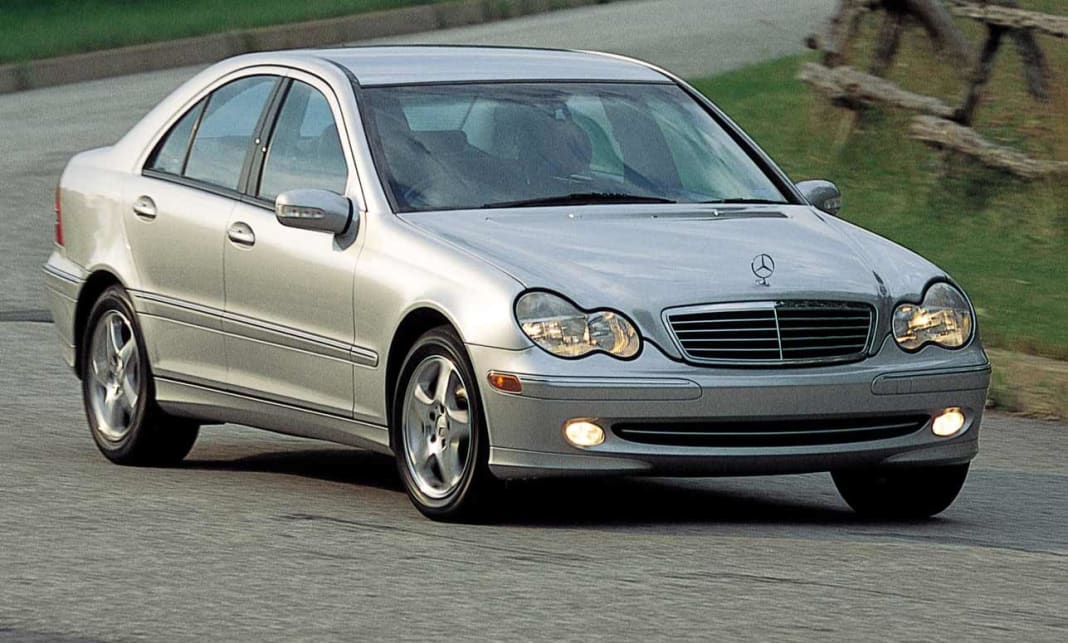 Robert Gray is considering buying a 2001 Mercedes-Benz C200. It is a one owner car that's done 77,000 km, it has the service manuals, and the asking price is $13,000. He wants to know how they compare for economy and parts cost of other cars? NEW The move by Mercedes-Benz into the medium market was designed to spread
Looking for a used Mercedes-Benz?
Buy with confidence; all Mercedes-Benz Certified Pre-Owned vehicles come with a factory backed warranty, 100 point safety check, comprehensive service history and 24hr roadside assistance.
Looking for a used Mercedes-Benz?
Buy with confidence; all Mercedes-Benz Certified Pre-Owned vehicles come with a factory backed warranty, 100 point safety check, comprehensive service history and 24hr roadside assistance.
Robert Gray is considering buying a 2001 Mercedes-Benz C200. It is a one owner car that's done 77,000 km, it has the service manuals, and the asking price is $13,000. He wants to know how they compare for economy and parts cost of other cars?
NEW
The move by Mercedes-Benz into the medium market was designed to spread its market penetration beyond the high-end luxury cars it was renowned for building. The company saw attracting new buyers to the brand who previously couldn't afford a three-pointed star as one of the keys to prosperity going forward.
The C-Class was aimed squarely at the BMW 3 Series, which was enjoying booming sales at the time and showed that there was a market for those who wanted the badge cred that came with a European brand like BMW or 'Benz.
The rear-wheel drive W203 C200 sedan was launched late in 2000 as part of a range that also included wagons and coupes.
It was available in three levels of trim and equipment, starting with the Classic and progressing upwards though the Avantgarde to the Elegance with all the fruit.
Initially it came with a 2.0-litre supercharged four-cylinder engine producing 120 kW and 230 Nm.
Mercedes's idea to use supercharging was to produce a smaller more efficient engine that was economical while at the same time having the punch of a much bigger engine when the supercharger kicked in. Being a supercharger there was none of the throttle lag that made most turbocharged engines unpleasant to drive in a day-to-day environment.
A 1.8-litre supercharged four-cylinder engine replaced the 2.0-litre engine in 2002, and it put out the same power, but slightly more torque.
The transmission choices at the launch of the C200 were a five-speed auto and a six-speed manual, with most buyers going for the automatic.
In 2002 a new sports-shift automatic replaced the original automatic, while the six-speed manual was unchanged.
Being rear-wheel drive the C-Class can be a little cramped in the rear seats, so take the whole family along when assessing its suitability for your use.
Beyond the cabin there was a good-sized boot with a big bootlid that made loading and unloading things a breeze.
The C200 of 2001 wasn't tested by ANCAP, but it came with plenty of the safety gear you want and need. Included in a comprehensive array of equipment were dual front airbags, side airbags, ABS braking with BAS emergency brake assistance, seat belt pre-tensioners and traction control.
On the road the handling was rock-solid, the ride was firm, the only criticism was that there could be a flat-spot in the engine's response at low speed.
NOW
While built to the expected Mercedes-Benz standards of quality the 2001 C200 is now an old car, and while its quality is fundamental to its longevity the reality is that it has reached an age when problems can crop up on a more regular basis as components naturally wear out.
A typical 2001 C200 could be expected to have done between 200,000 and 300,000 km, and engines, transmissions, drivelines, suspensions, indeed the whole car could be expected to show signs of wear.
In the case of the car Robert Gray is considering buying the odometer is showing just 77,000 km, which is very low, and it shouldn't be showing the same wear.
The key to a long life for any car is regular maintenance, so it's vital that anyone buying an old car, such as Robert is considering, should check for a complete and credible service record. It doesn't have to be a dealer who has done the work, but it should at least be a mechanic who has an intimate knowledge of the brand.
Having bought such a car it is important to continue to have it properly serviced, again by a dealer or a specialist mechanic in the brand.
If you want to save money on servicing, yet still have your car properly serviced, find an expert in the brand. They will not only service your car well, but at a more reasonable cost than a factory dealer, and they will usually be able to source more affordable parts.
Parts for a C200 can be expensive if bought over the counter at a dealer, but with things like the internet parts can be sourced from other countries at a much reduced price.
Having done just 77,000 km the C200 Robert Gray wants to buy should drive like new, without squeaks or rattles, the engine should still perform like it did when it left the showroom 13 years ago, and the transmission should shift sharply and precisely.
Other cars, with more typical mileages under their belts, need to be test-driven more thoroughly, and preferably by a mechanic experienced in the brand.
Pricing
| Year | Price From | Price To |
| --- | --- | --- |
| 2001 | $6,400 | $21,560 |
Pricing guides
$5,990
Based on 21 cars listed for sale in the last 6 months
Range and Specs
| Vehicle | Specs | Price* | |
| --- | --- | --- | --- |
| C180 | 2.0L, ULP, 6 SP MAN | $6,400 – 9,900 | 2001 Mercedes-Benz C-Class 2001 C180 Pricing and Specs |
| C180 Evolution | 2.0L, ULP, 6 SP MAN | $7,000 – 10,780 | 2001 Mercedes-Benz C-Class 2001 C180 Evolution Pricing and Specs |
| C180 Evolution AMG | 2.0L, ULP, 6 SP MAN | $7,700 – 11,880 | 2001 Mercedes-Benz C-Class 2001 C180 Evolution AMG Pricing and Specs |
| C200 Kompressor | 2.0L, PULP, 6 SP MAN | $7,300 – 11,330 | 2001 Mercedes-Benz C-Class 2001 C200 Kompressor Pricing and Specs |
Pricing Guide
$1,500
Lowest price, based on 10 car listings in the last 6 months
View cars for sale
Similar Cars
Mercedes-Benz CLA-Class

Honda Accord

BMW 5 Series

Audi A5