Maserati GranCabrio 2010 review: road test
Maserati's GranCabrio is the first roof-down four-seater from the Italian maker. And, as to be expected, a fine piece of automotive art.
It has a long, head-turning profile, best appreciated with the cloth top down. It is packed with leather and luxury, down to a stereo system that self-adjusts tones depending on roof position. It has 323kW of sporting V8 up front, mated to a clever six-speed transmission. All in all, it's a most impressive, albeit expensive, package of poise and performance.
Maserati has a fair heritage of open top sports cars, back to the beautiful Frua Spyder of 1950. But this is their first four-seater convertible. And the GranCabrio more than lives up to the heritage. It is a practical, elegant convertible with comfort and performance. It is capable of being caught in peak hour traffic without a grumble, capable of offering a spirited run through the mountains and happy to loaf down long motorway stretches in quiet comfort.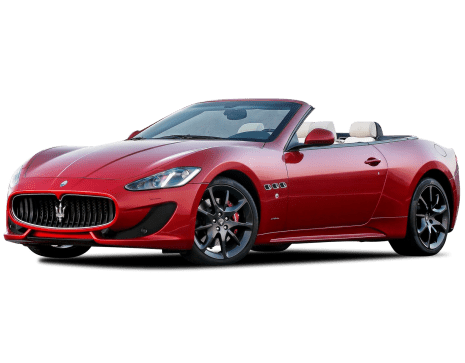 Explore the 2010 Maserati GranCabrio range
Perhaps the boot is a bit small (but will take a set of golf clubs) and perhaps the back seat is no place for the tall with the roof up (though these seats reportedly accommodate 62.5 per cent of people).
Pricing and market
Here the GranCabrio, at $338,000, joins the GranTurismo and the Quattroporte to give Maserati a trio of prestige machines covering some high-flying territory. (The four-door Quattroporte is the best-selling Maserati of all times and the marque's brand awareness has risen 10 per cent in the past decade plus there's a new 'medium' sedan is somewhere around the corner to keep the flag flying.)
The time was right for a little more Italian fashion, a little more look-at-me in the style of an open-top tourer. And 27 Australians and Kiwis have already signed up for this year's allocation of 45 of these machines.
Driving
The payback is spirited performance, chassis balance and ride comfort (though there is sometimes a little chattering feedback from the front wheels). Plus the exclusive charm of a four-seat Italian convertible; said to be longest, roomiest in this class of exotic convertible.
The 65kg roof can drop, when the weather's clear, in 28 seconds at up to 30 km/h.  Without the roof, top speed drops from 293km/h to 274km/h and the weight distribution changes from 49 per cent front and 51 per cent rear to 48 per cent front, 52 per cent rear.
Top up or down the Maserati is a well-balanced car. There is nice weight to the steering and, for a fairly big car weighing in at 1980kg, the GranCabrio is easy to place on a tight mountain road. Handy here is the rear grip and the eagerness of the 4.7 litre V8 to work up to its 323kW and 490Nm of torque at 4750rpm through the six-speed auto transmission.
There are steering-wheel column mounted paddles for shifting through sports ratios, handy for down changing, whether out for a harder run or just impressing city pedestrians. The Italian's aurals are as sweet as anything out there and a Sport buton rempas gearbox, engine and suspension details for even harder growl and go.
The cabin is, naturally, packed with convenience, comfort, luxury and safety... right down to integrated pop-up roll bars (with sharp pin to break the rear glass) in the event of a major accident.
There is all the best in navigation systems, information and entertainment systems. There are choices galore in leather trim colours and highlights, there is an airconditioning system which quietly adjusts a pre-set temperatures to a closed or open cabin.
For maximum effect the Maserati's top will be down, listening to that V8... and watching the watchers.
Check out Keith Didham's review of the Maserati GranCabrio.
Pricing guides
$98,025
Based on third party pricing data