Hyundai Santa Fe diesel 2012 review
Surely by this point we can agree that there's no logical reason not to look at a new Hyundai. Even at a time when new wheels have never been more affordable, the Koreans provide standard kit above the Japanese, and certainly European, norm and at a more approachable sticker price.
That in itself isn't new per se -- anyone can stuff fruit into a crate and the Koreans have been doing just that for decades. It's just that now -- and this new seven seat SUV is a case in point -- the extent and sophistication of their packages are overhauling the competition on more than mere affordability.
There are aspects of the Santa Fe that surpass not only the best of Japan -- which in any case we've come to quite expect -- but approach the perceivably more prestigious auto houses of Europe. By all means smirk, but Hyundai is coming ever closer to being what marketing types apparently call "aspirational".
Value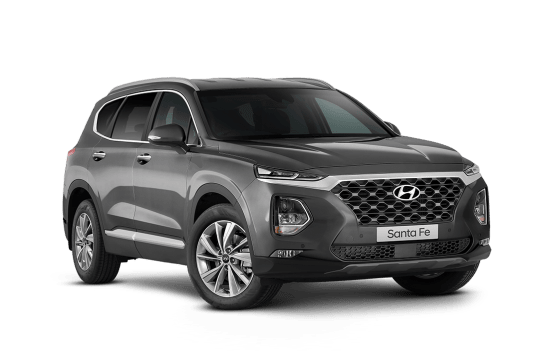 Explore the 2012 Hyundai Santa Fe range
As ever, as we say, to the fore. Still, even without having yet driven this particular variant, we'd eschew the entry Santa Fe Active with the petrol engine. In any case the requirement to manually shift gears means the $36,990 version might as well come without wheels for all the custom it'll attract. In reality the range starts at $38,990 for the auto.
Even so turbo diesel torque and economy are what's required here and that means $41,990 for the Active, $45,990 for the mid-spec Elite which we drove this week, and $10 under $50K for the opulent Highlander. Full kit lists would take up this page and much of the next. Suffice that all models get as standard an illuminated rear view camera (which you don't in, say, an $85K Merc E-Class). 
There's an endlessly flexible seven seat configuration including a flat folding third row. All variants have a multi media screen, the Elite copping a 7" touch screen with sat-nav, electro-chromatic rear-view mirror with compass, 10-speaker sound and 18-inch alloys. It's the one to get the Highlander adds only frippery like a full length sunroof and bum warming seats. The market-leading warranty add capped price servicing and up to seven years complimentary roadside assist. Thus far, so logical.
Technology
On so clear a portal, the touchscreen sat nat and various multi media functions is the most legible and intuitive I've used. While BMW presents a bank of anonymous and indistinguishable buttons to bolster its wretched iDrive system and its fellow Germans remain addicted to knob twiddling distraction such functions of the Hyundai that are not activated via finger tip are accessed via steering wheel buttons.
If that's sophisticatedly simple, the Flex Steer function is sophistry. Billed as allowing the driver to customise steering weight, the three modes are virtually indistinguishable but all are united by artificial if functional feel. More impressive is the four-wheel-drive system that can be locked in for off road crawling but in most cases likely use is purely and sensibly front driven, transferring some 50 per cent drive to the rear axle immediately on demand and vectoring side to decide on demand.
Having been badly shown up by cousin Kia's local development program, the Santa Fe has as with most recent Hyundais spent "thousands of km on Australian b-roads" so that a bespoke suspension set up could be decided.
Design
Driven in this aspect by the Hyundai's California design studio, to these eyes there's not a lot about the exterior aspect to distinguish the Santa Fe from any number of mid-to large-size SUVs. It's a smart enough looker, though, somehow achieving the neat feat of looking smaller than it is. Seven sealers are all about interior functionality and this respect the Santa Fe is to the fore of its segment.
With all three rows in place, you can transport four adults and three kids without violating anyone's human rights. With two rows in play, you lose the two kids in the rear but gain a hatchback's load space. With the front seats only, you can move house. There's dozens of combinations between these, all easily achieved by the flip of switches. When seven's up, and the cargo cover folded neatly underfloor, all aboard have air vents and access to power sockets.
Yes, some of the cabin materials remind you that this is a Hyundai and thus built to a nice price, but few are within eye level. Mostly the fingers fall on soft touch materials, discernibly better than the previous generation Santa Fe, and if no danger of keeping Audi's interior designers awake at night, then taking another step in that direction with each generation.
Safety
Crash test results en route. Acronyms and airbags in place. Of course...The aspect of greatest interest, one that eludes our licensing and safety authorities alike, is the Santa Fe's ability to avoid carnage. It's not auto-racial generalising to say that "Korean" and "SUV" were once not to be lightly included in the same sentence. We're talking well within the late decade here. But the Santa Fe is not just a relative success. It steers, brakes (though the pedal is a bit too touchy) and generally shifts it's bulk with something approaching aplomb.
Driving
As forward thinkers such as Volvo make much of moving toward a four cylinder only policy, Hyundai are on the same page. This doughty diesel unit evinces next to no turbo lag and all the pull you'll want, cruising easily at the legal limit in top gear with barely 1800 revs dialled up.
It's difficult to imagine how it could better serve likely use, responding warmly to Hyundai's own six-speed auto. It drives and rides with enough conviction to encourage pushing on before the rapid but predictable onset of under steer serves to remind that this is a great big family bus. The Santa Fe is overwhelmingly adequate for the task. The major caveat is made of rubber. On coarser surfaces, the Hankooks' roar oernmetes the cabin.
Verdict
If logic enters your new car decision making, you should look here first.
Pricing Guides
$19,990
Based on 133 cars listed for sale in the last 6 months
Range and Specs
| Vehicle | Specs | Price* | |
| --- | --- | --- | --- |
| Active (4x4) | 2.4L, ULP, 6 SP AUTO | $16,500 – 21,990 | 2012 Hyundai Santa Fe 2012 Active (4x4) Pricing and Specs |
| Active CRDi (4x4) | 2.2L, Diesel, 6 SP AUTO | $15,999 – 23,990 | 2012 Hyundai Santa Fe 2012 Active CRDi (4x4) Pricing and Specs |
| Elite (FWD) | 3.5L, ULP, 6 SP AUTO | $13,420 – 17,710 | 2012 Hyundai Santa Fe 2012 Elite (FWD) Pricing and Specs |
| Elite CRDi (4x4) | 2.2L, Diesel, 6 SP AUTO | $17,990 – 24,990 | 2012 Hyundai Santa Fe 2012 Elite CRDi (4x4) Pricing and Specs |
Pricing Guide
$11,990
Lowest price, based on 24 car listings in the last 6 months
View cars for sale
Similar Cars
Kia Sorento

Hyundai Tucson

Mazda CX-9


Honda CR-V