Used Ford Fairlane review: 1997-2007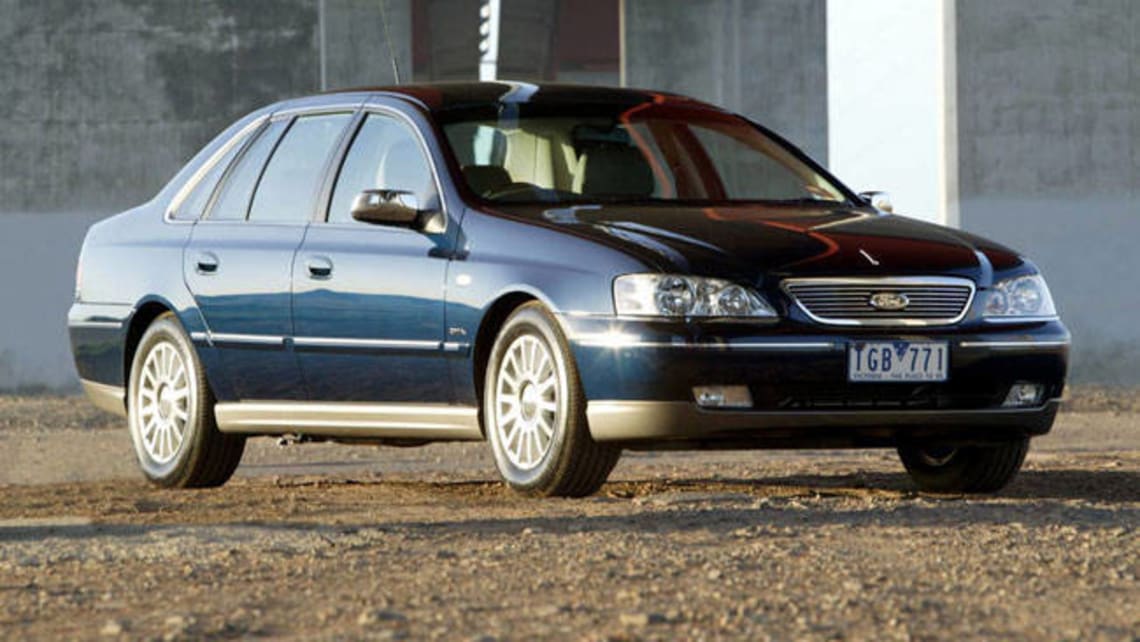 The Ford Fairlane and LTD are luxurious long-wheelbase versions of the Falcon that provide stretch out legroom in the back. They offer excellent value for money for those wanting to transport four adults, or perhaps two adults and a pair of hulking teenagers.
They are better suited to four occupants than five because the centre-rear seat's foot-space is compromised by the transmission tunnel. As all the extra wheelbase has gone into the rear passenger area the boot space is about the same as that of the Falcon. The boot is large, but on the shallow side.
Once upon a time Fairlane and LTD had completely different external styling to the Falcon so people didn't realise where they came from. This lifted them in the prestige stakes and made them big sellers for many years.
However, from the launch of the BA models in July 2003, the elongated Fords looked almost identical to Falcons. Potential buyers hated this and many switched to long-wheelbase Holdens instead. Buyers stayed away in droves and the big Aussie Fords tumbled from their position as kings of the market and were discontinued at the end of 2007.
Quite a few were in stock as new cars well into 2008 and may be passed off as 2008 models, this isn't accurate as it's the year of build that dictates a car's age, not the date of first registration. Ride comfort is excellent and the big Fords come into their own on rough and ready Aussie country roads.
These Aussie machines can show the big name European cars how to soak up harsh road surfaces with a minimum of fuss. Though they are very large cars the limo-like Fords are reasonably easy to drive. They can be out of place on inner city streets and in tight carparks so try that sort of area as part of your personal road test.
Sixes and V8 engines are offered in both models with the V8 being the more common in the LTD and the six in the Fairlane. The six-cylinder powerplant is often the better choice unless you are a revhead as it has been significantly upgraded over the years and doesn't lag all that far behind the V8. Expect a six-cylinder Fairlane or LTD to use about 10 to 15 percent less petrol in the six than a V8.
Many drivers just love the lazy, easy-going travel only a V8 provides. The big V8 engine scores in its heavy towing ability, though the six isn't as far behind as you might expect. Engine capacity on the six-cylinder is 4.0 litres, with the engine being revised many times over the years. The V8 had a capacity of 5.0 litres until the launch of the BA series in 2003, when an all-new design went up to 5.4 litres.
The newer engine is far superior to its predecessor, in performance, economy and emission levels. A four-speed automatic transmission was used in Fairlanes and LTDs until the BF facelift of 2005 introduced a six-speed unit. The latter is a far better design and combines good off-the-line acceleration with a lazy, mile-eating high-ratio sixth gear.
Fuel consumption is markedly lower with the six-speed unit on country trips and on motorways. Many LTDs began their lives as government, fleet or hire cars and will have generally led an easy life in their early years, having been serviced by the book and cared for by professional drivers who took pride in driving them.
On the other hand quite a few Fairlanes will have been taxis in their earlier years so may have done a lot of work. The big Fords are relatively easy for an amateur mechanic to work on, though some of the luxury extras are complex so will require a professional operator. Spare parts are very reasonable in price and there are dealers in virtually all areas of Australia, no matter how remote.
Insurance costs are low, very low if you compare the local Ford long-wheelbase limos with the upmarket stretched variants from the German marques. We have seen some Fairlanes dressed up to look like LTDs, particularly in the older models, and carrying LTD price tags. If you are in doubt get in touch with your Ford dealer and quote the VIN (Vehicle Identification Number) for a confirmation.
WHAT TO LOOK FOR
Earlier Fairlanes and LTDs weren't as well-built as they should have been. Check for parts that don't fit correctly, or rattle and squeak on bumpy roads. Later cars are better, but can still have had a hard life. Don't forget to check the rear seat area as carefully as you do the front. These cars generally get a fair bit of use back there. All the more so if a Fairlane or LTD has been a taxi at one stage in its career.
Check the body for signs of rust, these days this is only likely to be present if previous crash damage repair hasn't been done correctly. Engines should start within a couple of seconds even when cold and should have a smooth idle straight away.
Look for smoke from the exhaust, this will be at its most obvious when the accelerator is floored quickly, and feel for any hesitation under acceleration. Make sure the automatic transmission isn't hesitant about going into gear from Park or Neutral and doesn't make unnecessary changes.
Listen for a whine from the differential at moderate urban speeds and when cruising at about 100 km/h to 120 km/h on the open road. It's usually most obvious when you lift gently on and off the throttle a few times
CAR BUYING TIP
Big cars are dirt cheap these days due to their high fuel consumption, but often the low purchase will more than compensate for the extra fuel you need to buy.
 
Pricing
| Year | Price From | Price To |
| --- | --- | --- |
| 2007 | $5,500 | $10,230 |
| 2006 | $4,840 | $8,800 |
| 2005 | $4,510 | $8,580 |
| 2004 | $4,510 | $7,920 |
| 2003 | $4,510 | $7,920 |
| 2002 | $4,400 | $7,590 |
| 2001 | $4,290 | $7,590 |
| 2000 | $4,180 | $7,590 |
| 1999 | $4,070 | $7,150 |
| 1998 | $4,070 | $8,580 |
| 1997 | $2,860 | $6,380 |
Pricing guides
$5,500
Based on 2 cars listed for sale in the last 6 months
Other cars to consider
Pricing Guide
$3,990
Lowest price, based on 11 car listings in the last 6 months
View cars for sale