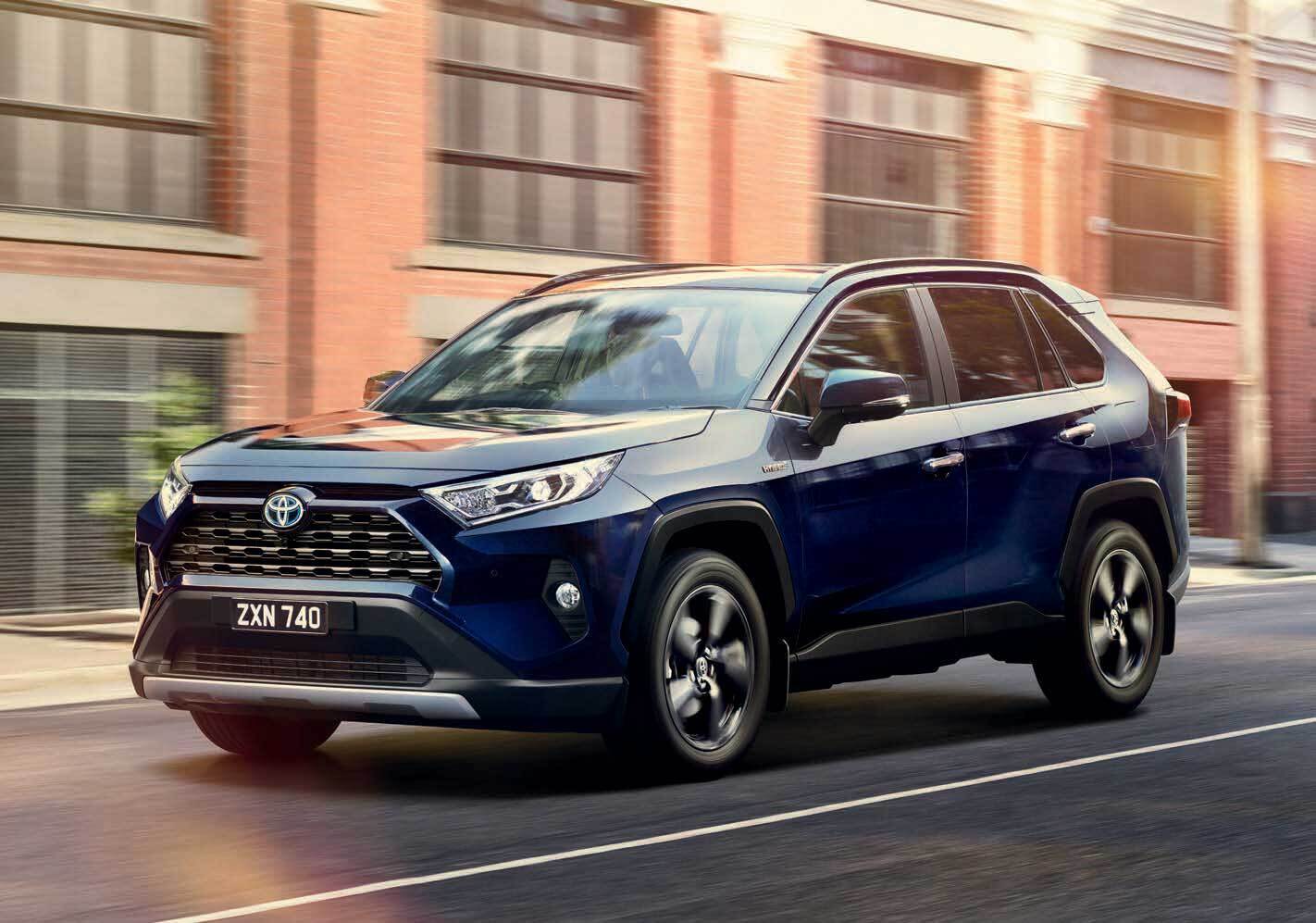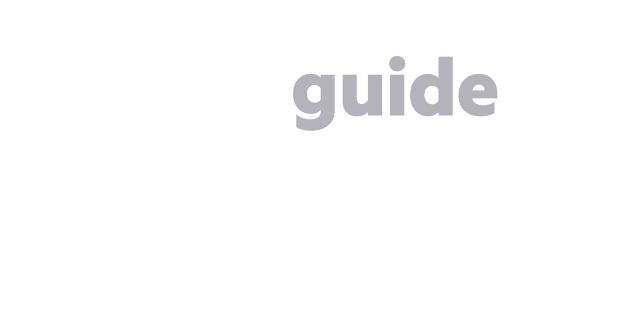 2021 Family Car of the year: Toyota RAV4
Published 1 June 2021
Toyota's new RAV4 has been named 2019 CarsGuide Family Car of the Year.
According to CarsGuide's FamilyGuide segment expert Nedahl Stelio, "The new RAV4 was hard to beat,"
"It brings leading safety, everyday practicality and comfort, and a variety of models including a variety of variants with near-seamless hybrid integration in either two or all-wheel drive, all for good value that Australian families are looking for," she said.
Toyota's RAV4 beat out competition over other SUVs and hatchbacks with new models on sale between September 1, 2018 and September 1, 2019.
Ms Stelio added, "The new RAV4 is a big improvement on the last model, but not only that, it feels good to drive, has all-important the boot space that's so vital when you have a family and is cost efficient.
How much does it cost and what features does it have?
The Discovery Sport S D150 lists for $62,450 before on-road costs.
The S D150 is the most affordable of all the Discovery Sports.
The "S" means it's an entry grade with the least amount of features and the "D150" tells you it has the least powerful engine.
That makes it sound terrible, doesn't it?

Truth is it's far from it, and the S D150 could be the smartest buy of the lot if you're prioritising value-for-money.
Coming standard is:
leather upholstery
dual-zone climate control
12-way power adjustable front seats
ambient lighting
six-speaker stereo
push-button start
auto LED headlights
rain-sensing wipers
and 18-inch alloy wheels.
There are some options on this test car, the privacy glass is optional and costs $650; the black roof is, too, and is $920 and that's all fine, but annoyingly you'll have to pay $900 for keyless entry.
Current Offers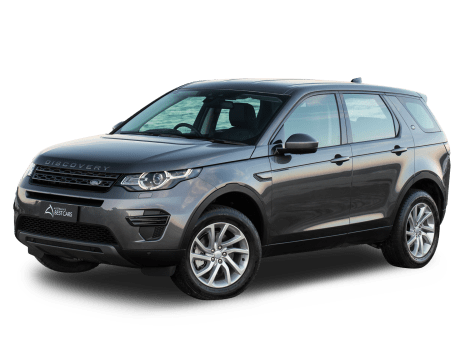 Complete
guide

to the Land Rover Discovery Sport

The Discovery Sport is one of the most affordable Land Rovers you can buy, but it comes with the style, luxury and off-road capability you would expect from this iconic British brand

See our complete guide for all the latest reviews, pricing, specs and comparisons.
Interior design
If you choose the entry grade of many car brands it normally means you're not going to be given much in the way of a luxurious cabin, but that's not the case with the S D150. Nearly everything you can see in the image below is either standard or a no-cost option.

Those seats with their Light Oyster grained leather upholstery are a no-cost option, but you can also choose from four other colours and textures.
The Fuji White trim on the dashboard and the doors won't cost you a cent more, either, and if you're not a fan of it there's Narvick Black, too.

That leather upholstery extends all the way back into the third row. Actually, did you know that in most countries you need to pay more to have the Discovery Sport equipped with seven seats? In Australia the third row is standard with the list price of the car.

For an SUV which is at the more affordable end of the range the Discovery Sport S D150's cabin is well appointed, modern and stylishly minimalistic in its design.

How practical is it?
The only thing I found impractical about the Discovery Sport was the colour of those leather seats.
Sure it looks like a beautiful layer of snow has softly fallen on your interior but if you have children, partake in travel snackery, or are wearing new blue jeans... then a darker colour is a safer bet.

Now let's talk space and storage inside because it's outstanding.
Up front there's a giant covered centre console bin, big enough for handbags or small backpacks, all doors have enormous pockets, there are six cup holders – two in the front, two in the second row and another pair in the third.

For charging and media there's just one USB port up front, and two 12V sockets on board.
Ours had an optional wireless charger. It's good to see directional vents for all three rows, while the third row has a fan speed controller.
It's a Land Rover thing I know, but those window switches are too high. You feel like you're reaching up to a high shelf to get a coffee cup, just to put the window down.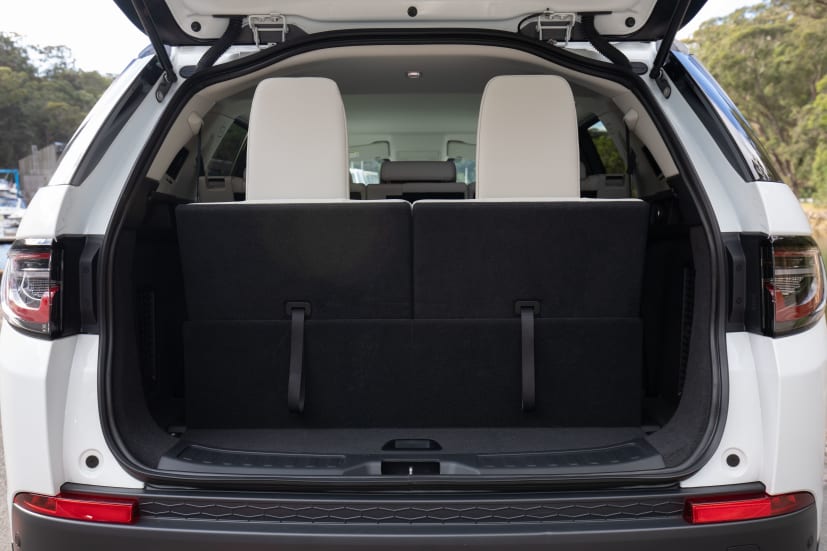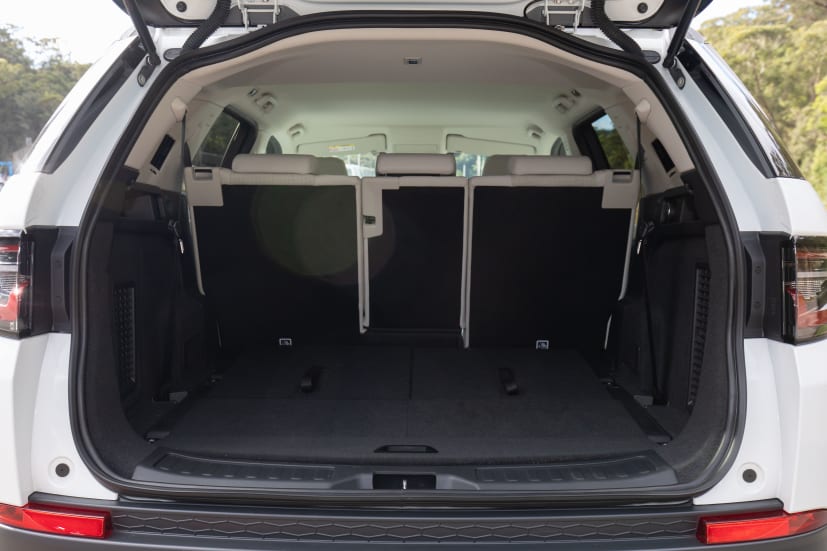 There's not much boot space with the third row up, but the back two seats fold flat to give you an impressive 754 litres of cargo space.
Download a brochure
Fuel economy
Land Rover says that after driving the Discovery Sport on a mix of open and urban roads the D150 four-cylinder turbo-diesel should have used 5.7L/100km. My own testing didn't quite match that mileage from the manufacturer.

I started with a full tank of diesel and drove 314.6km using the Discovery Sport most likely how you will: there were school drop offs, dashes to the supermarket, and a trip a couple of hundred kilometres up the coast to stay with the grandparents. After this I filled the tank back to full - it needed 33.9 litres.
So, the fuel economy I achieved, if you could call it an achievement, was 10.8L/100km. Yup, almost double what Land Rover said I should get. Of course, fuel economy is affected by many things - how you drive, how heavy the vehicle is laden up, but it may also indicate that the vehicle is not performing properly.
What about ownership costs?
We're friends aren't we? Of course we are. So, I wouldn't be doing the right thing if I didn't tell you about what went wrong.
First the tailgate rattled when it shut.
Then after 435km the dashboard told me it had detected a gearbox fault.

Then I lost reverse gear... in the supermarket car park.
When I took it back to Land Rover the engine light came on.

And then when I asked to borrow another Discovery Sport to see if it too had noisy front suspension... the door handle trim of that car came off in my hand.

Maybe it's just me?
If it makes you feel any better the Discovery Sport comes with 24-hour roadside assistance, although the three-year/100,000km warranty could be longer.
Summary
OK, you might be feeling a bit confused about the Land Rover Discovery Sport S D150 now.
So, let's go through what it does well good and then the things that aren't so good.
First the good stuff.
There are the stylish looks from that prestigious exterior to that stunning, minimalist interior.
That cabin is also roomy and practical with seven seats which is not very common for a medium-sized SUV and good storage space.
The tech inside is also impressive with the wide screen and multi-function controls.
Finally, it's superb to pilot. This SUV is comfortable, easy to drive and more off-road capable than most of its rivals.
Now, the not so-good points.
My test car consumed a lot more diesel fuel than I'd expect from an SUV of this size - almost double what the manufacturer says it should use.
Then there's the warranty, which is years shorter than what many of the mainstream brands are offering.
And finally, there were the mechanical issues – the ignition fault. I'm hoping this is just an unlucky one-off fault with my test car. It's the first time this has happened on any Land Rover I've tested – and there have been many.
Book a test drive
Verdict
The Land Rover Discovery Sport S D150 is practical, stylish, and great to drive on and off the road. You might find it's thirstier than you'd expect for mid-sized SUV with a diesel engine and that warranty is short, too.
What we like
Affordable for a Land Rover
Styling
Space and storage
What we don't
Short warranty
Thirstier than expected
Mechanical issues