Mazda CX-7 2007 review: road test

To best describe its attributes, you still get to feel like king of the road without the drawbacks of being oversized.
The CX-7 is a very slick machine that comes in standard and luxury variants. It uses the same 2.3-litre, direct-injection turbocharged four as MPS versions of the Mazda6 and Mazda3, giving it the kind of zip very few four-cylinder cars can match.
Inside, it's a comfortable family wagon, with enough legroom back and front and height to burn (although in the luxury model this is reduced by a few centimetres to accommodate the sunroof). And though the electric seat went low enough for head clearance, too low and you felt as if you were driving from the floor.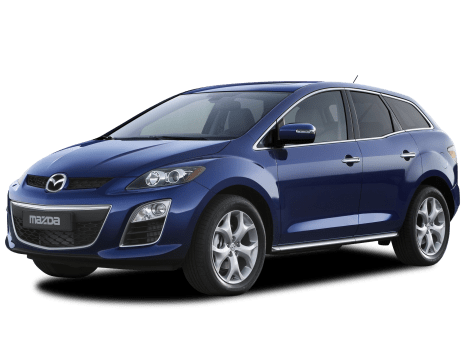 Explore the 2007 Mazda CX-7 range
The kids' initial remark was: where are the drink-holders? It turned out they were concealed in the fold-down armrest. This is a little restricting, as it left the children no room for colouring books, the magnetic checker game or anything else.
Sixty/40 split seats — now seemingly standard in hatchbacks — are a great thing, and a neat touch in the CX-7 is that they collapse via two discreet latches inside the boot space, which is large enough to take a family holiday load of bags, boxes and boogie boards.
There's a full-sized spare wheel, too.
Driving the CX-7 is a real pleasure. There's a slight lag on take-off, but when the turbo kicks in, this all-wheel-drive wagon really moves. Steering is direct, and the turning circle surprisingly small.
Both models come with an easy-to-use cruise control mounted on the steering wheel, and steering wheel-mounted audio controls.
The luxury model's nine-speaker Bose sound system will doof-doof with the best of them. Both variants have a dash-mounted, six-CD MP3-compatible player, but the standard model has to make do with four speakers.
If there's one caution on the road, it's that the turbo can be a bit tricky at lower speeds. A nudge quickly adds 10km/h to the clock, so you have to be wary and very camera-shy.
There is also a rear collision alarm, always handy in car parks — although it's clearly directed too low, as reversing down a steep hill sets it off.
What the CX-7 really needs is a forward collision alarm — unnecessary in most cars, but it would be a big advantage here, as the nose falls away steeply and even the tallest driver would have no idea where the front of the car is.
A foot-operated parking brake provides welcome extra space in the centre console cargo area.
In the luxury model, the front seats are heated and electrically controlled. Trim is cloth in the standard version, leather for luxury.
The air-conditioner seemed to struggle a bit with hotter conditions, and could only be described as adequate. It took a while to cool the rear passenger area. This was the case even with the climate control in the luxury model.
This is a sexy-looking car that drew admiring looks for its low profile and sleek shape, which also makes it incredibly quiet. At night, gliding along the freeway, cruise control on and everyone asleep, it felt like a giant, silent bat.
The CX-7 is suspended well — just stiff enough not to wallow over speed humps, but soft enough to make the ride very comfortable. Just right.
The instruments are clear and easy to see. Everything on the dash, in fact, is easy to navigate. It's intuitively set out, as it should be.
ABS brakes and front, side and rear airbags are standard.
As a family car, the CX-7 ticks all the boxes, with only a couple of minor drawbacks, but its inclusions are better than those of many compatible crossovers, it feels safe and is a magic drive.
It also has the eye-candy factor, which will make many dads happy.
The CX-7 feels luxurious, and at a price that feels like great value for money
Pricing guides
$8,999
Based on 86 cars listed for sale in the last 6 months
Range and Specs
| Vehicle | Specs | Price* | |
| --- | --- | --- | --- |
| (4X4) | 2.3L, PULP, 6 SP AUTO | $4,700 – 7,590 | 2007 Mazda CX-7 2007 (4X4) Pricing and Specs |
| Classic (4x4) | 2.3L, PULP, 6 SP AUTO | $4,100 – 6,600 | 2007 Mazda CX-7 2007 Classic (4x4) Pricing and Specs |
| Luxury (4x4) | 2.3L, PULP, 6 SP AUTO | $4,600 – 7,480 | 2007 Mazda CX-7 2007 Luxury (4x4) Pricing and Specs |
Pricing Guide
$4,450
Lowest price, based on 85 car listings in the last 6 months
View cars for sale