Citroen C5 diesel 2005 review

A short sprint to the shops? Two of our testers chose the other car in their garages for that work – one was a Datsun 240Z and the other a 1987 Subaru Brumby ute.
Does that tell you something?
We would love to love the C5, but it is for a select group of people who know what they want. For most, other cars would do the same job a lot better, unless you're planning retirement and the Big Trip.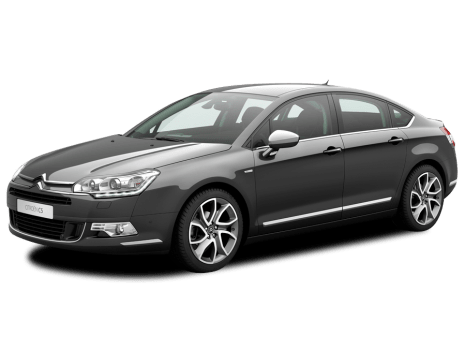 Explore the 2005 Citroen C5 range
The C5 is beautifully comfortable, with soft front buckets that get better over a distance, and there is no questioning the standard equipment, the efficiency of the air-con, or the way the car can cover kilometres.
The Hydractive suspension copes with the worst roads with minimal effort. It can be raised to boost clearance on gnarly gravel and that makes it fine for regular country driving.
But the C5 is big and heavy, and even its huge torque cannot make it a city sprinter. You get left behind all the time, and it needs a bit of warning for overtaking work.
The payback is excellent economy, averaging 7.2 litres/100km during our test, and we saw less than five litres on the trip computer during highway cruising. At that rate, it will cover 800km between stops and could be coaxed beyond 1000km on a relaxed Outback run.
But, still, we also found ourselves thinking more about rivals – and other cars we would prefer to drive – during a lot of our time with the C5. At one point there was a Toyota Avalon alongside and it seemed a nicer choice.
Considering what we think of the Avalon, which is ideal as a taxi, you can see what we think of the Citroen.
Still, it proves Citroen has stayed faithful to its core values and that is good news for the latest generation of small and medium-sized cars. They have more style and perk, but are still good for tough roads and easy on fuel.
In the same price and size range as the Citroen we'd be looking at the latest Peugeot 407 diesels and the Renault Laguna. All three are from France, but the 407 and Laguna would rate higher with most shoppers.
Then there are the Volkswagen Passat and even the Saab 9-3, which would be better for many buyers.
Verdict
The diesel engine makes a case, but even Citroen dealers admit they would not like to run into trouble with a C5 if they were out near Alice Springs or up on the Cape. The C5 is a very good Citroen but these days that is not enough.
Pricing guides
$5,710
Based on third party pricing data
Range and Specs
| Vehicle | Specs | Price* | |
| --- | --- | --- | --- |
| (base) | 2.0L, ULP, 5 SP MAN | $2,400 – 4,070 | 2005 Citroen C5 2005 (base) Pricing and Specs |
| 3.0 V6 | 2.9L, PULP, 6 SP SEQ | $4,200 – 6,820 | 2005 Citroen C5 2005 3.0 V6 Pricing and Specs |
| HDi | 2.0L, Diesel, 4 SP SEQ | $4,700 – 7,590 | 2005 Citroen C5 2005 HDi Pricing and Specs |
| SX | 2.0L, PULP, 5 SP MAN | $2,800 – 4,730 | 2005 Citroen C5 2005 SX Pricing and Specs |
Pricing Guide
$2,400
Lowest price, based on third party pricing data
View cars for sale
Similar Cars
Peugeot 3008

Peugeot 508