BMW X5 2006 Review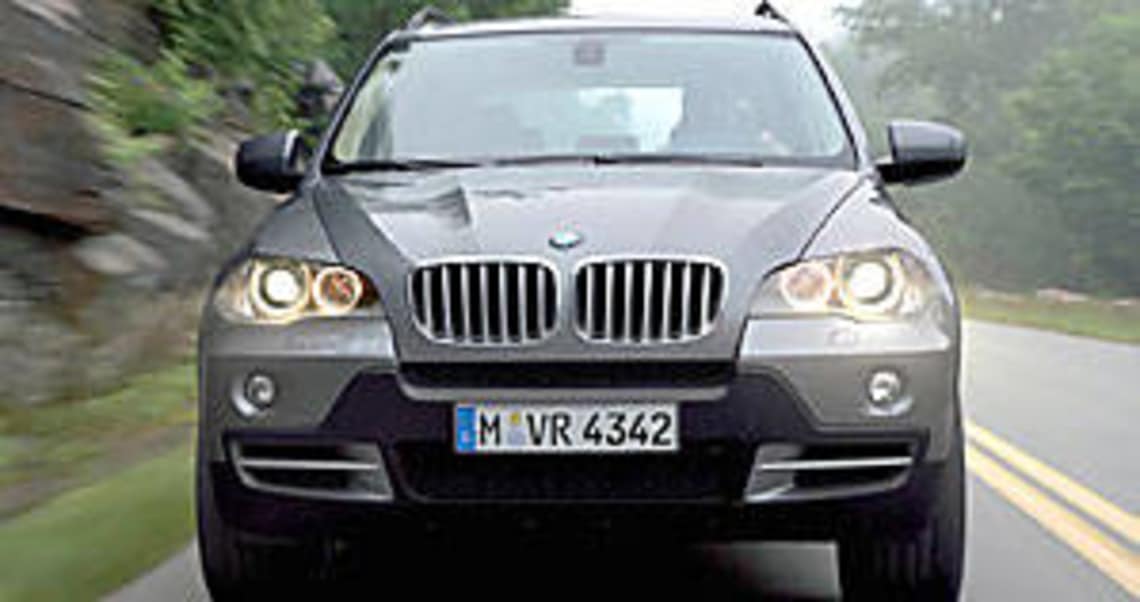 "We did not want to change the essence of the X5. Why would you? It has been a very successful model and a leader since it was launched," Albert Biermann, general manager of the X5 program, said recently at the car's world launch in Greece.
"What we have achieved is improvement on the original with a bigger exterior and a bigger interior but with the signature X5 proportions retained."
Building on the world-wide reputation for on-road excellence of the original X5, launched in 1999 and with more than 616,000 sold world wide, the second generation car's larger and more spacious body sits on an entirely revised suspension package and features a pair of refined new engines.
The X5 will arrive in Australia in April with the option of a 4.8-litre V8 petrol or a lightweight, straight-six 3.0-litre diesel, both coupled to a six-speed shift-by-wire automatic gearbox. They will be joined by a straight-six 3.0-litre petrol option late next year.
The free-revving V8 offers 261kW peaking at 6300rpm, and 475Nm of torque at a useable 3400-3800rpm, giving the petrol X5 every opportunity to show off its superb road dynamics. The diesel, with 173kW peaking near redline at 4000rpm, is not as free-spirited but loses nothing in the all-important mid-range application, with 510Nm of urge waiting to be called upon from 2000-2750rpm.
The car will also be offered for the first time as a seven-seater, with the third row neatly tucked away under the rear cargo floor until required. As is often the case, the extra seats are the province of children or small adults on short journeys.
BMW Australia says no decision has been made on pricing or standard inclusions for the new cars but if the marketing follows typical BMW procedure there will be a raft of opportunities to personalise your purchase with options.
"Some things, like the reversing camera, are standard on the current X5 in Australia but a decision will be made closer to the car's arrival as to what the exact specifications will be," BMW Australia's Toni Andreevski says.
"Pricing is also being settled and all I would say at this stage is that it will be very competitive ... there is no point having the best car in the world if nobody can afford it."
Among the range of options being offered in Europe are a raft of first-timers for BMW on the company's soft-roader range.
Adaptive Drive — electronically controlled active damping and rollbar control — gives the X5 a previously unexplored level of ride comfort on the road and, almost as an accidental aside, greater stability and control off-road.
Also a first time offering is BMW's active steer; the variable ratio system oft-criticised in the sedan range for its dissociative characteristics finding a natural home in the big 4WD. The heads-up display system first featured on the high-end sedans and 6Series coupes is a boon to the X5, allowing the driver to monitor information from speed to navigation instructions without looking down from the road ahead.
Active road-following bi-xenon headlights and a reversing camera are also features available on American and European models.
The controversial iDrive control centre has again been slightly modified with the option of storing regular destinations, phone numbers or settings on the radio buttons.
On the road the X5 is characterised by the things many SUVs — or even SAVs — lack: ride comfort and refinement, car-like dynamics and NVH levels plenty of sedans could only covet. That is not to say the X5 makes sense in any sensible world. At 2.25 tonnes and almost 5m long the X5 is reaching gargantuan proportions, for all that the design works to disguise it.
The 4.8-litre V8 is a pleasure to drive hard — throaty roar and willingness to leap at the horizon leaving just the faintest tinge of guilt at helping diminish the world's oil reserves just that much quicker.
BMW claims a combined fuel economy of around 12.5L/100km for the big eight but that is a figure that will rarely be seen in the real world — it is just too easy and satisfying to use the engine the way it was designed. If that lack of environmental conscience is disturbing, there is an alternative.
The new 3.0-litre diesel — lightened to the level of a petrol six by the use of alloy where possible — offers both enthusiastic performance and defensible economy. The claimed 8.7L/100km combined cyle figure was close to what was achieved on the launch drive despite a total disregard for economic behaviour.
Dynamically, the X5 is hard to fault. With the Adaptive Drive suspension minimising body movement and settling the chassis by the millisecond, what could have been a bus shrinks around the driver to perform more like a sportscar. While the Adaptive Drive is not that easy to detect and quantify, the absence of it on another test drive vehicle was. Broken surfaces felt like broken surfaces and, while the X5 could still handle a reasonably enthusiastic punt through rolling hills, the composure of the electronically-aided car was obvious by its absence.
The electronic gear activation is quick and precise, the ratios beautifully sorted and the changes nigh-on seamless. The shifter is a natty piece of design as well — still situated in the traditional central position rather than a truncated stalk stuck on the steering column.
Fast facts
Price: TBA
Engine: 3.0-litre inline six, 200kW@6650rpm, 315Nm@2750rpm; 4.8-litre V8, 261kW@6300rpm, 475Nm@3400-3800rpm; 3.0-litre inline six turbo diesel, 173kW@4000rpm, 520Nm@2000-2750rpm
Transmission: 6-speed automatic, change by wire with manual mode; electronic on demand AWD; DSC III (HDC, DBC, ABS, ASC-X, ABD-X, DTC, trailer stability)
Suspension: front, double wishbone with anti-dive geometry; rear, integral axle multi-dimensional suspension with anti-squat and anti-dive
Brakes: front, single-piston swing-caliper 348mm vented disc (twin-piston 365mm vented disc on 4.8i); rear single-piston swing-caliper 320mm vented disc (345mm vented disc on 4.8i)
Alternatives
Mercedes M-Class
Price: From $79,990 (ML280CDi) to $116,900 (ML500)
Engine: 3.0-litre turbo diesel V6, 140kW, 440Nm; 5.0-litre V8, 225kW, 460Nm
Transmission: 7-speed automatic; constant variable AWD
Audi Q7
Price: $84,900 (3.6-litre FSi), $85,700 (3.0-litre TDI), $116,800 (4.2-litre FSi)
Engine: 3.0-litre V6 turbo diesel, 171kW@4000rpm, 500Nm@1750-2750rpm; 4.2-litre V8 FSI, 257kW@6800rpm, 440Nm@3500rpm.
Transmission: 6-speed tiptronic; constant variable AWD
Pricing guides
$9,745
Based on 40 cars listed for sale in the last 6 months
Range and Specs
| Vehicle | Specs | Price* | |
| --- | --- | --- | --- |
| X3 2.5I | 2.5L, PULP, 6 SP MAN | $6,400 – 9,900 | 2006 BMW X Models 2006 X3 2.5I Pricing and Specs |
| X3 2.5SI | 2.5L, PULP, 6 SP AUTO | $6,800 – 10,560 | 2006 BMW X Models 2006 X3 2.5SI Pricing and Specs |
| X3 3.0D | 3.0L, Diesel, 6 SP AUTO | $7,600 – 11,770 | 2006 BMW X Models 2006 X3 3.0D Pricing and Specs |
| X3 3.0I | 3.0L, PULP, 5 SP AUTO | $7,100 – 11,000 | 2006 BMW X Models 2006 X3 3.0I Pricing and Specs |
Pricing Guide
$3,950
Lowest price, based on 30 car listings in the last 6 months
View cars for sale