BMW M5 F10 2012 review
Pandemonium has been overhauled by precision in BMW's new take of its legendary M5 sedan. The manic boy-racer V10 and extroverted exterior of the E60 model has matured into a more refined but also more powerful twin-turbo V8 machine that is built to impress by doing just about everything better, without being such a show-off.
Welcome to the F10 M5. It's not a purist driver's car with scalpel-like steering - that role belongs to the M3 - but it is a butcher's knife shrouded in a silky package, ready to carve up bitumen with the dab of the pedal. And carry five adults while doing it. 
Every component has been tailored to flatter business types who reckon they can drive a bit. And they will be able to behind the wheel of this machine. BMW's chief driving instructor Geoff Brabham sums it up while effortlessly chauffeuring Carsguide on a high-speed lap of Phillip Island: "It's a very quick and capable grand tourer ... it's not a race car but it will hold its own on the track''.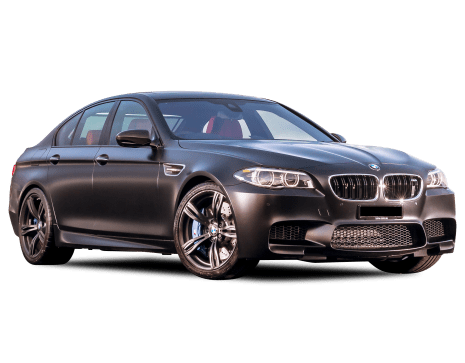 Explore the 2012 BMW M5 range
That said, Carsguide still doesn't know how it goes on the road. This introduction was on track only. Stay tuned for our public road test. That will be the definitive test of the Bavarian autobahn blaster.
VALUE
At $230,000 the M5 is around $10,000 cheaper than its rival, Mercedes-Benz's E63 AMG. That's not a lot at this price point. More telling is the fact the new car has $13,000 more standard gear than the previous model.
The features run from internet connectivity to a TV tuner, sunroof, 20-inch rims, leather upholstery, heated and cooled fronts seats, a reversing camera and four-zone airconditioning.
TECHNOLOGY
The V8 uses 9.9L/100km, or 4.5L less than the V10 chewed through over the same distance. There's also another 39kW on tap and the nature of the twin-turbo means the 680Nm is generated much lower in the rev range, making it a more tractable mill than the high-revving 10-cylinder.
A seven-speed dual-clutch manual automated transmission and "active'' differential transfer that mumbo to the rear wheels. Think of the diff as an intelligent limited-slip unit - instead of just reacting to changes in wheel speed, the electronics are linked with the stability control sensors and can pre-emptively brake a wheel to improve cornering. Idle stop-start and regenerative brakes help with efficiency, though few will care.
DESIGN
Blue brake calipers are the easy way to pick an M5, though avid fans will cite the guard-filling wheels, gills on the front quarter panels and deeper front spoiler. From the rear, four exhaust pipes and a lip spoiler on the boot are a giveaway but that's about it - it's a case of discretion over aggression.
Alloy highlights in the dash are exclusive to the M car. And there's a cluster of buttons around the unique transmission shift that show you're in something special, with three-way adjustment for suspension, steering and throttle inputs.
SAFETY
Massive 400mm front discs with six-piston calipers and 396mm rear discs with a single-piston caliper - a legacy from the 5 Series donor car because of the electric parking brake - are the first line of defence.
They're sitting on the 5 Series chassis, which was already a five-star ANCAP performer and help offset the extra weight - more than 100kg - the F10 M5 has gained.
The stability control software has been tweaked to deal with the extra performance and is hard to fault. It is also evidence of just how much grunt this car has - the light flickers at well over 100km/h in fourth gear down the straight at Phillip Island.
DRIVING
You know a car is quick when it doesn't feel it. Blasting down the front straight of Phillip Island at better than 200km/h, it is a serene ride. Even hitting the brakes doesn't change that impression as they haul the grand tourer back to speeds that won't launch it out of orbit.
There's a sensation of weight but the basic competence of the chassis and suspension indulges it. Roll-on acceleration from 100km/h is tyre-blisteringly quick with a distant roar as the V8 winds up.
Engine noise is louder outside the car than in it, but given the Merc E63 is audibly angrier and more aggressive, it's the opposite of the traditional status quo. I'd drive the Merc for a day in a heartbeat, but could probably live longer with the M5.
VERDICT
The M5 is large, luxurious and lithe in a way few cars can match. The fact it isn't as raucous as its predecessor is more a reflection of the fact it is pitched to appeal to a broader audience, rather than a general criticism of the prestige sedan.
BMW M5
Price: $230,000
Warranty: 3 years/100,000km
Resale: 46 per cent
Service intervals: Driver-dependent, with in-car notification
Safety: Rating 5-star Equipment 6 airbags, ABS, stability control with dynamic and cornering brake control
Engine: 4.4-litre twin-turbo V8, 412kW/680Nm
Transmission: 7-speed automatic, rear-wheel drive
Thirst: 9.9L/100km 98 RON, 232g/km CO2
Body: 4-door, 5-seat sedan
Dimensions: 4910mm (L), 1891mm (W), 1456mm (H), 2964mm (WB), tracks front/rear 1627mm/1582mm
Weight: 1945kg
Pricing Guides
$64,990
Based on 8 cars listed for sale in the last 6 months
Pricing Guide
$60,990
Lowest price, based on 8 car listings in the last 6 months
View cars for sale
Similar Cars
Alfa Romeo Giulia

BMW 5 Series

BMW Alpina B7