Alfa Romeo Giulietta 2013 review

Hard to stand out in a small car these days, what with every second diminutive hatch or sedan in sight being a Mazda3 and almost everything else looking alike. Try, if you can be bothered, picking out a Pulsar or a Cruze while walking past a crowded carpark.
Anyone with a few extra bob to drop on their shopping trolley is dropping it on a new Volkswagen Golf. And why wouldn't you? There's nary a choice from this overpopulated segment (of which some 250,000 will sell this year) that isn't utterly dependable, safe, sound and resoundingly dull.
One of the exceptions, a car so marginal as to barely impinge upon the collective consciousness, is Alfa Romeo's Guilietta. For a hatch, a vehicle type defined by practicality, it's something of a perverse pleasure. The entry level 1.4-litre Gulietta has been re-labelled as the Distinctive. That it is.
VALUE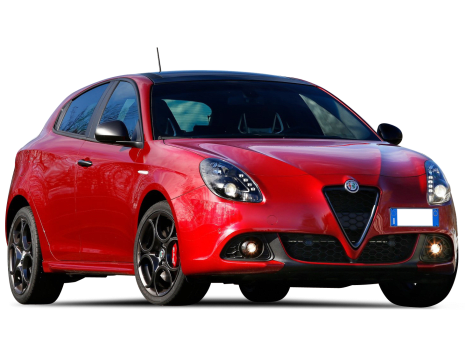 Explore the 2013 Alfa Romeo Giulietta range
Despite a drastic and overdue price slice, the Alfa Romeo is still a bit overpriced at a little under $30,000 next to the new Golf. It's another $2000 to get an auto (one of the twin-clutch variety), which is standard on all Golfs bar the very base model. And that is not so very base despite starting about $6000 under the Alfa.
Moreover, VW brings capped price servicing and a big dealer network. In terms of equipment, the Alfa hasn't much to boast of. And the resale will eviscerate you.
Yet if you're straying in the direction of these few and far between showrooms, it's reasonable to assume you're less interested in litres per 100km than the way in which you get to 100km/h. While those who style themselves as Alfisti tend to be focussed firmly on the past, here's a contemporary car worthy of Alfa's hallowed heritage. Put what price you will on that.
TECHNOLOGY
Anyone who still somehow doubts small turbo charged engines are not where it's at -- that only capacity counts -- will be dragged into this decade by the Guilietta's 1.4 MultiAir four.
The International Engine of 2010 combines turbocharging with direct fuel injection and a system that opens the engine's valves to the optimum. The result is an instantly tappable wave of torque, almost all of which occurs at barely above idle.
That can be regulated by the DNA switch, which in Dynamic mode produces yet more torque. In addition to beefing up the steering feel, it's this setting you'll engage at almost all times. Normal mode is that in which the diesel-challenging fuel consumption figure was obtained, but then you're not in the market for a Prius are you?
All this makes the bigger capacity but free-breathing petrol plants most Japanese carmakers persist with look like the relics they are. If the cost is paid in premium unleaded, the Alfa's breadth of talent is worth every cent. Standard is the Q2 electronic differential which vectors the power to the front wheel with the most traction. Like that clever little engine, it works so seamlessly you're scarcely aware of it.
DESIGN
You won't find many functional objects with so much form. The trad Alfa cues shield grille, Milanese badge, offset license plate and hidden rear door handles individualise this five door. This base model lacks the presence of the top line Guilietta QV. Lowered suspension, bigger wheels and leather trim can be optioned if you really must.
Venture within and you're reminded Italy is a country that has struggled to consistently mass produce a decent affordable car. Oh, don't bother writing in. You know it's true. The Guilietta's inside story is as doleful and drab as the exterior is evocative. Fit, finish, materials and ergonimics aren't good enough. A $19,000 Cruze has better plastics.
SAFETY
Alfa has not Volkswagen's remorseless reputation, but its safety package is every bit as sound. Five stars from Euro NCAP are one thing, but it's the active ability component that will save you from putting that to the test.
DRIVING
Engage ignition. Select Dynamic mode. Find first gear. And be engaged. With the exception of Ford's Focus Sport, there's not a small car this side of hot hatch money that entertains to this degree. In any case, the Australian issue Ford for the moment lacks a turbo four to compete.
As things stand the entry Guilietta is a better all round device than the near $40,000 QV. A second slower to 100k/h it may be (7.8 seconds in the manual) but its ride serves vastly better when getting quickly across the busted blacktop that passes for a B road in this country.
While the heavier QV would be impacting hard the same ruts the Distinctive skims, it's also running out of puff. Though formidable down low, the QV's 1.75 turbo simply doesn't want to know after 5800rpm -- a frustratingly low, diesel-like ceiling. The ostensibly lesser car has meaningful power to impart on top of its torque. It's usefully more flexible and enjoyable, with a tastier engine note to boot.
VERDICT
Hardly the soundest small car choice, but at least you've made a choice.
Alfa Romeo Giulietta 1.4
Price: from $29,350
Warranty: 3 years/100,000km
Resale: 46 per cent (Glass's Guide)
Service interval: 12 months/15,000km
Capped servicing: No
Safety: 5 stars
Engine: 1.4-litre turbo petrol; 125kW/230/250Nm
Transmission: 6-speed man or twin clutch auto; FWD
Thirst: 5.9/5.2L/100km
Dimensions: 4.3m (L); 1.8m (w); 1.4 (h)
Weight: 1290kg
Spare: Space saver
Pricing guides
$10,999
Based on 51 cars listed for sale in the last 6 months
Range and Specs
| Vehicle | Specs | Price* | |
| --- | --- | --- | --- |
| 1.4 | 1.4L, PULP, 6 SP MAN | $7,888 – 7,990 | 2013 Alfa Romeo Giulietta 2013 1.4 Pricing and Specs |
| Distinctive | 1.4L, PULP, 6 SP MAN | $9,999 – 10,588 | 2013 Alfa Romeo Giulietta 2013 Distinctive Pricing and Specs |
| Distinctive JTD-M | 2.0L, Diesel, 6 SP DUAL-CLUTCH AUTO | $12,888 – 16,995 | 2013 Alfa Romeo Giulietta 2013 Distinctive JTD-M Pricing and Specs |
| Progression 1.4 | 1.4L, PULP, 6 SP MAN | $7,990 – 11,990 | 2013 Alfa Romeo Giulietta 2013 Progression 1.4 Pricing and Specs |
Pricing Guide
$7,499
Lowest price, based on 51 car listings in the last 6 months
View cars for sale
Similar Cars
Alfa Romeo Giulia

Audi A3

Hyundai i30