Lexus RC F track 2015 review
Peter Barnwell road tests and reviews the Lexus RC F with specs, fuel consumption and verdict.
What we like
Sharp transmission
Direct steering
Superb brakes
What we don't
Engine could have more power
Heavy
What we like
Sharp transmission
Direct steering
Superb brakes
What we don't
Engine could have more power
Heavy
Lexus departs from the luxury lounge to take a refined route to the track — and a soothing ride home afterwards.
You wouldn't expect a Lexus to cut it at the racetrack because they are all about luxury driving, right?
Not according to Lexus. The Japanese brand says its top of the range RC F coupe can be used for track days in the same way you'd use a BMW M3 or M4 or a Benz C63 AMG S.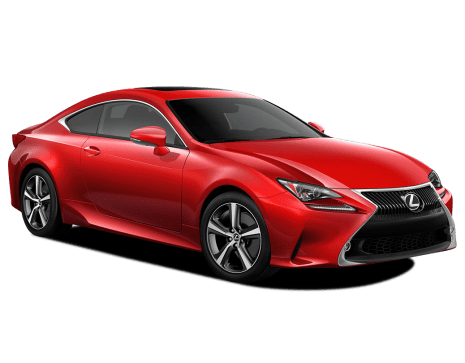 Explore the 2015 Lexus RC range
The brand is also building a bit of a racing pedigree in Japanese GT, German GT3 and Pikes Peak.
The company's engineers say the RC F has been designed to be durable "for continuous circuit driving".
That was like waving a red flag at a bull, so we got hold of an RC F and took it to Wakefield Park racetrack for a spot of tracking.
On paper, the $133,110 RC F looks unsuited to track work, especially with its 1800kg weight and eight-speed Direct Shift auto transmission.
But for the doubters they are balanced by a 351kW/530Nm V8, 380mm front brakes with six-pot Brembo brakes, sticky Michelin Pilot rubber, a torque-vectoring differential and multiple transmission, suspension and steering settings.
Other track day participants were sceptical about the sexy Japanese coupe, until they were rounded up down the straight and also, surprisingly, under brakes and around some of the corners.
We spent time dialling-in the RC F through its various driving modes and settled on Sport S+ in "Slalom". There's one more setting called "Expert" where the stability control is turned off, but that proved a tad slower due to loss of drive out of some corners.
With a bit of stability control on, you can use the full power of the V8 out of corners without worrying about time-wasting tail-out oversteer
The engine is a beautiful piece of engineering
The engine percolated sweetly all day during some 40 or 50 laps of Wakefield but used a considerable amount of fuel. That's to be expected when you keep the 5.0-litre up around the redline much of the time.
Lexus claims the RC F will achieve 10.9L/100km driven normally.
Though it sounds impressive inside the car, spinning out to 7300rpm, the exhaust note outside is benign.
The engine is a beautiful piece of engineering but Lexus might have kept a bit too much in hand. Why not go the whole hog and crank out 368kW (500hp) instead of stopping at 351?
Running a high 12.3:1 compression ratio, it has race-car engine internals including strong forged steel conrods, special fuel injectors, variable cam timing and other high-end bits and pieces. Oil coolers are fitted to the engine and transmission.
It's a Yamaha design that started in the earlier IS F sedan and was modified for the RC F.
From a dynamic standpoint, there's no ignoring that 1800kg bulk but the car manages to gather itself and maintain tidy laps when pushed hard.
The dampers and springs furnish a relatively flat stance through corners and resist pitching under brakes.
The eight-speed auto feels like a paddle-shifting dual-clutch offering sharp changes up and down the range with the throttle blipping as you work down the ratios.
Tracking the RC F was a hoot
It has direct steering which allows accurate placement on the track at the limit and the brakes are sensational. Lexus used parts of three different models to create the RC F chassis — GS, IS and IS F.
It works, producing a rigid platform for this classy, luxury four-seater coupe.
It's all limited somewhat by street tyres and inappropriate wheel alignment but when you start changing those, you diminish a car's normal road driving feel.
Tracking the RC F was a hoot and the car was none the worse for the exercise.
The RC F is not quite as track-oriented as its German competitors, but it leaves them in its wake when you drive home in luxury listening to the 17-speaker Mark Levinson audio, luxuriating in ventilated soft leather seats and enjoying high-end cabin ambience with next to no noise.
Verdict
Much better than expected. Made quite a few detractors eat their words.
Pricing guides
$45,990
Based on 33 cars listed for sale in the last 6 months
Range and Specs
| Vehicle | Specs | Price* | |
| --- | --- | --- | --- |
| RC F | 5.0L, PULP, 8 SP AUTO | $64,900 – 76,000 | 2015 Lexus RC 2015 RC F Pricing and Specs |
| RC F Carbon | 5.0L, PULP, 8 SP AUTO | $76,340 – 87,780 | 2015 Lexus RC 2015 RC F Carbon Pricing and Specs |
| RC350 F Sport | 3.5L, PULP, 8 SP AUTO | $42,990 – 47,990 | 2015 Lexus RC 2015 RC350 F Sport Pricing and Specs |
| RC350 Luxury | 3.5L, PULP, 8 SP AUTO | $35,750 – 42,570 | 2015 Lexus RC 2015 RC350 Luxury Pricing and Specs |
Pricing Guide
$61,888
Lowest price, based on 13 car listings in the last 6 months
View cars for sale
Similar Cars
Subaru BRZ

Audi TT

Infiniti Q60

Toyota Supra