Kia Soul manual 2014 review

Alistair Kennedy road tests and reviews the 2014 Kia Soul.
Kia Soul is just about as sensible as any car can get. It has large, comfortable seats at just the right height, without the need to crouch down or climb up to get in. The high, square body means all but the tallest occupants will travel in comfort. There's good visibility all round with narrow pillars, large side mirrors and a high driving position, all factors that make for safer travel.
When Kia Australia launched the first Soul back in 2009 its marketers had young buyers firmly in their sights. Not only was there a choice of 11 (mostly very bright) colours, there were alloy wheels in several sizes, as well as the option of a body kit and/or various decals. 
So despite these youth-focussed features we were initially surprised at how many positive comments we received from those at the other end of the age scale when we first tested the car.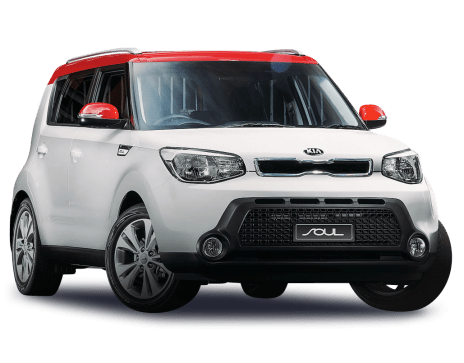 Explore the 2014 Kia Soul range
It turned out that younger people, who wanted to be noticed, liked the looks of the Soul, while older ones also loved it (perhaps in spite of the looks because they don't want to be noticed) impressed by the ease of entry, great visibility and interior space, including plenty of room for the grandkids. All the sensible things.
Styling

Sensible and style don't always mix well so it's hard to design a vehicle that combines these two attributes. Those who rate form ahead of function are likely to find Kia Soul too boxy in appearance although the second generation model, launched here in February 2014, is less angular than its predecessor while still being distinctive enough to turn heads. 
Dominating the front of new Soul is a large lower-grille with black honeycomb fill and integrated foglights that give the car a much bolder look than before. The previously bland rear has been livened up significantly with black trim around the tailgate and black cladding with integrated reflector below and larger taillights.
Gone are the gimmicks such as body decals which Kia's marketers used as attention-grabbers with the first Soul. Likewise the funky model variant names (Soul 2, Soul 3 and Soul +) have been replaced by a single model, Soul Si.
Interior
Having previously extolled the virtues of the Soul's cabin the big downside is a boot that, at 238 litres, will struggle to cope with even day-to-day loads let alone holiday gear. It can be expanded to 878 litres with both rear seatbacks folded. The tailgate is wider for improved access and there are also under-floor storage compartments for extra security.
Four adults can travel in comfort thanks to the excellent head and leg room although the Soul is relatively narrow so a fifth occupant will need to be trim and taut.
The quality of the cabin materials is noticeably better than those used on the first Soul with soft-touch surfaces adding a classier look and feel. The dark fabric upholstery is offset by contrasting lighter coloured stitching
Engine / Transmission
While the previous Soul came with the choice of three engines (two petrol and one diesel) the gen-two model is only available with a 113 kW / 191 Nm 2.0-litre petrol unit. 
Although the upgraded engine is marginally down on both power and torque (9 kW and 9 Nm) fuel consumption is actually up by 0.1 L/100 km mainly because of an increase in kerb weight of around 35 kg. 
Importantly the engine now meets Euro 5 emission standards. Manual and automatic transmissions are offered, both with six forward ratios.
Infotainment
Unlike many other vehicles the Bluetooth pairing process in the Soul is simple and logical. Likewise the USB and Aux sockets are easy to locate and access. There's 800 Mb of audio storage.
Despite being small (4.3 inches) the LCD touch-screen colour monitor is sharp and easy to read. 
Front door-mounted audio speakers and high-mounted tower-type tweeters on the outer edges of the dash follow suit and steering wheel-mounted controls are placed in circular groupings along the horizontal spokes with audio and cruise control buttons readily at hand for the thumbs.
Safety
Soul comes well-equipped with all the usual standard features together with hill start assist, rear parking sensors, reversing camera (now displayed in the central console display rather than the rear vision mirror as before), front foglamps, automatic headlights and emergency braking signal. 
All round vision is as close to perfect as possible, with a large windscreen and side windows. The rear window is also large and almost vertical with narrow A and B pillars and rectangular side mirrors that are as large as most SUVs. Such factors are often overlooked but add significantly to the Soul's safety.
Driving
The engine is nicely responsive and we found it happy to pull smartly away from traffic lights. Soul's compact size and shape, together with its relatively high driving position and excellent vision, took much of the drudgery out of suburban commuting. The same features make Soul as easy to park as any vehicle on the road.
As is the norm with Kia vehicles there was considerable Australian input to ensure that the Soul's suspension was tweaked to suit local conditions. This together with an all-new platform and stronger body provide refined driving dynamics and good ride comfort.
Soul's handling is safe and competent enough and it holds the road securely at cornering speeds well above those to which it will normally be subjected. It's a long way from having sporting performance but that's unlikely to deter any potential buyers.
Noise and vibration are well insulated and the Soul was untroubled by some of the more rugged roads on the rural segment of our test.
Our test was in the manual Soul and while it cruised nicely enough on the motorway the 2.0-litre engine did struggle a bit on steeper hills due to a high 4700 rpm torque peak meaning a fair but of gear changing to maintain momentum.
Fuel consumption is listed at 7.6 litres per 100 kilometres, only marginally below the 8.1 L/100 km we logged during our week-long test. 
Verdict
With so many things going for it Kia Soul really should be a bigger seller than it is. Only 181 were sold in 2013 (just over half of one percent of Kia's total sales) and, despite the arrival of the second-generation model in February, there has only been a marginal increase. 
The love-it-or-hate-it styling is no doubt a factor especially with the growing competition from the flood of compact 2WD SUVs with their bold and funky looks. Most are also cheaper although, being a Kia, Soul gets an extra two years of standard warranty with no distance limit. 
For those who don't mind being seen in a car that stands out from the crowd and one that offers such convenience and practicality it's certainly worth taking for a test drive before making their decision. 
Pricing guides
$13,334
Based on 6 cars listed for sale in the last 6 months
Range and Specs
| Vehicle | Specs | Price* | |
| --- | --- | --- | --- |
| (base) | 1.6L, ULP, 6 SP MAN | $6,600 – 10,230 | 2014 Kia Soul 2014 (base) Pricing and Specs |
| + | 1.6L, Diesel, 6 SP AUTO | $9,500 – 14,300 | 2014 Kia Soul 2014 + Pricing and Specs |
| Si | 2.0L, ULP, 6 SP AUTO | $7,900 – 12,210 | 2014 Kia Soul 2014 Si Pricing and Specs |
Pricing Guide
$9,990
Lowest price, based on 6 car listings in the last 6 months
View cars for sale