Infiniti Q50 auto 2014 review
Ewan Kennedy road tests and reviews the Infiniti Q50, with specs, fuel consumption and verdict.
What we like
Unique styling
Comfortable ride
Powerful hybrid drivetrain
What we don't
Complex infotainment system
Hybrid model loses boot space
Rear seat not as spacious as some rivals
What we like
Unique styling
Comfortable ride
Powerful hybrid drivetrain
What we don't
Complex infotainment system
Hybrid model loses boot space
Rear seat not as spacious as some rivals
Infiniti, the upmarket division of Nissan, has launched a midsize model called the Infiniti Q50. Infiniti would like this model to be seen as competing with the BMW 3 Series, Audi A5 and Mercedes-Benz C-Class. 
While we appreciate Infiniti's grand designs, in truth its main competitor is likely to be the Lexus IS or ES which straddle it in size. Volvo, Citroen and Peugeot are possibly in the mix as well.
Styling
Style is a big selling point in all Infiniti models as the designers strive to be different, without being overly radical. The overall shape is of a sweeping coupe, with interesting sculpting in the areas of the front and rear guards that tie in nicely with the shapes of the lower sections of the doors.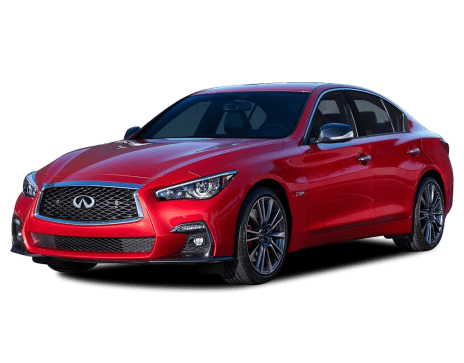 Explore the 2014 Infiniti Q50 range
The Q50's face has an amazing series of curves, angles, flics and holes reminiscent of the incredibly-complex look of an F1 car. Infiniti is a major sponsor in F1 so we can understand the stylists' thinking.
Inside, there's a neat arrangement of the major instruments, which are easy to read at a glance in true sports sedan fashion. 
Engines / Transmissions
On sale now are a 2.2-litre four-cylinder turbo-diesel producing 125 kW of power and 400 Nm of torque, and a petrol-electric hybrid with a V6 3.5-litre petrol engine and electric motors. The hybrid can produce up to 268 kilowatts of power and 546 Newton metres of torque. We have tested both powertrains in the last two weeks.
Automatic transmissions sit behind each engine, with the auto in the hybrid having a more complex design than the others to give it additional modes.
With the exception of the S Premium hybrid, all Q50s are driven by the rear wheels, the usual choice of sports sedan buyers. The S Premium hybrid has all-wheel drive, not for off-road use, but to give added grip in all conditions, particularly when the roads are slippery.
A four-cylinder turbo-petrol engine is in the Infiniti Q50 pipeline and should be in Australia towards the end of 2014.
Safety
Infiniti had no trouble in getting maximum marks in crash-test ratings. 
It has a number of interesting primary safety features (those which are there to try and avoid crashing). Around View gives a look at your car while parking. A view that looks as though it's taken from a camera above you. If you reverse out of a blind parking spot and the Infiniti sees pedestrians and/or vehicles about to cross its path it puts on the brakes.
However, we found the infotainment system to be on the complex side, perhaps to the extent of having drivers take their attention from the road for too long at times. It uses two touch screens, mounted one above the other, as well as a central control knob.
Driving
The front seats are large and support well without the need for overly aggressive side bolsters. The rear seats have legroom that's about average for rear-drive cars in this class, meaning it's less than in front-drive cars of similar size.
Rear headroom may be marginal for those who are only a little taller than average.
Boot size is good in all but the hybrid which loses some volume due to large batteries stealing space. Additionally, the hybrid misses out on the fold-down backrests used on the other Q50s.
A fascinating feature is the Infiniti's electric actuation of the steering system. This isn't simply electric power steering (EPS), rather the steering rack is moved by actuators. The different modes on the adaptive steering system can be customised and are definitely noticeable. 
Feel is different to that of normal steering, but not to a great extent. There's high grip and the Infiniti provides a feeling of added security if you mistakenly take a bend too fast. 
The lowest cost version, the Infiniti Q50 GT diesel doesn't have this advanced steering system. 
Hybrids are mostly associated with economy, however they can also be set up for power. The Infiniti hybrid's electric motor provides instant response when you hit the pedal on the right. Electric power means torque is there from zero revs. Put your foot down to overtake quickly and safely and the Infiniti Q50 instantly feels alive. Zero to 100 km/h in 5.1 seconds.
Ride comfort is good and noise reduction is excellent, the latter very reminiscent of that provided by Infiniti's biggest rival, Lexus.
Verdict
Infiniti Q50's low price makes it attractive, particularly if you're looking for something right out of the ordinary. Those who love the latest in technology should also add it to their short list. 
Pricing guides
$19,390
Based on third party pricing data
Range and Specs
| Vehicle | Specs | Price* | |
| --- | --- | --- | --- |
| 2.0T GT | 2.0L, PULP, 7 SP AUTO | $12,600 – 18,260 | 2014 Infiniti Q50 2014 2.0T GT Pricing and Specs |
| 2.0T S | 2.0L, PULP, 7 SP AUTO | $16,500 – 22,990 | 2014 Infiniti Q50 2014 2.0T S Pricing and Specs |
| 2.0T S Premium | 2.0L, PULP, 7 SP AUTO | $17,900 – 24,860 | 2014 Infiniti Q50 2014 2.0T S Premium Pricing and Specs |
| 2.2D GT | 2.1L, Diesel, 7 SP AUTO | $15,100 – 21,340 | 2014 Infiniti Q50 2014 2.2D GT Pricing and Specs |
Pricing Guide
$12,600
Lowest price, based on third party pricing data
View cars for sale
Similar Cars
Subaru WRX

Alfa Romeo Giulia

Toyota Camry

Audi A4