Toyota Tarago upgraded, price dropped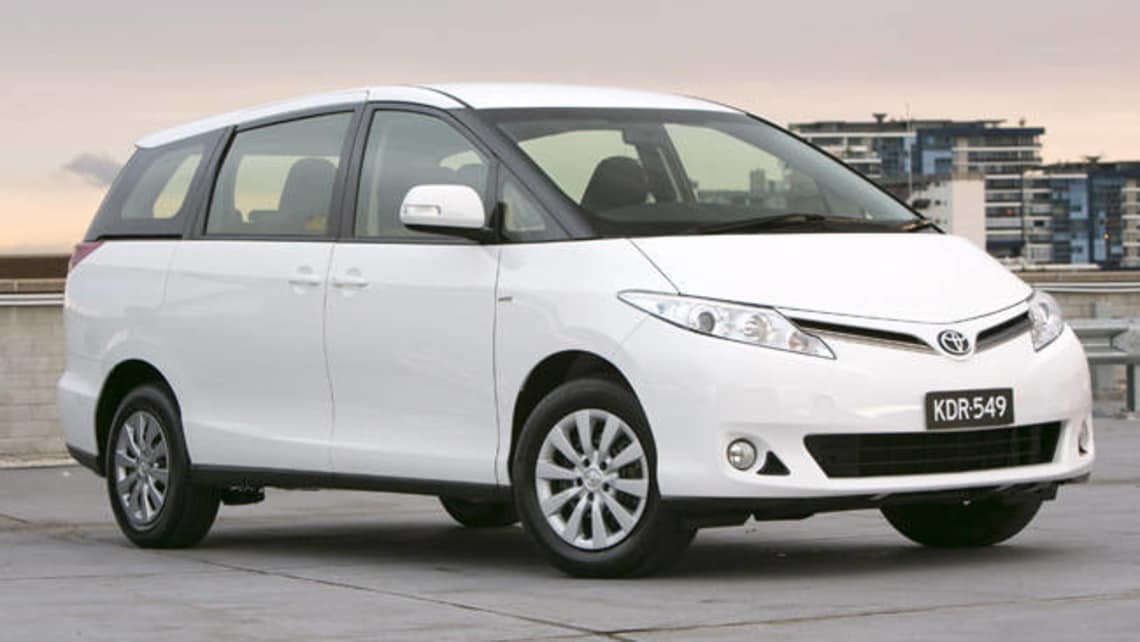 Even better news is the drop in price with Toyota responding to competitive pressure from Korean people movers and dropping the recommended retail of the Tarago GLi under the critical $50,000 physiological barrier. It is now listed at $48,990 – which Toyota Australia points out is the same price as six years ago, in March 2006.
The value is further improved because the 2012 Tarago has substantially more standard features than that 2006 model. These include seven airbags (two in 2006), vehicle stability control, traction control and emergency brake assist.
Pricing has been reduced on other models: by $2000 on four-cylinder Tarago GLX, $2300 on V6 GLi and $1300 on V6 Ultima. On the other hand, the Tarago V6 GLX variant has had a specification-related price increase of $1390.
Four-cylinder Toyota Tarago GLi and GLX are now fitted with a fuel-efficient continuously variable transmission (CVT). It can be used as a normal automatic transmission or as a seven-speed sequential-shift transmission. The new transmission replaces an old-style conventional four-speed automatic.
Toyota tells us the new automatic, allied with modifications to the Tarago's 2.4-litre petrol engine, lowers official fuel consumption by more than six per cent – to 8.9 litres per hundred kilometres, based on the Australian combined cycle.
The biggest fuel saving is in urban driving where consumption falls 7.1 per cent to 11.7 litres per hundred kilometres. This cut in fuel usage is reflected in CO2 emissions that are down 6.75 per cent to 207 grams per kilometre.
In Drive mode, the transmission control activates torque-converter lock-up at low vehicle speeds and widens the pulley ratio to keep engine revolutions low and save fuel. With the gear lever in the Manual position, the new CVT provides seven pre-selected ratios for what is virtually manual gear-shifting.
MODELS AND EQUIPMENT
As part of the Tarago upgrade, all models have revised interiors with new colours and ornamentation as well as new seat upholstery patterns.
The four-cylinder models and the V6 Tarago GLi, gain Optitron instruments, making this feature standard across the range. All models now have push-button Smart Start; V6 GLX and Ultima also have keyless Smart Entry.
Tarago V6 GLX now has a power sliding passenger-side door (already standard on Ultima) that can be operated from a switch on the dash, a button on the key fob or by moving the door handle.
New on the Tarago V6 GLX are high-intensity discharge (HID) headlamps with an advanced front-lighting system (AFS) that provides better night vision by turning the lights in response to steering angle and vehicle speed. The HID headlights also come with automatic levelling and washers. Rear privacy glass is now used on the Tarago GLX.
Top-grade Ultima is fitted with new-design 17-inch alloy wheels while the mid-grade Tarago GLX uses the 10-spoke, 17-inch design previously seen on the Ultima. Toyota Ultima's instrument panel, steering wheel, shift knob, centre-console and door-switch surrounds now have new-pattern woodgrain-look highlights.
Tarago Ultima's rear-seat entertainment system has been upgraded to a high-resolution 9-inch VGA LCD display and is compatible with Blue-Ray discs as well as DVDs. The system also includes a single CD player, AM-FM radio.
Both Tarago GLi models are fitted with an updated audio system that includes a three-line dot matrix text display, FM radio text, voice recognition for some phone and audio functions and Bluetooth phonebook access profile. There's a single CD player, AM-FM radio.
Connections on the audio systems can be made through an Auxiliary jack or USB input. Bluetooth hands-free telephone and audio streaming make life a little less dangerous for the driver and other road users.