NSW Police goes electric with 2021 Hyundai Kona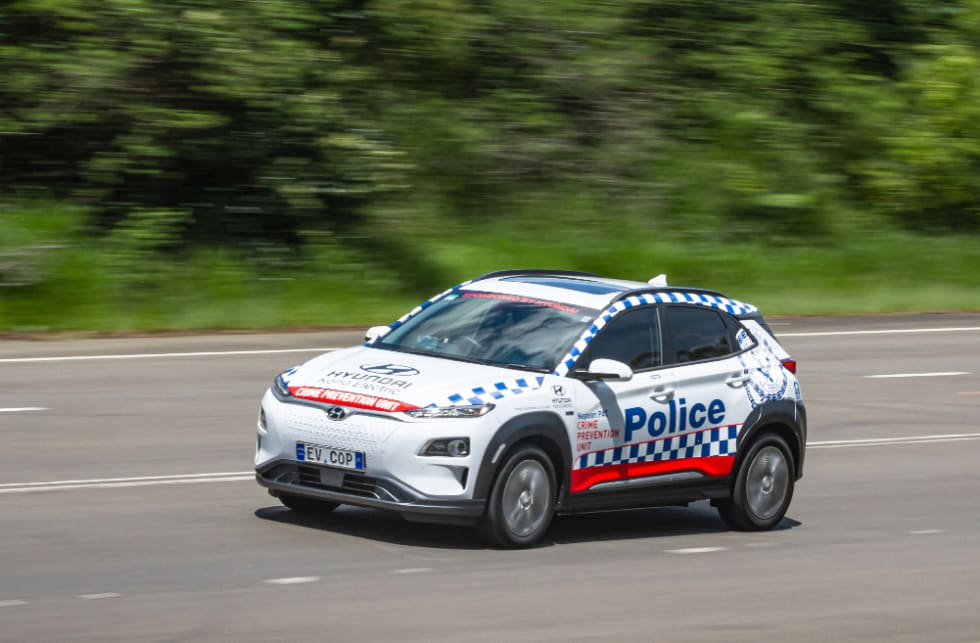 NSW Police will be protecting the community and the environment thanks to the newest addition to its fleet - a Hyundai Kona Electric.
Hyundai is sponsoring a program that will see a Kona Electric used by the police for the next 12 months. It will be headquartered at the Penrith police station, where Hyundai has installed a charger, and be used specifically by the Crime Prevention Unit; not general duties or pursuits.
"The Hyundai Kona electric vehicle is a valuable addition to the Nepean Police Area Command and will assist our Crime Prevention Unit with its community engagement initiatives," said Superintendent Chris Keane, Commander of Nepean Police Area Command.
"The sponsored vehicle with unique police markings is generating a lot of interest and comments when out in the community, and we are grateful to Hyundai for its support of our Command."
Hyundai already has a strong relationship with the NSW Police force, with the out-going Sonata being used as a general duties police vehicle since the demise of the locally-made Holden Commodore and Ford Falcon.
Hyundai hopes that by allowing the police to experience electric motoring, and showcasing it to the community, it will help with the public perception of EVs. The Kona Electric has a claimed range of up to 449km, which Hyundai says should allow it to do "several shifts" on a single charge.
It's not the first time NSW Police have used this tactic of driving high-profile vehicles for selected duties, with previous police specials including a Porsche 911, McLaren 650S, Jaguar XF and BMW i8. 
Police forces around the country have used a more diverse range of cars since the departure of the Commodore and Falcon. NSW and Victorian Highway Patrol now use the BMW 530d and Chrysler 300 SRT8, while the Queensland force have opted for the Kia Stinger GT.