Forget the V8, Australia is now Hybrid Country: Toyota says "fundamental shift" explains why cars like the LandCruiser 200 Series will be the last of their kind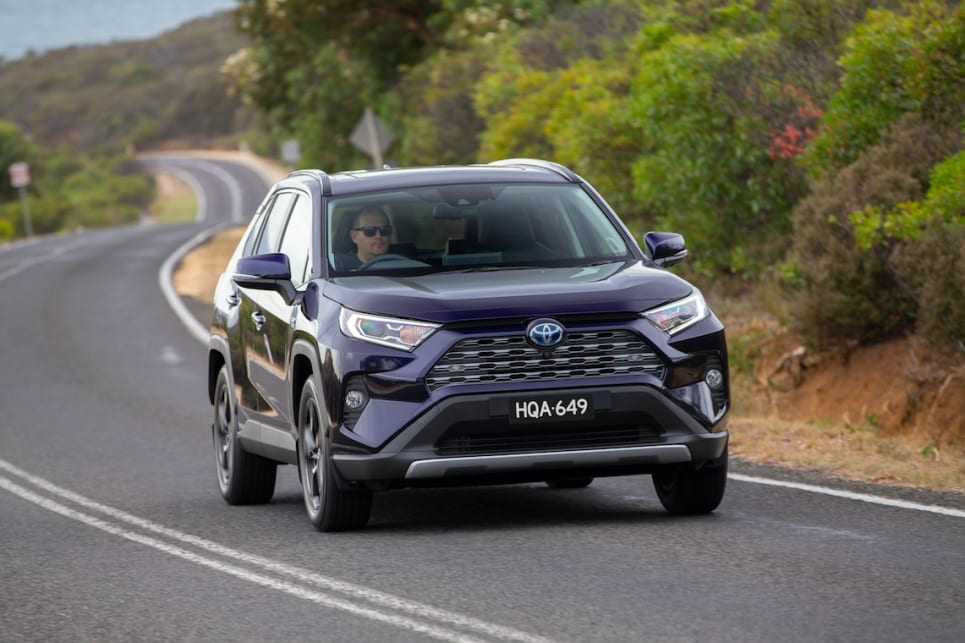 If you're of a certain age, you'll surely remember a joke people used to tell about cars - or car owners - in this country: "The only good things that come in two litres are milk and orange juice."
It was a jab at four-cylinder engines, of course, with ours a country awash with cheap fuel and hard-charging V8 petrol engines powering everything from the family sedan to the mighty HSV Maloo.
Those days are long gone now, of course, and V8s are now very much an endangered species. The LandCruiser 200 Series powers on - for now - with its V8 diesel, but we know its incoming replacement will drop the cylinder count to six, with all sorts of electrification expected to come along for the ride.
So to the Nissan Patrol, which is expected to drop its punchy petrol V8 in favour of a shrunken or hybrid powertrain in its next iteration. The Chrysler 300? Reportedly gone.
In fact, apart from the performance models from BMW, Audi and Mercedes-AMG - and their premium price tags - that leaves only models like the Ram 1500, Ford Mustang, LandCruiser 70 Series and the Grand Cherokee SRT and Trackhawk in the mainstream arena, and for how long they'll be able to continue with eight-cylinder engines is anyone's guess.
So what's replaced them? In a word, hybrids. In a country that once favoured displacement above all else, efficiency and emissions now sit atop the pile.
All of which puts Toyota in the box seat, of course. A point not lost on that company's sales and marketing chief Sean Hanley, who used his end-of-year sales wrap to talk up the technology that was effectively introduced way back when the Prius arrived Down Under.
"For me, the most significant sales achievement of the year for Toyota was that Australian motorists bought our hybrid vehicles in record numbers," he says.
"It's actually a vision that began back in 2001, when we launched the first Prius. Our plan for 2020 was for hybrids to represent 20 per cent of our sales, in the end the figure was 26.5 per cent - more than a quarter of all Toyota sales. A far cry from the 3.9 per cent we achieved as recently as 2017."
Drill down further, and you realise the kung-fu grip Toyota has on hybrid technology in Australia. The company shifted 54,335 electrified models in this country last year - which is 85 per cent of the country's entire electrified sales total.
The latest VFACTs figures reveal that some 60,417 hybrids were sold in Australia across 2020. That means nine out of every 10 hybrids sold in Australia last year were Toyotas.
Mr Hanley describes it as a "fundamental shift" in Australian buying tastes, with petrol and diesel on the way out, and hybrid on the way in.
"We calculated that, in just one year's driving, these 54,000 Toyota hybrids will save their owners more than $20m at he petrol pump, and cut CO2 emissions by more than 35,000 tonnes," Hanley says.
"This helps explain how hybrids have beach a popular mainstream choice, accounting for half of our Corolla sales, and almost 70 per cent of RAV4 and Camry sales.
"Hybrids are not a fad or a short-term trend. What we're seeing is a fundamental shift in the vehicle choices of Australian motorists board electrified options. Ten of thousands of Australians now see hybrids as the practical choice."
Little wonder then that other mainstream brands - Kia, Hyundai, Mazda, the list goes on - are rushing their own hybrid models to market as quickly as possible.
The bell isn't tolling for Australia's much-loved V8, its already tolled. And ours is now a Hybrid Country.