2022 Nissan Patrol Warrior shapes up as Toyota Land Cruiser rival undergoes rugged 4x4 off-roader transformation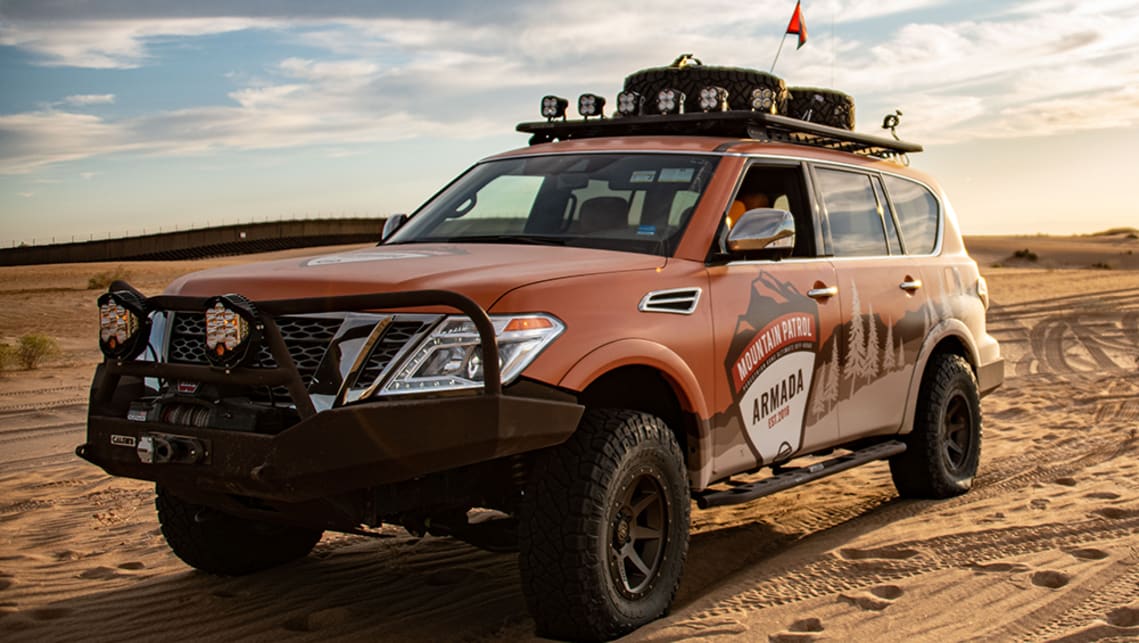 Nissan's Patrol Warrior is back in development alongside its MY22 Navara Warrior stablemate, with upgrades said to be "worthy" of the name when both models hit Australian roads sometime later next year.
While no exact release date has yet been divulged, the modifications to be carried out by Premcar automotive engineers in Melbourne are designed to follow the Navara version's lead in giving its Patrol namesake formidable off-road abilities that are not possible from off-the-shelf aftermarket suppliers.
Speaking to CarsGuide at the launch of the MY21 Navara PRO-4X in Melbourne last week, Nissan Australia managing director Stephen Lester confirmed that the eagerly anticipated Patrol flagship off-road upgrade is back on track.
"That project is well under way and is moving along in parallel (with the coming MY22 Navara Warrior facelift)," he revealed.
"We're moving down that road, and we've done a number of different designs and feasibility studies. We haven't taken it to market yet, but we've done some research with it, we've done some dealer focus groups with it as well, to help get an idea, and we've started to talk about internally about positioning, so we can validate and finalise the business case."
Now in its eighth decade but only its sixth generation, the Patrol is seen as a natural extension of the Warrior's more-extreme off-road themes, established last year with the successful debut of the Navara Warrior. 
The work carried out by Premcar is unique to the series anywhere in the world, as the Y62 Patrol/Armada has long been positioned as a luxury-first 4x4 proposition.
"When we look at what the ethos (behind the Warrior concept) is… what other vehicle has that go-anywhere mentality and philosophy?" Mr Lester said. 
"Consider where Patrol buyers actually drive their cars… not just around Toorak or wherever… but up in Queensland or down in Gippsland. These are still working vehicles, ones that people put through their paces and into challenging environments.
"So, a Warrior concept then layered over our existing Patrol offers us that taste for a different consumer who's not just looking for, let's say the biggest-possible ute on the market to feel safe on your suburban roads; they're actually really looking for it to go to do the things to go and explore Australia.
"And that's exactly where we think there is still a significant market for Patrol and a Patrol Warrior."
Aimed directly at the Toyota LandCruiser, Mr Lester sees the Warrior doing to the Patrol what the Raptor has done for the Ford Ranger – in attracting a different sort of buyer to the flagship 4x4 fold.  
"The market is massive and there are two players – LandCruiser and Patrol," he said. "And there is basically nothing else… and in three years we've tripled our sales of Patrol."
While keen to tap into the resurging interest in the Patrol nameplate, Mr Lester is adamant that the changes to the Warrior will be more than superficial, explaining why it is taking so long to come to market after the Navara version.
"It's important to remember that this vehicle isn't just about dressing up… it's about capability," he said. "That's why it takes some time… it isn't just about the fattest tyres and go pick the biggest rims.
"To Premcar and their credit, as well as to our engineers on the Nissan side, they're meeting at that same point. Not only does the build and the standards have to be at the unrelenting standard, but they're also not interested about projects which are just about stickers and just about tyres.
"You're taking something that is already an incredibly well-engineered product and putting in that little bit extra."
Although the Warrior will continue using the regular Y62 Patrol's 298kW/560Nm 5.6-litre petrol V8 powertrain, Mr Lester is confident the continuing unavailability of a diesel engine option will not deter buyers in the higher end of the luxury 4x4 wagon market to the extent it once did.
"There's been a big change in the market," he said. "Three years ago, there was a massive discussion around diesel… and by the way, the answer is still no for the Patrol… (but) the reality is that petrol has all but achieved what people thought only diesel would achieve. We sold 380 Patrols last month – our best since 2013. Our demand is consistent, it is linear and going up in that context."
With overseas travel expected to remain off the table for most Australians over the next year or two as the COVID-19 pandemic plays out internationally, Mr Lester is hopeful the Warrior will be well-placed to meet renewed demand for an off-road-focused 4x4 wagon.  
"I really feel there is going to be more in that market," he revealed. "If you look at the amount of people who are going to be now vacationing and touring around just here in Australia, that market is going to continue to grow. And there are more people making lifestyle choices about the toys and the things they want to have, and they need something to tow with. What better vehicle than the Patrol?"
Speaking of changing plans, Mr Lester reiterated that the Patrol Warrior had to take a back seat up until now due to the pandemic and associated business issues, rather than any hesitation on Nissan Australia's behalf to move forward on the project.
"There was a pause as we regrouped, but it wasn't a pause for the intention that we were second-guessing ourselves in any way," he explained. "But as a business we had some other priorities in a very immediate point in time that we had to address."