Paintless dent removal: The truth about paintless dent repair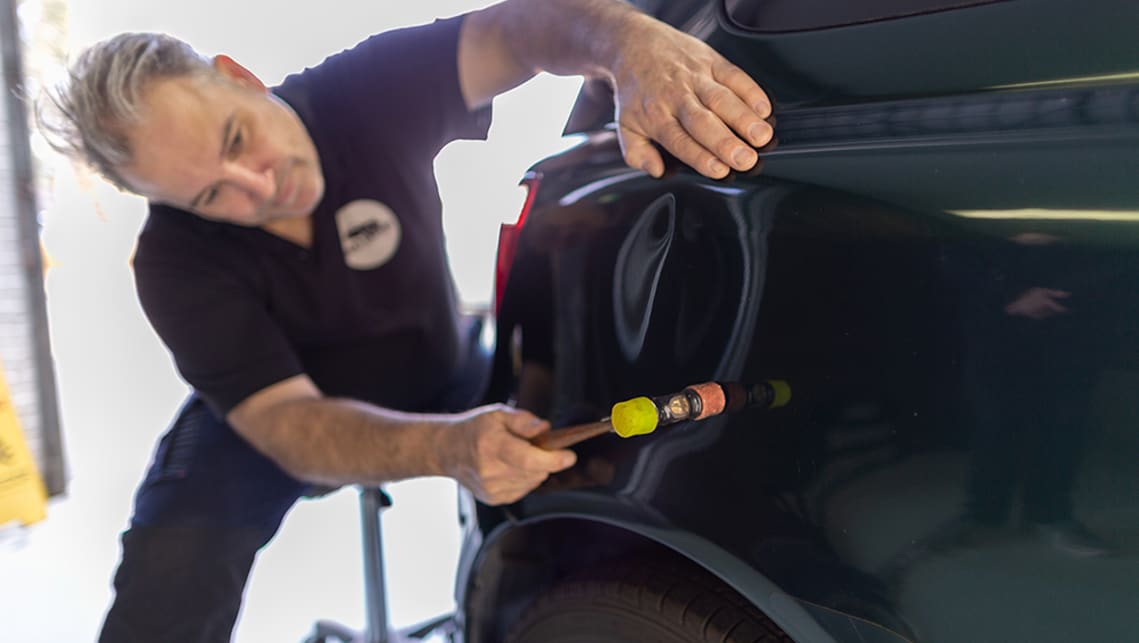 It might seem an impossible feat - to remove a dent from a car without affecting the paint, or without needing to repaint a panel altogether.
But with paintless dent removal (also known as PDR, or PDR dent removal) you can indeed have your dents, dings, bumps and scrapes fixed without the need to repaint a thing.
Paintless dent repair work is exactly what it sounds like - a method of panel beating that requires specific tools and plenty of skill to do correctly. It isn't a new technology, having been in use in different places around the world for about 40 years, but it is increasingly prevalent, with pop-up repairers and mobile operators now more common than ever in major metropolitan areas.

The toolbox at Dent Garage. Image credit: Brett Sullivan
How does paintless dent removal work? It's bit of a dark art, with plenty of secrecy around the kind of tools you need to get a perfect finish. Essentially, though, the repairer will remove any interior trims that are in the way, and use tools to reshape the panel to its original form, being careful not the crack the seal of the paint. 
This sort of work can be done on bonnets, bumpers, fenders, doors, boot lids and roof turrets - if its metal and the paint isn't compromised, a paintless dent repairer should be able to work it out. 
Or you could just try it yourself, right?
While it is possible to buy a DIY paintless dent repair kit, if you want the job done properly, you should go to a professional. People who prefer to save money and who aren't perfectionists may want to give DIY PDR a go, but we'd suggest you try your skills on a junker rather than your pride and joy. 
We spoke with two experts in the paintless dent repair field to get a better idea of the process.

The workshop over at DentBuster. Image credit: Brett Sullivan
DentBuster
Francois Jouy, the man widely regarded as the first person to practice paintless dent repair in Australia when he arrived here from France in 1985, having learned the art of panel work from his father as a young and eager apprentice.
Mr Jouy owns and runs DentBuster, a workshop in Sydney's south that is renowned for its quality of work. He regularly repairs luxury cars, prestige models, supercars, and even the prized automotive possessions of celebrities (the late billionaire businessman Rene Rivkin was a client of Mr Jouy's).
While DIY kits often rely on suction tools as part of the fix, but Mr Jouy has about 100 handmade paintless dent repair tools he uses for his work, each for different applications, different bumps, different creases. His favourite tool is his small hammer, which he's had for more than 30 years.  

Francois Jouy, who runs DentBuster, talking about his trade. Image credit: Brett Sullivan
Those sorts of tools - and that level of skill - doesn't come cheap, and that's a key point: if you want a perfect finish - in other words, for the car to look the same as it was before it was damaged - then you will can expect to pay for it. Or have your insurance cover the cost, at the very least.
There are mobile operators out there that will do quick repairs at your home or workplace, and while some will no doubt have expertise, experience, and the right tools to do the job, anything that seems too good to be true typically won't result in the level of quality that will return the car to its factory standard.
The scope of work is broad for Mr Jouy - everything from hail damage repair (which takes up about 70 per cent of his time, after the big hail storm events in Sydney over the past two years) to minor dent repair, like the Mini Cooper you see here, which received an unexplained bump while parked on the street. A Dent Buster repair job was going to cost less than the insurance excess would have.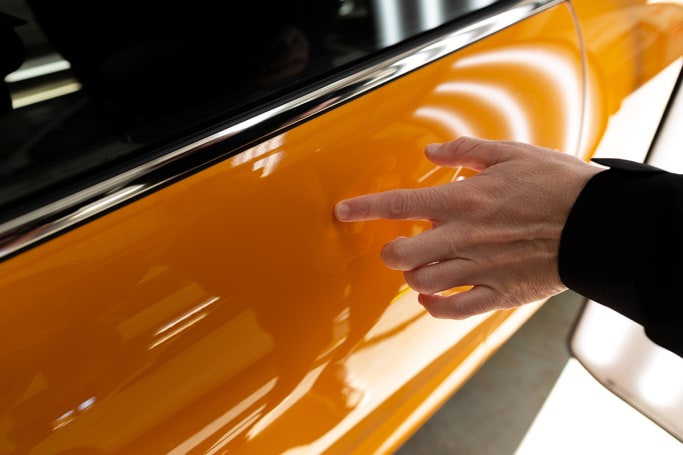 This Mini received an unexplained bump in the street. Image credit: Brett Sullivan
"A small bump like this - there's more to it than just the one strike mark. The metal contorts when it's hit, and there are smaller creases you can't see until you get the lights on to it and look down the line of the car," he said, before pointing out there were actually four imperfections as a result of this one crease at the top of the door panel.
Mr Jouy sorted these dents out by taking the door trim and exterior door handle off, and worked the dent from the inside and the outside, accessing the innards of the door by working around the side intrusion beams. 

A before shot: Mr Jouy worked this dent from the inside and outside. Image credit: Brett Sullivan
It isn't easy, and you can see from the before and after photos that the final product was as good as new. 
So long as the paint isn't broken, PDR can be used for everything from smaller trolley dings to larger impacts to the panels. Even marks that you might think can't be repaired without a replacement panel - in most cases, they'll be fixable with PDR.
Also in the workshop was a ZB Holden Commodore with its roof-lining removed for a turret-full of tack marks from a hail storm, and a partly-done Renault Clio RS 182 with its bonnet off, plus a few other cars such as a dealer demo BMW X2 in desperate need of hail repairs.

The Renault Clio RS being repaired. Image credit: Brett Sullivan
"I've been working on hail storm damaged cars since December 2018, and I have more than a year of work from just one storm," he said.
Mr Jouy has advice for people who are still yet to make their hail storm insurance claim - "you really should get onto it!". 
That's because if you're involved in a car accident and there is unknown pre-existing damage to the vehicle that you haven't declared to your insurer, they may have grounds to refuse to pay for your repairs. Check the terms of your contract.
"I recommend that people check with their insurance to see if they have choice of repairer, because there are pop-up hail storm repair centres that are employing cheap labourers to do the job as efficiently as possible, and that can mean a worse outcome for the customer," he said. 

The finished product! Image credit: Brett Sullivan
Just remember - it's going to be hard for PDR to fix a scratch on your car's bumper if the factory paint has been compromised. If the paint has been broken, paintless dent repair won't work. Experienced PDR operators are trained panel beaters, and they will be able to tell you if you need to go to a full-service panel shop when paint work is required.
You're probably wondering "how much does paintless dent removal cost?" - and the answer is that it varies, bump by bump. 
The Mini Cooper you see here was a $450 job, where some of the hail damage work that DentBuster has done has ranged upwards of $15,000. It comes down to how much work is needed - the Mini took about three hours to complete, where some of the other cars that have gone through the garage have spent weeks there. 

Mr Jouy with the Mini looking good as new! Image credit: Brett Sullivan
Dent Garage
Simon Booth is the owner and founder of Dent Garage and Dent Medic, two operations that are both aiming to do the same thing - remove dents without damaging the car's duco.
Mr Booth has been in the business for almost as long as Mr Jouy, having set up shop in Sydney way back in 1991. He previously had a drive-in service at Macquarie Centre shopping precinct in Sydney's north, but after the Sydney hail storms, he decided to move out of the car park because there was so much work in hail damage.

Simon Booth, owner of Dent Garage. Image credit: Brett Sullivan
"Hail is seasonal, so it will dissipate. In saying that, those two big storms that went through Sydney - it'll dribble in over the next two or three years," he said.
Mr Booth also does the occasional door dent or bonnet bump, and he says that customers should be aware of their car - be it a new vehicle with advanced materials, or an older car with a chequered history - because that could determine if PDR is possible.
For instance, he says that older cars that may have been crashed or had paint repairs in the past could work against you. 
"If the car has been filled with filler - if there are chunks of bog under the paint, then you can't do PDR on it. If the metal is pure and the paint is good, then PDR is possible," he said.
For owners of newer cars, be wary if the vehicle has aluminium panels. Many new cars have aluminium bonnets, fenders and tailgates in order to save weight and increase strength compared to standard steel panels. But this can present a challenge for PDR pros.
"Aluminium is harder to fix. Metal has memory, so when we press it back, it goes back to where it was. A steel-pressed panel wants to spring back to its shape that it was pressed under heat. Aluminium doesn't do that, it doesn't help you. It will overcorrect, it goes to far," he said.
And while you might think that PDR only works if your paint isn't damaged, Mr Booth said there are ways of working around a broken surface coating, if you're okay with a finish that isn't like it's come straight off the showroom floor.
"We do dents where the paint is chipped - I offer touch-up paint for free, but if you're more worried the dent than the chip, as most people are, then we can work around it."
The little Toyota Echo that Mr Booth worked on during our visit had a pretty decent dent in the rear quarter panel, apparently caused by someone at a train station who clearly didn't like the look of the car.

A close up of the bump on the little Echo. Image credit: Brett Sullivan
Mr Booth said that this repair would be "about $500", but that if you're really budget-conscious, you could get it done elsewhere for as little as $200… "But you'd see push-marks, and the end result wouldn't be as good.
"It's all time based. I don't charge any more for a Rolls-Royce compared to an Echo - I'd just put more time into it, so that it lives up to the car."
Mr Booth said his tool kit has evolved over the years as advances in the field have meant there are purpose-made instruments available to order online. Lighting is one example.

"Lighting is critical - you need a certain amount to see the dents." Image credit: Brett Sullivan
"We changed to LEDs from fluoros years ago - they flicker, and LEDs don't. Lighting is critical - you need a certain amount to see the dents.
"It's all shop-bought nowadays. I've been doing this 28 years - and when I started they were very rudimentary, made by blacksmiths. Now there are highly engineered tools with interchangeable bits, and the Americans and Europeans make really good tools.
"It used to be that you'd have to wait months for a tool because someone would hand-make it for you. I started off with 21 tools for the first 15 years of my life. Now tools and everything has become so much easier to find. I've now got hundreds of tools.
"We use glue for the areas we can't get tools to - like a rail. We use hot glue, only on original paint, because it might pull the paint off. We glue a puller to the paintwork, let it set, then use a slide-hammer to pull the dent out 'high', then we'll tap it down," he said.

How about the after shot? Image credit: Brett Sullivan
Advice 
Our advice? Get more than one quote, and go with the company you feel most comfortable with. 
No matter if you're in Sydney, Melbourne, Brisbane or elsewhere in Australia, you should be able to find a paintless dent repair professional by looking online. Just type "paintless dent repair near me" in Google and you'll be treated to anyone nearby that should be able to do the work for you. But be sure to do your research, and check if the person doing the work is a qualified panel beater or licensed paintless dent repairer. 
Mr Booth warned that customers should: "Be suspicious of people that only have one or two Google reviews. That means they've turned reviews off, because you can do that. My reviews look too good to be true, but they're true!"
Thanks to Simon Booth at Dent Garage and Francois Jouy at DentBuster for their time and assistance with this story.
Have you had paintless dent repair done? Were you happy or unhappy with the results? Let us know!

CarsGuide does not operate under an Australian financial services licence and relies on the exemption available under section 911A(2)(eb) of the Corporations Act 2001 (Cth) in respect of any advice given. Any advice on this site is general in nature and does not take into consideration your objectives, financial situation or needs. Before making a decision please consider these and the relevant Product Disclosure Statement.