10 best hybrid vehicles in Australia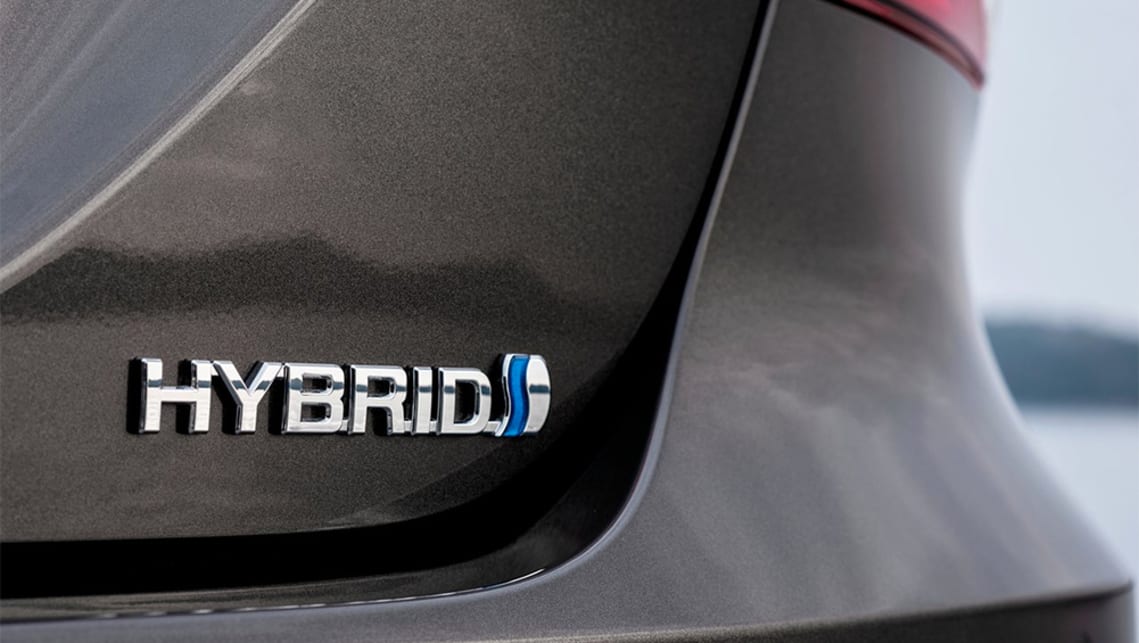 The sale of hybrid electric vehicles continues to climb as automakers prepare to phase out vehicles powered solely by internal-combustion engines and buyers around the world embrace more efficient, eco-friendly options.
Research by JP Morgan suggests that by 2025 hybrid cars will represent a whopping 23 per cent of all vehicles sold worldwide.
The power of hybrids lies not just in the combination of their conventional engines with an electric motor, but their ability to provide that perfect safety net for those buyers still anxious about the range offered by purely electric alternatives.
They are like that pair of flats you carry in your bag for when your heels start to pinch on a night out.
So, how do hybrid electric vehicles work?
Basically, Hybrid Electrical Vehicles (HEV) use a conventional internal-combustion engine together with an electric motor to drive the vehicle.
For the driver, there is very little difference, as the systems tend to work independently, so the car drives like other vehicles and still uses either petrol or diesel (although hopefully significantly smaller amounts).
The wheels can be powered by the engine, the electric motor alone or by a combination of the two. The electric motor is charged by capturing energy generated during braking and by the combustion engine.
Generally, the electric motor helps acceleration from standstill, powers the car at idle and provides an extra boost when needed, which means a smaller combustion engine can be used.
This engine can also be tuned for efficiency rather than power or torque, thus improving fuel consumption and saving money.
Many hybrids can be driven on electric power alone (for a distance of around 30 to 50km) but mostly at lower speeds. While hybrid electric vehicles are among the most fuel-efficient cars on our roads, they are less advantageous at highway speeds,  where the additional weight of the vehicle and the reduced need for regenerative braking impact overall efficiency.
What about plug-in hybrids?
Plug-in Electric Hybrid Vehicles (PHEV) work in much the same fashion as regular hybrid vehicles, with the additional option of recharging the batteries through a plug-in electricity connection.
They have larger batteries than HEVs and can be driven further in full-electric mode. They are the middle ground between conventional hybrids and full electric vehicles.
Recharging is usually through a household powerpoint ( for four to eight hours for a full charge), special faster wall boxes (two to four hours) or the super-fast public recharging network.
PHEVs are quiet, efficient and, in electric mode, produce reduced emissions.
Oh, and there's one more option...
You can also have a range-extender hybrid. In this case, the combustion engine never really propels the car. Instead, it is used to power a generator, which in turn recharges the batteries that power the electric motor that drives the wheels, like an EV. The BMW i3 range extender is an example of this.
Choosing a hybrid vehicle
Hybrids make sense, and not just for the environmentally conscious. They allow you the best of both the combustion and electric-vehicle worlds in packages that rival their more conventional counterparts.
Range anxiety is no longer an issue as they can charge their own batteries and you can also choose between maximum efficiency and performance, depending on your preference and driving conditions.
The up-front costs are usually greater but electric motors are efficient converters of energy, offer excellent torque and zero tailpipe emissions, which means efficiency without compromising performance.
HEVs and PHEVs are best over shorter distances or for drivers that make multiple stops, like dropping the kids at school, then going to work, then the shops and activities and back home. This allows the best use of the regenerative-braking technology, increasing efficiency and overall benefits.
Boot space is reduced because batteries need to be accommodated, so make sure you account for your needs. Owners of plug-in hybrids will need access to parking in order to recharge, although you could use a public charging station if you don't have a garage at home.
Best hybrid cars in Australia
The increasing uptake of hybrid vehicles by Australian buyers has encouraged car manufacturers to improve choice by making more models available.
While the Toyota Prius and Mitsubishi Outlander PHEV, among the first hybrid cars in Australia, are probably the most well-known hybrids on offer, there is actually a wide selection of HEVs and PHEVs from which to shop, with a bevy of exciting variants on their way. Here are the best on the market.
Toyota Corolla SX Hybrid
| | |
| --- | --- |
| Price | From $28,370, plus on-road costs |
| Engine | 1.8-litre four-cylinder petrol/twin electric motors |
| Power | 72kW at 5200rpm (petrol) 53kW (electric) |
| Torque | 142Nm at 3600rpm (petrol) 163Nm (electric) |
| Transmission | CVT auto, front-wheel drive |
| Fuel use | 4.2L/100km |
| CO2 | 97g/km (ADR combined) |
Toyota expects that nine out of 10 Corolla buyers will opt for one of the two Toyota hybrids offered in the range. Affordable, practical, user-friendly and with almost the same punch as the combustion-engine models, it is easy to see why this small hybrid car is serving to further enhance Toyota's popularity.
The latest edition Corolla has some of the sharpest styling we have seen from the brand in forever, it is well equipped and offers a more refined ride.
The Corolla is probably one of the cheapest hybrid cars in Australia, with the SX Hybrid just $1500 more than its conventional counterpart.
The 1.8-litre petrol unit is good for 72kW of power and 142Nm of torque, with the twin electric motors generating 53kW/163Nm. The transition from electric to petrol is almost seamless with the Corolla able to run in full electric mode for short journeys up to speeds of 80km/h.
Regenerative braking is used to charge the 6.5Ah nickel-metal hydride battery pack with the petrol engine picking up the slack.

The Toyota Corolla.
Toyota RAV4 GXL Hybrid
| | |
| --- | --- |
| Price | From $41,140, plus on-road costs |
| Engine | 2.5-litre four-cylinder petrol/twin electric motors |
| Power | 131kW at 5700rpm (petrol) 163kW (electric) |
| Torque | 221Nm at 5200rpm (petrol) 202Nm (electric) |
| Transmission | CVT auto, all-wheel drive |
| Fuel use | 4.8L/100km |
| CO2 | 109g/km (ADR combined) |
With its sharper styling, improved technology and greater value proposition, Toyota's new RAV4 range has proved extremely popular in Australia. The hybrid variants, which add miserly fuel consumption to the versatility and utility of the SUV, not only add choice but also ensure that Toyota has the largest stable of hybrid models in the business.
There are six hybrids available in the range in two-wheel and all-wheel drive, but our pick is the GXL Hybrid AWD. The RAV4 GXL Hybrid SUV combines a 2.5-litre four-cylinder (131kW, 221Nm) with electric motors operating independently across the front and rear axles. The electric motors have a combined maximum power output of 163kW.
Like the Corolla and Camry hybrids, the RAV4 uses Toyota's Hybrid Synergy Drive system, which means that the petrol and electric motors chime in and out as necessary. There is a an EV-only mode, but to be honest that rarely lasts long without assistance.
The RAV4 offers excellent inclusions and safety across the range with smartphone mirroring finally available. It's a good thing, too, because the infotainment system is fiddly and one of our least favourite things about this car.

The Toyota RAV4 GXL Hybrid
Toyota Camry Ascent Sport Hybrid
| | |
| --- | --- |
| Price | From $31,990, plus on-road costs |
| Engine | 2.5-litre four-cylinder petrol / twin electric motors |
| Power | 131kW at 5700rpm (petrol) 88kW (electric) |
| Torque | 221Nm at 5200rpm (petrol) 163Nm (electric) |
| Transmission | CVT auto, front-wheel drive |
| Fuel use | 4.2L/100km (ADR combined) |
| CO2 | 96g/km |
There are three Toyota Camry hybrids to choose from. The Ascent Sport Hybrid powertrain pairs a 2.5-litre four-cylinder petrol unit, featuring the Atkinson Cycle combustion set-up, with an 88kW/202Nm electric motor to help it out from standstill, at idle or low speeds (under 40km/h) over short distances.
It is the perfect family hauler - large enough, super comfortable and extremely frugal. Creature comforts include dual-zone climate control, keyless entry and an 8.0-inch multimedia system screen, but unfortunately still no smartphone mirroring.
Toyota offers a five-year/unlimited-kilometre warranty with an eight-year/160,000km warranty on the battery.

Toyota Camry Hybrid
Mitsubishi Outlander PHEV
| | |
| --- | --- |
| Price | From $45,990 plus on-road costs |
| Engine | 2.0-litre four-cylinder petrol/ with twin electric motors |
| Power | 87kW at 4500rpm (petrol) 120kW (electric) |
| Torque | 186Nm at 4500rpm (petrol) 332Nm (electric) |
| Transmission | Direct-drive automatic, all-wheel drive |
| Fuel use | 1.7L/100km/54km EV range |
| CO2 | 46g/km (ADR combined) |
Mitsubishi was one of the earliest adopters of plug-in hybrid technology, with the Outlander PHEV the most well-known example of the breed in Australia. The company has now dramatically dropped entry prices by almost $5000, making the PHEV accessible to more buyers.
The Outlander's PHEV system uses an electric motor on each axle with the front producing 60kW/137Nm and the rear 60kW/195Nm. This is paired with a 2.0-litre petrol engine (87kW/186Nm) which drives the front wheels at speeds above 70km/h and acts to top-up the charge on the 12kWh Lithium-ion battery.
The latter has a range of 54km on purely electric charge, which is great for those drivers with average commuting distances.
The Oultander PHEV has good inclusions and smartphone mirroring through Apple CarPlay and Android Auto, but you will have to hand over another $1500 for an 'Advanced Driver Assistance Package'.
You can plug the PHEV into a household socket to charge overnight (six hours) or opt for a dedicated 16A charger (three hours).

The Mitsubishi Outlander PHEV
Hyundai Ioniq
| | |
| --- | --- |
| Price | From $40,990, plus on-road costs |
| Engine | 1.6-litre four-cylinder petrol-electric hybrid |
| Power | 77kW (petrol), 44kW (electric) |
| Torque | 147Nm (petrol), 170Nm (electric) |
| Transmission | Six-speed automatic, front-wheel drive |
| Fuel use | 3.2L/100km (claimed), 63km EV range |
| CO2 | 84g/km |
Hyundai has stirred the market in Australia with the arrival of its super-stylish Ioniq. It is offered as a hybrid, a plug-in hybrid and a purely electric vehicle, and the interest it has sparked alone has made it a resounding success.
The Ioniq PHEV has an electric-only range of 63km, depending on how you drive it of course, after which the petrol engine kicks in to propel the car and power up the 360-volt 8.9kWh Lithium-ion battery.
The Ioniq's hybrid set-up features a 77kW/147Nm 1.6-litre petrol engine and a single electric motor (44.5kW/170Nm) up front.
The combination delivers the power needed for a decently sporty drive, with Australian-tuned suspension and low centre-of-gravity weighing in for an enjoyable time behind the wheel.
You can opt for a three-phase wall box ($2000), which will give you a fully charged Ioniq in just over two hours, but you can also recharge through a conventional household socket (six hours) or a public DC charger in under 30 minutes.
And let's not forget that if the plug-in hybrid is a touch too adventurous for your needs, there is also the conventional Ioniq hybrid, which allows you to do a little bit for the environment without changing any of your driving patterns.
It uses the same 1.6-litre petrol engine and six-speed dual-clutch transmission as the PHEV but has a smaller 32kW/170Nm electric motor.

The Hyundai Ioniq PHEV
BMW X5 xDrive40e PHEV
| | |
| --- | --- |
| Price | From $124,990, plus on-road costs |
| Engine | 2.0-litre four-cylinder petrol / twin electric motors |
| Power | 180kW (petrol) 83kW (electric) |
| Torque | 350Nm (petrol) 250Nm (electric) |
| Transmission | Eight-speed automatic, all-wheel drive |
| Fuel use | 3.3L/100km/31km EV range |
| CO2 | 77g/km |
The xDrive40e arrived here in 2016 as part of BMW's X5 range with the charging port the only real visible difference. Like the rest of the X5 range, it was versatile and luxurious with practically every modern convenience on board.
Drivers of the 40e can choose from three drive modes – 'Max'  mode, which locks out the petrol engine until 120km/h, 'Auto' which leverages both systems according to driving conditions and can run on the electric motor alone up to 70km/h, and 'Save' mode, which runs on petrol only, allowing you to recharge the battery and conserve it for later use.
Behind the wheel we found it almost impossible to replicate the 31km pure EV range, even in the slipstream of a larger vehicle. While the battery is a boost to power on demand, once it is depleted the 40e is left with a rather small engine to do the heavy lifting, which is borne out in the escalating fuel consumption figures.
Charging takes around five hours via a regular household plug or half that if you have a wall-box charger installed.
Given the speed at which renewable-energy technology surges, the xDrive40e may well be showing its age and is as not as exciting as it once was.
The stage, then, is perfectly set for the next-generation X5 xDrive45e, which, fingers crossed, will land here sooner rather than later. It is powered by a 3.0-litre in-line six and combines with the 82kW electric motor for a total output of 290kW of power and 600Nm of torque. Zero-100km/h in 5.6 seconds isn't too shabby, either.

2016 BMW X5 xDrive40e
Lexus ES300h Sports Luxury
| | |
| --- | --- |
| Price | From $74,880, plus on-road costs |
| Engine | 2.5-litre four-cylinder petrol with twin electric motors |
| Power | 118kW |
| Torque | 213Nm |
| Transmission | CVT auto, all-wheel drive |
| Fuel use | 5.5/100km |
The ES300 may have said goodbye to its V6 motor but it remains a sleek, sporty and satisfying drive. The luxury upmarket sedan boasts a host of creature comforts, an extensive safety range and is now kinder to the environment, too.
The ES300h is powered by a 2.5-litre four-cylinder petrol engine with an 88kW/202Nm electric motor. The electric motor provides low-speed power under gentle throttle before the engine kicks in almost unnoticeably when needed, with the Lexus delivering a quiet, smooth drive around town or further afield.
With a nicely styled interior, generous room and quality inclusions, the ES300h makes a nice alternative to SUV options. The battery sits under the rear seat instead of the boot, so cargo room is not compromised.

The Lexus ES300h
Audi Q7 e-Tron
| | |
| --- | --- |
| Price | From $139,900, plus on-road costs |
| Engine | 3.0-litre V6 diesel-electric |
| Power | 190kW (diesel) 94kW (electric) |
| Torque | 600Nm (diesel) 350Nm (electric) |
| Transmission | Six-speed automatic, all-wheel drive |
| Fuel use | 1.9L/100km/56km EV range |
The Audi Q7 e-Tron is indeed a clever hybrid proposal. The already impressive diesel V6 is further enhanced by a cracking 94kW electric motor, which helps deliver a whopping system output of 275kW of power and 700Nm of torque.
It is barely discernible from the rest of the Q7 range, which is how Audi wants it, preferring the e-Tron to be judged on its overall merit rather than an eye-catching green hue.
It is beautifully put together, generously specified and a dream to travel in. It's a pity the battery under the boot floor prevents a seven-seater hybrid car option, which would have been a real drawcard.
Nevertheless, the systems work well together with excellent verve off the mark and great road manners with the extra weight only noticeable when you are trying to push through a corner quickly.
Audi claims a EV-only range of 56km before the diesel is forced to kick in but we found that figure a tad evasive.
The Q7 e-Tron will take around 10 hours to charge on a household plug with that figure dropping to around 2.5 hours on a 400-volt charging outlet.
Audi also unveiled plug-in hybrid versions of the A6, A7, A8 and Q5 at the Geneva Motor Show this year but it is still to be determined which of those will be sold in Australia.

Audi Q7 e-tron
Volvo XC90 T8 Twin Engine Hybrid
| | |
| --- | --- |
| Price | From $124,900, plus on-road costs |
| Engine | 2.0-litre four-cylinder turbocharged and supercharged petrol-electric |
| Power | 235kW (petrol) 65kW (electric) |
| Torque | 400Nm (diesel) 240Nm (electric) |
| Transmission | Eight-speed automatic, all-wheel drive |
| Fuel use | 2.1L/100km/30km EV range |
Not only is the Volvo XC90 hybrid the only plug-in hybrid that offers seating for seven, it is also the quickest XC90 around.
It is truly versatile, packed to the rafters with Volvo's life-saving active and passive safety technology and boasts amazing levels of luxury. It is not a sports SUV, like some in the BMW stable for example, but on the road it is supremely comfortable and effortless to drive.
The switch between motors is unobtrusive, the car itself is smooth and quiet and it remains agile, despite the added weight of its batteries.
The 9.2kW Lithium-ion battery takes around 3.5 hours to charge at home, an hour less if you have a more powerful 16-amp charger installed.
If you are looking for something a touch smaller, the XC60 R-Design Hybrid may be perfect for you. Prices start from $92,990.

The Volvo XC90 T8
Mercedes-Benz C 350e PHEV
| | |
| --- | --- |
| Price | From $75,814, plus on-road costs |
| Engine | 2.0-litre four-cylinder turbocharged petrol-electric |
| Power | 155kW (petrol) 90kW (electric) |
| Torque | 350Nm (petrol) 440Nm (electric) |
| Transmission | Seven-speed automatic, all-wheel drive |
| Fuel use | 2.1L/100km/50km EV range |
Hybrid technology adds optimum efficiency to the C-Class's impressive dynamics and everyday practicality. It is the most economical C-Class to date, with the 90kW electric motor boosting performance during acceleration and the 13.5kWh capacity Lithium-ion battery good for 50km on purely electric power.
This is stylish, comfortable and superbly equipped sedan which one of the best chassis on the road. With a 7.2kWh on-board charger, the C 350e can be recharged inside two hours using a Mercedes wallbox or in about seven hours at a domestic power socket.
If you want something a bit larger than the C 350e, Mercedes also offers the E 350e and GLE 500e SUV and S 500e as plug-in hybrids.

Mercedes-Benz C350e.
Coming soon
BMW 330e iPerformance PHEV
We are unlikely to see the new BMW plug-in hybrid in Australia before the end of 2019, but if the rest of the rejuvenated 3 Series range is anything to go by, you can expect to be well impressed.
The 330e sports a 2.0-litre four-cylinder petrol engine (135kW) and a 50kW Xtraboost electric motor for a combined 185kW of power and 420Nm of torque.
A 12kWh Lithium-ion battery gives the 330e an electric-only range of 60 kilometres, double that of the car it replaces. BMW claims an overall fuel economy of 1.7L/100km.
BMW X1 XDrive 25e
This plug-in hybrid may not make the first shipment of the new X1 range expected here in March 2020, but it is unlikely to be far behind. It will be powered by a 2.0-litre four-cylinder turbo-petrol with an electric motor (70kW/165Nm) driving the rear wheels. BMW says that it will be able to travel close to 50km on electricity alone and with efficiency figures of 2.0L/100km.
Subaru Forester e-Boxer Hybrid
Expect the Forester Hybrid at your local dealer either late this year or early in 2020. Subaru will pair its 2.0-litre four-cylinder engine (110kW/188Nm) with a 10kW/65Nm electric motor powered by a 13.5kWh Lithium-ion battery pack.
No surprises that it will use the brand's famed all-wheel drive system and 'Lineartronic' CVT auto. Fuel economy is rated at 5.3L/100km.
Ford Escape Hybrid
Ford is expected to introduce the Escape Hybrid to Australia in 2020. It will be the manufacturer's first plug-in hybrid in this country and will feature a 2.5-litre four-cylinder petrol engine paired with a 165kW electric motor. The 14.4kWh Lithium-ion battery that powers the latter will offer 50km of pure EV driving.
BMW i8 Roadster
Okay, so the i8 may not be in your budget, but the petrol-electric supercar does show that hybrids can be fun.
BMW has recently added the Roadster to the i8 Coupe it already offers and it really is a sight to behold. It features the same 170kW/320Nm 1.5-litre three-cylinder turbo-petrol engine as the Coupe but is paired with an electric motor capable of 105kW/250Nm.
The electric motor drives the front axle and is powered by a new 34Ah high-voltage Lithium-ion battery that allows for a 53km electric-only range.
BMW claims the Roadster can sprint from 0-100km/h in just 4.6 seconds. With a price-tag in excess of $303,000 it's a good thing dreams are free.
The future of hybrids
While there is a concerted effort by manufacturers and governments around the world to increase the uptake of purely electric vehicles, there is also a recognition that hybrids and plug-in hybrids are a useful stepping stone.
Most manufacturers are already starting to adopt what they call mild-hybrid technology by incorporating very small electric motors in the car's make-up to provide power during start-up and idle. Odds are that most drivers don't even realise it is there.
Most of us are just trying to get from one place to another without it costing too much. Research tells us that more than 52 per cent of Australian drivers would seriously consider a hybrid purchase and, given the growing range of offerings, perhaps the future, for now at least, is hybrid.