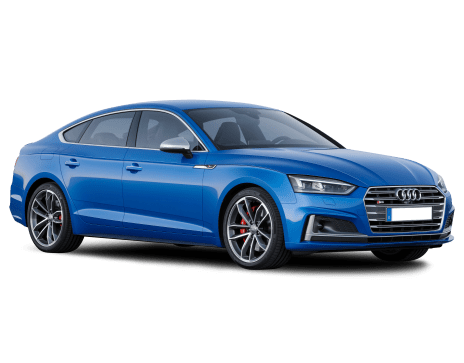 COMPARE
Audi S5
VS
Ferrari 812 SUPERFAST
Audi S5
Likes
Plenty of power
Grip galore
A safety and tech fest inside and out
Dislikes
Ride could be too firm for the city
Limited headroom in the back
Fixed four-seat setup means you can't squeeze a third in the back
---
Ferrari 812 SUPERFAST
Likes
Savage design
Furious performance
Absurd V12 noise
Dislikes
Electronic power steering
Crazy price
Possibly too powerful for this planet
Summary
Audi S5
It's inevitable that Audi's S5 will spend the bulk of its time pouncing between traffic lights in Australia's clogged and cramped CBDs, but it's hard to imagine a better place to enjoy the hard-charging antics of this stunning Coupe than the sublime twists and turns of Tasmania's perfect blacktop.
Based on the also-very-pretty A5 Coupe, the S-stamped version adds a powerful 3.0-litre V6 engine, a quick-shifting eight-speed gearbox and some suspension trickery that glues the sleek Audi to the road surface below.
It's the fastest, most powerful and lightest S5 to date, and it's cheaper than the car it replaces to boot. And better still, we had an entire island neatly wrapped in perfect ribbons of tarmac to put it to the test.
The second-generation version of the S5 Sportback is set to appear in May, while the new S5 Cabriolet will follow later this year. For now, the two-door Coupe will lead the charge. 
| | |
| --- | --- |
| Safety rating | — |
| Engine Type | 3.0L |
| Fuel Type | Premium Unleaded Petrol |
| Fuel Efficiency | 8.5L/100km |
| Seating | 4 seats |
---
Ferrari 812 SUPERFAST
Picturing yourself driving a Ferrari is always a pleasant way to waste a few 'when I win Lotto' moments of your life. 
It's fair to assume that most people would imagine themselves in a red one, on a sunny, good-hair day with an almost solar-flare smile on their faces. 
The more enthusiastic of us might throw in a race track, like Fiorano, the one pictured here, which surrounds the Ferrari factory at Maranello, and perhaps even specify a famously fabulous model - a 458, a 488, or even an F40.
Imagine the kick in the balls, then, of finally getting to pilot one of these cars and discovering that its badge bears the laziest and most childish name of all - Superfast - and that the public roads you'll be driving along are covered in snow, ice and a desire to kill you. And it's snowing, so you can't see.
It's a relative kick in the groin, obviously, like being told your Lotto win is only $10 million instead of $15m, but it's fair to say the prospect of driving the most powerful Ferrari road car ever made (they don't count La Ferrari, apparently, because it's a special project) with its mental, 588kW (800hp) V12, was more exciting than the reality.
Memorable, though? Oh yes, as you'd hope a car worth $610,000 would be.
| | |
| --- | --- |
| Safety rating | — |
| Engine Type | 6.5L |
| Fuel Type | Premium Unleaded Petrol |
| Fuel Efficiency | 15L/100km |
| Seating | 2 seats |
Verdict
Audi S5
8.1/10
The kind of car that pushes back the autonomous argument, the S5 Coupe is a fun and frantic blast from the behind the wheel. Addictively powerful, sharp to steer and with the kind of endless grip that turns a twisting road into your own personal amusement park, the S5 injects a ton of fun into back-country blasts. It might be a touch uncomfortable in the city, but that's a price we're willing to pay.
Does a V6 turbo Audi S5 trump the previous V8 version? Tell us what you think in the comments below.
---
Ferrari 812 SUPERFAST
7.4/10
Clearly, this is not a car for everyone, and you'd have to question whether it's a car for anyone, really, but people who like spending $610,000 on Ferraris, and waiting in a queue to do so, will be delighted, because it delivers the kind of exclusivity, and bragging rights, that you'd have to hope a car called Superfast would.
Personally, it's a little too much, a little too over the top and definitely too mad, but if rockets are your thing, you won't be disappointed.
Is the Ferrari 812 Superfast a bit of you, or a bit too much? Tell us in the comments below.
Design
Audi S5
9/10
Undoubtedly one of the better looking cars on the road today, the Audi S5 Coupe looks sleek and stunning from every angle.
Viewed front-on, the newly designed single-frame grill (it's now wider and flatter) looks slick and powerful, while a raised bulge in the bonnet (Audi calls it a power dome) hints at the performance lurking beneath it.
Side on, a body crease (so sharp it's like it's been cut with a laser) runs the length of the body, while the 19-inch wheels are perched at the furthest corners. Four burbling exhausts emerging from beneath the boot complete this perfectly painted picture of intent.
---
Ferrari 812 SUPERFAST
9/10
It's very… big, isn't it? And it looks even bigger in the flesh with a bonnet you could use to put a roof over your tennis court. In all, the Superfast is 4.6m long, almost 2.0m wide and weighs 1.5 tonnes, so it certainly has presence.
Making something this big look good is a challenge even for those as talented as Ferrari's design team, but they have nailed it. The front has what appears to be a mouth, poised to swallow lesser cars whole like some whale shark Terminator. 
The bonnet appears to be flaring its nostrils, and looks fabulous from the driver's seat, and the swooping side and taut rear complete things nicely.
Personally, it still just looks too big to be a Ferrari, but then this is not a mid-engined super car, it's a grand touring rocket ship, and the ultimate expression of unnecessary excess, and it pulls off that aura perfectly.
Practicality
Audi S5
7/10
Well, the hint is right there in the name. This might be a touch over 4.6m long, but that swooping coupe roofline eats away at your practicality, especially for rear seat passengers.
Up front, though, it's spacious and comfortable and built for purpose, with terrifically bolstered sports seats and a flat-bottomed steering wheel that's among the best in the business.
Shift to the back, and you'll find two seats (the middle one has been replaced by a weird plastic table), but there is plenty of legroom. Headroom, on the other hand, is a less positive story, with anyone who is 183cm (six-foot) or taller are sure to become well accustomed with the S5's roof lining.  
There's a cupholder in each of the rear doors, matching the two for front seat passengers, and two ISOFIX attachment points in the back row. Backseat riders also get their own air-con controls, and a power outlet.
Boot space is what Audi claims is a class-leading 465 litres (up 10 on the outgoing car) and the rear seat is split 40/20/40.
---
Ferrari 812 SUPERFAST
7/10
Practicality isn't really your concern when you buy a two-seat mega car like this, so let's just say it's about as practical as you would expect it to be. Not very, then.
Price and features
Audi S5
8/10
Audi's new S5 Coupe arrives with a sticker price of $105,800, which is a touch over its most obvious competitor - the marginally slower BMW 440i Coupe.
The good news, though, is that you'll want for little, and can easily avoid Audi's infamous options list. Expect 19-inch alloy wheels that display the bright red brake calipers, illuminated door sill trims, nappa leather sports seats that are heated in the front, and offer pneumatic bolster and lumbar support, plus carbon detailing in the interior.
In-cabin technology is taken care of via Audi's awesome 'Virtual Cockpit' (a huge digital screen that replaces the traditional dials in the driver's binnacle - the Google Earth-overlayed navigation is particularly outstanding) along with a second, centred screen that feeds a 10-speaker stereo.
---
Ferrari 812 SUPERFAST
6/10
Is it possible that any car - save one made from gold, dusted with diamonds and stuffed with truffles - would represent good value at a price of $610,000? It seems unlikely, but then people who can spend that much assay value differently, and would probably say that something as profound as the 812 Superfast is worth buying at any price.
Another way to look at it is price-per-litre, which is less than $100,000, considering you do get 6.5 litres of V12 Ferrari donk. Or you could go by kilowatt, which works out at nearly $1000 each for your 588kW.
Other than that you do get a lot of leather, a high-quality interior, superior exterior styling, badge-snob value that's hard to put a price on and vast swathes of F1-derived technology. And a free car cover.
Engine & trans
Audi S5
9/10
The S5 Coupe's engine is an absolute peach, with a thick and steady flow of power that can make you forget a V8 version ever existed.
The turbocharged, 3.0-litre V6 is good for 260kW at 5400rpm and 500Nm from 1370rpm, channelled through a sensational eight-speed automatic gearbox and on to all four wheels. It's enough for a 4.7sec zero to 100km/h time and a limited top speed of 250km/h. But the sprint is only half the story, with the engine's mid-gear acceleration offering an insanely addictive rush of power when overtaking.
---
Ferrari 812 SUPERFAST
9/10
I did want to give the epic, enormous 6.5-litre naturally aspirated V12 engine a perfect 10 here, but when I paused to think about it I had to admit that it is, quite possibly, a little too powerful.
Yes, it is amazing to think Ferrari can build a car that has 588kW (800 horsepower - hence the 812 nomenclature; 800 horses and 12 cylinders) and doesn't just dig itself a hole in the road as soon as you put your foot down.
And yes, it does provide the kind of performance that makes all other cars seems a bit piss poor and pathetic, even the really good ones. 
But honestly, who could ever use it all, or need it all? They might seem like irrelevant questions, I guess, because it's all about conspicuous over-excess, a car like this, so really the question is, would anyone want to live with 588kW and 718Nm of torque, or is it just too scary in reality?
Well, a little bit, yes, but Ferrari's engineers have been wise enough not to actually give you all of that power, all the time. Torque is limited in the first three gears, and maximum mental power is actually only available, in theory, at 8500rpm in seventh gear, at which point you'd be approaching its top speed of 340km/h.
The fact that you can rev an engine this big, and this lusciously loud, all the way to 8500rpm is, however, a joy that would never tire.
In more practical terms, you can run 0-100km/h in 2.9 seconds (although cheaper, less crazy cars can do that, too) or 200km/h in 7.9 (which is a tiny bit slower than the far lighter McLaren 720S).
What you can't do, of course, is achieve any of those numbers on winter tyres, or roads with snow on them.
Fuel consumption
Audi S5
7/10
Well, Audi puts the number at a claimed/combined 7.5L/100km, but if you drive the S5 anything like you should, then you'll see that number climb skyward like its just been launched into space.
The S5 Coupe's C02 emissions are pegged at 171g/km.
---
Ferrari 812 SUPERFAST
5/10
Much as you can't have a good volcano without some serious lava, you can't have 800 horsepower without burning a lot of dead dinosaur goo. The Superfast has a claimed fuel-economy figure of 14.9L/100km, but on our drive the screen just said "Ha!" and we burned through a whole tank of fuel in less than 300km. 
Theoretical emissions are 340g/km of CO2.
Driving
Audi S5
9/10
Addictive. The power delivery from that S5's V6 is rich and constant, and there's useable urge lurking all over the rev range. The sprint from 0-100km/h is enticing enough, but it's the way the car climbs from 90km/h, 100km/h or 110km/h when you plant your foot, a surging wave of power kicking you in the base of the spine as the S5 Coupe blasts you into the future.
The steering tune is bespoke to the S5, and it's the only model in the A5 range that arrives with adaptive dampers as standard fit, allowing you to dial firmness into the suspension, as well as tightening up the steering, gearing and throttle response.
As a result, it is an absolute joy to pilot through bends, sitting low and flat throughout before making use of its all-wheel drive to hurtle out the other side. It's the stuff involuntary smiles are made of, and you're unlikely to ever tire of it.
For day-to-day use, however, it sits just on the firm side of comfortable, which might grate on pockmarked city road surfaces, but the engine, exhaust and steering weight are all muted enough to ensure it can double as a quiet and composed commuter.
---
Ferrari 812 SUPERFAST
8/10
Insane. It's a word that people often lift from their lexicon when describing a supercar experience, because clearly, as forms of transport, things like Ferraris and Lamborghinis are not sane options.
But the Superfast really deserves the word, because it feels not only the opposite of sane, but truly bonkers. As if someone built it for a dare, realised it was a bad and possibly dangerous idea, and then put it on sale anyway.
Picture some tiny-handed child with his greasy, post-cheeseburger fingers poised over a big red button on his desk that could wipe out humanity, and that's basically the situation your right leg finds itself in when driving the Superfast.
There is so much power on tap here - even the limited amount of it that the engineers allow you to access in lower gears - that it truly seems possible you'll have a Road Runner moment, and simply dig a hole in the ground, if you push the throttle too hard.
Yes, on the one hand, the noises this extreme V12 makes above 5000rpm are memorable and moving, like Satan himself singing Nessun Dorma in a shower of sparks. At one stage we found a long tunnel, perhaps the only dry road within 500km that day, and my colleague forgot all about his licence and let rip.
The numbers on my 'Passenger Screen' spun like poker-machine wheels, then turned red and then implausible. I was shoved back into my seat as if by Thor himself, and I squealed like a small pig, but my co-driver heard nothing over the Monaco tunnel during F1 sound.
Even on dry road, of course, the winter tyres we were forced (by law) to run in the foul snowy conditions could not maintain grip, and we constantly felt the rear skipping sideways. Fortunately we were in Italy, so people simply cheered us on.
The likelihood that you will lose traction in this car is so high that the boffins have included a special feature in its new 'Electronic Power Steering' system called 'Ferrari Power Oversteer'. When you inevitably start going sideways, the steering wheel will apply subtle torque to your hands, 'suggesting' the best way to get the car back in a straight line.
A proud engineer told me that this is basically like having a Ferrari test driver in the car with you, telling you what to do, and that they used their skills to calibrate the system. You can override it, of course, but it sounds scarily like an autonomous-driving precursor to me.
What's disappointing about this car having EPS at all, rather than a traditional hydraulic system, is that it just doesn't feel muscular enough for a hairy-handed monster of a car like this.
It is accurate and precise and pointy, of course, and makes driving the Superfast, even in stupidly slippery conditions, almost easy. Almost.
It's actually surprising how hard you can push a car like this along a windy and wet mountain road without careering off into a muddy field.
More time, and more traction, would have been appreciated, but you can tell it's the sort of car you'd grow into, and perhaps even feel in control of, after a decade or so together.
So it's good, yes, and very fast, obviously, but I can't get past the idea that it's all a bit unnecessary, and that a 488 GTB is simply, in every single way, a better car.
But as a statement, or a collector's item, the Ferrari 812 Superfast certainly is one for the history books.
Safety
Audi S5
9/10
Audi has thrown just about everything it's got at the S5 Coupe, and the safety list is extensive. Expect six airbags (dual front, side and curtain), which join a reversing camera, parking sensors, forward collision warning with AEB and pedestrian detection, a rear-impact sensor, cross-path assist and a driver fatigue detection system.
The entire A5 range was awarded the maximum five star ANCAP safety rating.
---
Ferrari 812 SUPERFAST
7/10
It might not surprise you to hear that, unlike every other company's press kits, the Ferrari ones don't generally include a section on 'safety'. Perhaps because driving something this powerful is inherently unsafe, or possibly because they believe their 'E-Diff 3', 'SCM -E' (magnetorheological suspension control with dual-coil system), 'F1-Traction Control', ESC and so forth will keep you on the road no matter what. 
If you do fly off, you'll have four airbags, and a nose as big as a house forming a crumple zone, to protect you.
Ownership
Audi S5
7/10
The Audi S5 Coupe is covered by a three-year, unlimited-kilometre warranty, and requires servicing every 12 months or 15,000kms.
Audi offers the ability to pre-pay your maintenance costs for the first three years at $1,850.
---
Ferrari 812 SUPERFAST
8/10
Once you've paid the vast cost of entry, it's nice to know you will get some stuff for free, like your first seven years of servicing, including all parts and labour, carried out by trained Ferrari technicians, who even dress like pit crew. It's called 'Genuine Maintenance', and is genuinely Kia-challenging in its scope.