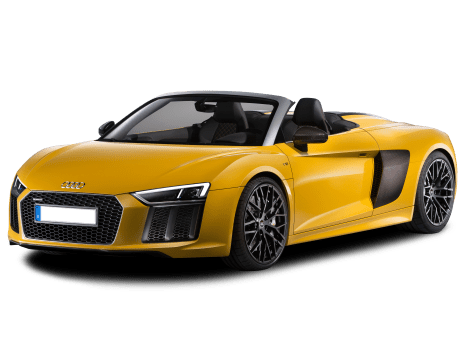 COMPARE
Audi R8
VS
Ferrari 812 SUPERFAST
Audi R8
Likes
Howling V10
Amazing traction
Looks more aggro now
Dislikes
No high-tech safety
Interior short on flexibility
Didn't get to drive it on 'real' roads
---
Ferrari 812 SUPERFAST
Likes
Savage design
Furious performance
Absurd V12 noise
Dislikes
Electronic power steering
Crazy price
Possibly too powerful for this planet
Summary
Audi R8
There is typically no need for introductions when it comes to the Audi R8. But the 2019 Audi R8 isn't the one you've come to know - its been sharpened up in terms of both its appearance, and its performance.
This heavily facelifted version of the second-generation Audi R8 keeps its high-revving V10 engine, and turbochargers have been kept at bay, too. It can't hold off the march of progress for much longer, though - it's almost certain this will be the last V10-engined R8… thankfully it has only just launched, so it should be on sale for a few years yet. 
I got a chance to drive the new Audi R8 V10 Performance model in Spain at the model's international launch drive this week - but only on Circuito Ascari race track. 
| | |
| --- | --- |
| Safety rating | — |
| Engine Type | 5.2L |
| Fuel Type | Premium Unleaded Petrol |
| Fuel Efficiency | 12.3L/100km |
| Seating | 2 seats |
---
Ferrari 812 SUPERFAST
Picturing yourself driving a Ferrari is always a pleasant way to waste a few 'when I win Lotto' moments of your life. 
It's fair to assume that most people would imagine themselves in a red one, on a sunny, good-hair day with an almost solar-flare smile on their faces. 
The more enthusiastic of us might throw in a race track, like Fiorano, the one pictured here, which surrounds the Ferrari factory at Maranello, and perhaps even specify a famously fabulous model - a 458, a 488, or even an F40.
Imagine the kick in the balls, then, of finally getting to pilot one of these cars and discovering that its badge bears the laziest and most childish name of all - Superfast - and that the public roads you'll be driving along are covered in snow, ice and a desire to kill you. And it's snowing, so you can't see.
It's a relative kick in the groin, obviously, like being told your Lotto win is only $10 million instead of $15m, but it's fair to say the prospect of driving the most powerful Ferrari road car ever made (they don't count La Ferrari, apparently, because it's a special project) with its mental, 588kW (800hp) V12, was more exciting than the reality.
Memorable, though? Oh yes, as you'd hope a car worth $610,000 would be.
| | |
| --- | --- |
| Safety rating | — |
| Engine Type | 6.5L |
| Fuel Type | Premium Unleaded Petrol |
| Fuel Efficiency | 15L/100km |
| Seating | 2 seats |
Verdict
Audi R8
7.6/10
This iteration could well be the final Audi R8 with a V10 engine, and what a note to go out on. Emissions laws and the ever-present push towards electrification are almost certain to see the next-generation R8 take a very different tack to this model. Lucky, then, that this is the best R8 yet. 
I know the final score doesn't necessarily reflect that - but that's because it falls short on 'regular' car things. Even so, it's an epic machine.
Would you have an Audi R8 over one of its rivals? Tell us what you think in the comments section below.
---
Ferrari 812 SUPERFAST
7.4/10
Clearly, this is not a car for everyone, and you'd have to question whether it's a car for anyone, really, but people who like spending $610,000 on Ferraris, and waiting in a queue to do so, will be delighted, because it delivers the kind of exclusivity, and bragging rights, that you'd have to hope a car called Superfast would.
Personally, it's a little too much, a little too over the top and definitely too mad, but if rockets are your thing, you won't be disappointed.
Is the Ferrari 812 Superfast a bit of you, or a bit too much? Tell us in the comments below.
Design
Audi R8
9/10
Wow, it was possible to make the Audi R8 even more attractive - the brand's designers have gone and done it with this facelift, which sees a number of changes to the exterior styling that combine for a more aggressive, sharper look.
The 'Singleframe' grille now looks even more menacing, having been widened and flattened, and any trace of chrome has been removed. As the chief designer told us, a supercar is no place from chrome. There are three small slats above the grille, which hark back to the iconic Audi Sport quattro model of the 1980s.
Further, the front splitter is wider, the rear diffuser has been made even more prominent, and there are new oval exhaust pipe outlets - previously reserved for Audi RS models only. 
My only 'errr' moment with the design is the mesh cooling section at the rear bumper, which appears a touch unfinished in combination with some colours, and it's also very rectangular, meaning the new exhaust tips are at odds with it. But it all has a purpose, and applies to the regular R8 and the LMS racer.
There are three new exterior packages available, which change elements such as the front splitter, door sill trims (side skirts) and diffuser. On the base car, there's a high-gloss black look; on the V10 Performance there's a matte titanium look to these bits. Optionally, there's a high-gloss carbon package.
Further, customers can get the badges and Audi rings painted in gloss black, while body paint colours now include 'Kemora grey' and 'Ascari blue'. There'll be 19-inch and 20-inch wheels offered, depending on the model.
Inside, there's been a bit less of a noticeable change. Check out the interior photos to see for yourself.
---
Ferrari 812 SUPERFAST
9/10
It's very… big, isn't it? And it looks even bigger in the flesh with a bonnet you could use to put a roof over your tennis court. In all, the Superfast is 4.6m long, almost 2.0m wide and weighs 1.5 tonnes, so it certainly has presence.
Making something this big look good is a challenge even for those as talented as Ferrari's design team, but they have nailed it. The front has what appears to be a mouth, poised to swallow lesser cars whole like some whale shark Terminator. 
The bonnet appears to be flaring its nostrils, and looks fabulous from the driver's seat, and the swooping side and taut rear complete things nicely.
Personally, it still just looks too big to be a Ferrari, but then this is not a mid-engined super car, it's a grand touring rocket ship, and the ultimate expression of unnecessary excess, and it pulls off that aura perfectly.
Practicality
Audi R8
7/10
Okay, so Audi claims "the driver sits in the new R8 like in a race car". 
Having been a passenger in the Audi R8 GT3 car the brand had on show, I can tell you that's not entirely true - because while you do sit about 12 centimetres higher than that ground-hugging beast, the regulation R8 model is superbly comfortable.
What the brand is getting at, though, is that the focus of all the interior design is to serve the driver. As such, there's no central media screen - instead, there's a 12.3-inch digital instrument cluster (Audi 'virtual cockpit') which is where the driver takes charge using steering wheel controls.
The system is crisp to look at, but it can be a little hard to get used to the controls, especially for sat nav inputs and so on. And that's even with the central MMI rotary dial with touch pad. 
But the other controls are great - I love the air-conditioning knobs, the gear selector and the switchgear, which all has a technical and beautiful finish to it. The steering wheel is a delight to hold, and the push-button starter is a real eye-catcher in red.
The seats in the cars we tested were superbly supportive and very comfortable, but the lack of adjustment of the fixed buckets means you might find yourself a bit too upright (if you get to spend more time in the car than we did).  
And even though it's a supercar, the R8 offers a level of practicality. Sure, the door pockets are virtually useless and there are no properly usable cupholders, but that gives you an idea to the intent of the car. There are, however, storage spots behind both of the seats, and there's a centre storage area in front of the shifter and in the armrest.
And while the R8 has a mid-mounted engine, there's still a boot: the R8 coupe's rear cargo bay offers enough room for a suitcase or two soft smaller bags for a weekend away, with 226 litres of cargo capacity - according to Audi, that's enough for a golf bag. There's a secondary storage area under the bonnet, which adds an extra 112L of space. Don't buy the Spyder if practicality is important to you, as it has even less storage space.
---
Ferrari 812 SUPERFAST
7/10
Practicality isn't really your concern when you buy a two-seat mega car like this, so let's just say it's about as practical as you would expect it to be. Not very, then.
Price and features
Audi R8
7/10
It's expected Audi Australia will again offer the R8 in two different specs when it launches in Australia around the fourth quarter of 2019. 
That means a base model (if you can call it that) V10 variant, and a higher-grade V10 Performance grade with more power and torque. The latter is expected to be the bulk seller - the current V10 Plus model accounts for some 90 per cent of R8 sales. Maybe they'll drop the base car - time will tell.
It's too early to have a stab at pricing and specifications, because nothing has been confirmed as yet and we'd be on Audi keeping prices relatively stable or maybe bumping them up - hey, you're getting more power for your money, after all! 
But you can bank on goodies like LED headlights, auto high-beam lights, leather seat trim, DAB+ digital radio, sat nav, Apple CarPlay and Android Auto, a 13-speaker sound system, auto headlights and wipers, push-button start and keyless entry and a fair bit more.
The V10 Performance model we drove had 20x8.5-inch front wheels and 20x11-inch rear wheels, with super grippy Michelin Pilot Sport Cup 2 tyres. 
For a guide, the current start price for the V10 is $366,340 plus on-road costs, while the V10 Plus (which will be renamed V10 Performance) currently lists at $402,430 before on-roads. Those prices are for the coupe - the Spyder convertible adds roughly $20,000 on both grades.
Considering some of the competitors, it is a little pricey - although it's the cheapest way into V10 supercar ownership. 
So, what are its rivals? Lamborghini has the Huracan (essentially an R8 twin - priced from $378,900 in RWD, or $428,000 for the AWD model), or you could take a look at a McLaren 570S ($395,000), Mercedes-AMG has the GT (from $261,130) and there are about 20 versions of the Porsche 911 you might consider (from $220,500). If the Spyder is more your go, I'd take a look at the Ferrari Portofino ($398,888), too.
---
Ferrari 812 SUPERFAST
6/10
Is it possible that any car - save one made from gold, dusted with diamonds and stuffed with truffles - would represent good value at a price of $610,000? It seems unlikely, but then people who can spend that much assay value differently, and would probably say that something as profound as the 812 Superfast is worth buying at any price.
Another way to look at it is price-per-litre, which is less than $100,000, considering you do get 6.5 litres of V12 Ferrari donk. Or you could go by kilowatt, which works out at nearly $1000 each for your 588kW.
Other than that you do get a lot of leather, a high-quality interior, superior exterior styling, badge-snob value that's hard to put a price on and vast swathes of F1-derived technology. And a free car cover.
Engine & trans
Audi R8
9/10
The new R8 retains the same 5.2-litre V10 (FSI) naturally-aspirated engine, but Audi's engineers have wrung its neck to squeeze more power and torque out of it.
There are two tunes available - the regular version, which has 419kW of power (up from 397kW), and 560Nm of torque (up from 540Nm). It only comes with a seven-speed 'S tronic' dual-clutch automatic transmission, and comes with quattro all-wheel drive. 
The claimed 0-100km/h time is just 3.4 seconds for the coupe and 3.5sec for the Spyder convertible. It tops out at 324km/h, or 322/km/h in the convertible.
The higher-grade version is by far the most potent R8 yet, with 456kW of power (up from 449kW) and 580Nm of torque (was 560Nm). Again, S tronic and quattro, and this time around with a 0-100km/h acceleration claim of 3.1sec for the coupe (3.2sec convertible). Top speed is 331km/h or 329km/h, depending on body type.
---
Ferrari 812 SUPERFAST
9/10
I did want to give the epic, enormous 6.5-litre naturally aspirated V12 engine a perfect 10 here, but when I paused to think about it I had to admit that it is, quite possibly, a little too powerful.
Yes, it is amazing to think Ferrari can build a car that has 588kW (800 horsepower - hence the 812 nomenclature; 800 horses and 12 cylinders) and doesn't just dig itself a hole in the road as soon as you put your foot down.
And yes, it does provide the kind of performance that makes all other cars seems a bit piss poor and pathetic, even the really good ones. 
But honestly, who could ever use it all, or need it all? They might seem like irrelevant questions, I guess, because it's all about conspicuous over-excess, a car like this, so really the question is, would anyone want to live with 588kW and 718Nm of torque, or is it just too scary in reality?
Well, a little bit, yes, but Ferrari's engineers have been wise enough not to actually give you all of that power, all the time. Torque is limited in the first three gears, and maximum mental power is actually only available, in theory, at 8500rpm in seventh gear, at which point you'd be approaching its top speed of 340km/h.
The fact that you can rev an engine this big, and this lusciously loud, all the way to 8500rpm is, however, a joy that would never tire.
In more practical terms, you can run 0-100km/h in 2.9 seconds (although cheaper, less crazy cars can do that, too) or 200km/h in 7.9 (which is a tiny bit slower than the far lighter McLaren 720S).
What you can't do, of course, is achieve any of those numbers on winter tyres, or roads with snow on them.
Fuel consumption
Audi R8
7/10
Don't expect to see the official claimed fuel consumption figure on a regular basis. The number is 12.3 litres per 100 kilometres for the most potent coupe version, while the lower-power version uses a claimed 11.4L/100km. 
The engine has cylinder deactivation for less intense situations, and there's engine stop-start, too. 
It uses 98RON premium unleaded fuel, and has an 83 litre fuel tank capacity. 
---
Ferrari 812 SUPERFAST
5/10
Much as you can't have a good volcano without some serious lava, you can't have 800 horsepower without burning a lot of dead dinosaur goo. The Superfast has a claimed fuel-economy figure of 14.9L/100km, but on our drive the screen just said "Ha!" and we burned through a whole tank of fuel in less than 300km. 
Theoretical emissions are 340g/km of CO2.
Driving
Audi R8
9/10
I can't say what it's like on public roads, but my stint on a shortened track at Circuito Ascari near Ronda in Spain left me grinning ear to ear.
And so it should, with the immense performance of the V10 engine - tested on track in the higher output R8 Performance spec with the full 456kW and 580Nm complement of grunt numbers. 
Driving the R8 reminded me of that one time in under 11s rugby league when a much smaller defender managed to lift me up and dump be on the ground - an impressive effort, because I was heavy enough to be running around in under 15s. At that time, it took a second for me to realise what had happened, and was enough to leave me a bit short of breath. 
The same sensation came to mind as I loaded up the throttle and threw myself at the horizon from the pit exit. Under a heavy right foot, the world around me started to blur and the first corner of the track suddenly approached after the crest. I had to try and remember what the lead car had shown me in the sighting laps prior, where to turn, how hard to get on the gas. 
But I was distracted by the mind-bending physics I was experiencing, not to mention the theatre of the R8. The sound really is hard to beat - the howl of a high-revving V10, unmuffled by turbochargers, is something to behold when it's enveloping you, and the fact the noise emanates from behind your ears almost makes you want to push it even harder. 
1 – 6 – 5 – 10 – 2 – 7 – 3 – 8 – 4 – 9. That's the firing sequence of the V10. Just thought you might like to know.
The gearshifts cut through the noise with prodigious sharpness, and when I chose the 'Performance' drive mode (which firmed everything up, enabled even more manic acceleration and disabled traction control) the shifts were brutal, often resulting in a shockwave through the car. It was some seriously good feedback for me as the driver, though it may not bode well for longevity…
There was tremendous traction from the quattro all-wheel drive system from a standstill, and across a long, banked corner on the track I felt super confident, pushing harder than I know I would have dared in a rear-drive car. 
I managed to get a steer in both an R8 with the regular steering system and a model with the brand's 'dynamic' steering set-up. Both have been retuned to be "more direct and precise throughout the entire speed range".
I preferred the dynamic steering set-up which can vary the steering ratio based on the speed, and is "very direct" according to Audi - and even more so when Performance mode is engaged.
I found it to be super predictable at lower cornering speeds, and therefore more manageable to an amateur like me. One of Audi's test drivers told me that he prefers the normal steering set-up, because at 'really big speed' it's easier to predict. 
The highest speed I saw was just a tickle over 200km/h, and I understood his take on it. Maybe normal steering for high-speed tracks, then? Or I just need to learn to drive faster…? Hey, no-one wants to be the guy who bins the $400k supercar on the very first rotation of about thirty over a two-week run of international journalists visiting to sample the newest, bestest and most expensivest Audi has to offer. 
The models we drove were all fitted with the optional carbon ceramic braking package, which allowed the stoppers to resist fade for a lot longer - ideal for extended track time sessions, and they certainly stood up to my reliance on them on my few short stints on the track. They came in especially handy during a (very cool) night session where we were expected to remember the track layout about seven hours after our first outing.
It would have been great to drive it on real roads, because apparently that's where the dynamic steering is most impressive. 
---
Ferrari 812 SUPERFAST
8/10
Insane. It's a word that people often lift from their lexicon when describing a supercar experience, because clearly, as forms of transport, things like Ferraris and Lamborghinis are not sane options.
But the Superfast really deserves the word, because it feels not only the opposite of sane, but truly bonkers. As if someone built it for a dare, realised it was a bad and possibly dangerous idea, and then put it on sale anyway.
Picture some tiny-handed child with his greasy, post-cheeseburger fingers poised over a big red button on his desk that could wipe out humanity, and that's basically the situation your right leg finds itself in when driving the Superfast.
There is so much power on tap here - even the limited amount of it that the engineers allow you to access in lower gears - that it truly seems possible you'll have a Road Runner moment, and simply dig a hole in the ground, if you push the throttle too hard.
Yes, on the one hand, the noises this extreme V12 makes above 5000rpm are memorable and moving, like Satan himself singing Nessun Dorma in a shower of sparks. At one stage we found a long tunnel, perhaps the only dry road within 500km that day, and my colleague forgot all about his licence and let rip.
The numbers on my 'Passenger Screen' spun like poker-machine wheels, then turned red and then implausible. I was shoved back into my seat as if by Thor himself, and I squealed like a small pig, but my co-driver heard nothing over the Monaco tunnel during F1 sound.
Even on dry road, of course, the winter tyres we were forced (by law) to run in the foul snowy conditions could not maintain grip, and we constantly felt the rear skipping sideways. Fortunately we were in Italy, so people simply cheered us on.
The likelihood that you will lose traction in this car is so high that the boffins have included a special feature in its new 'Electronic Power Steering' system called 'Ferrari Power Oversteer'. When you inevitably start going sideways, the steering wheel will apply subtle torque to your hands, 'suggesting' the best way to get the car back in a straight line.
A proud engineer told me that this is basically like having a Ferrari test driver in the car with you, telling you what to do, and that they used their skills to calibrate the system. You can override it, of course, but it sounds scarily like an autonomous-driving precursor to me.
What's disappointing about this car having EPS at all, rather than a traditional hydraulic system, is that it just doesn't feel muscular enough for a hairy-handed monster of a car like this.
It is accurate and precise and pointy, of course, and makes driving the Superfast, even in stupidly slippery conditions, almost easy. Almost.
It's actually surprising how hard you can push a car like this along a windy and wet mountain road without careering off into a muddy field.
More time, and more traction, would have been appreciated, but you can tell it's the sort of car you'd grow into, and perhaps even feel in control of, after a decade or so together.
So it's good, yes, and very fast, obviously, but I can't get past the idea that it's all a bit unnecessary, and that a 488 GTB is simply, in every single way, a better car.
But as a statement, or a collector's item, the Ferrari 812 Superfast certainly is one for the history books.
Safety
Audi R8
7/10
The Audi R8 hasn't been crash-tested by ANCAP or Euro NCAP, but Audi claims the car's spaceframe chassis offers "high crash safety". 
You get a reversing camera and parking sensors (optional in Europe, expected to be standard in Australia) plus the R8 comes with six airbags, including dual front, front side and curtain coverage. Spyder models miss out on curtain airbags.
But there is no advanced safety equipment - no auto emergency braking (AEB), no lane-keeping assist, no blind-spot monitoring, rear cross-traffic alert or adaptive cruise control. 
Top spec models are expected to get the excellent laser headlights (auto high-beam light up to 600 metres throw distance), and all models come with LED headlights.
---
Ferrari 812 SUPERFAST
7/10
It might not surprise you to hear that, unlike every other company's press kits, the Ferrari ones don't generally include a section on 'safety'. Perhaps because driving something this powerful is inherently unsafe, or possibly because they believe their 'E-Diff 3', 'SCM -E' (magnetorheological suspension control with dual-coil system), 'F1-Traction Control', ESC and so forth will keep you on the road no matter what. 
If you do fly off, you'll have four airbags, and a nose as big as a house forming a crumple zone, to protect you.
Ownership
Audi R8
6/10
The warranty plan for the Audi R8 is the same as all other Audi models - three years/unlimited kilometres. Not as good as you'll get from Ferrari, which can be optioned with up to 15 years' warranty.
There is no capped price service plan for the R8, and no pre-purchase plan like you can get on the rest of the 'regular' Audi range. 
---
Ferrari 812 SUPERFAST
8/10
Once you've paid the vast cost of entry, it's nice to know you will get some stuff for free, like your first seven years of servicing, including all parts and labour, carried out by trained Ferrari technicians, who even dress like pit crew. It's called 'Genuine Maintenance', and is genuinely Kia-challenging in its scope.