Top 5 tips for an ultimate High Country getaway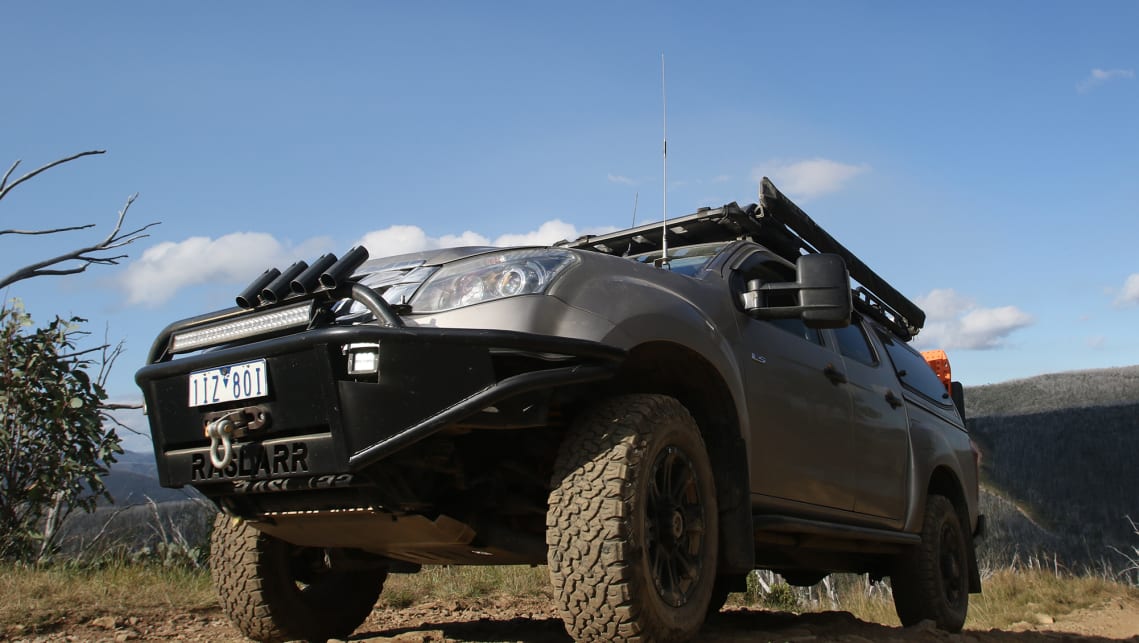 The swathe of mountainous terrain that stretches across the Victorian Alps is some of the prettiest country you'll find anywhere in Australia, and it's little wonder its siren call attracts four-wheel-drivers from all corners to tackle its burgeoning trail network.
However, as with all off-road adventures, it's a great idea to make sure you've done your homework before you set out for the high country. Most of these points are really nothing more than plain old common sense, but even the most pedantic people can overlook the simple things in the excitement of planning a big trip.
Carsguide recently spent some time in the high country, and we've slung together a list of the dos and don'ts of heading for for the High Country.
1 Prepare your vehicle for the High Country

Your tyres - including your spare - will need to be checked and rotated or replaced if necessary.
It should go without saying that your vehicle should be well maintained and in god nick before tackling off-road terrain. In particular, have your oil changed, all filters checked and cleaned/replaced where necessary and your suspension bolt-checked as a bare minimum
Your tyres – including your spare – need to be checked and rotated or replaced if necessary, as gravel and rocks will eat older tyres for breakfast, causing punctures at best and blowouts at worst
There are a myriad of trails that a well looked after 4x4 can tackle without major modification, so don't worry if you don't have snorkels or locking diffs. A bull bar with ancillary lights aren't bad additions, given the number of roos around Victoria, while a basic toolkit consisting of wheel chocks, compressor, guage, a good jack, a wheel brace and basic hand tools is a good idea.
Finally, make sure your cargo is properly secured behind a barrier or with decent tie-down straps. It can get bumpy out there.
2 Planning your High Country trip

You may well be on your own depending on the route you take, so take plenty of water and a bit of extra food, as well as something to keep you warm.
The biggest base town before you climb up into the High Country proper is Bright, where you can stock up on essentials like fuel, food and water.
Here's a great tip we picked up from a fellow traveller on our trip; your windscreen washer bottle could be a potential water supply if things get really, really dire – so avoid adding detergent to yours.
There are points of civilisation scattered throughout the High Country, but depending on the season, you may well be on your own depending on the route you take, so take plenty of water and a bit of extra food, as well as something to keep you warm. 
For example, our March trip passed through a sleeping Mt Hotham village, while the café at Telephone Box Junction was also closed for the season.
If you're based in Bright or Mansfield – two of the best spots to access the High Country - it's also possible to use the town as a base to venture out on day trips, or you can, or you can pack a tent and camp out in some amazing terrain. 
No matter which way you choose to see them, always have a plan of escape; the weather in the mountains can turn nasty at literally a moment's notice, and there's few things like a cold, blustery day in the wild to make you realise how vunerable we can be!
Toilets are in scarce supply up the top, so make sure your shopping trip includes a few rolls of Sorbent's finest… and while Australian national parks are yet to enforce 'leave no trace' rules, packing your poop back out with you isn't a particularly onerous task, and it helps to reduce the amount of human waste in the bush
3 Staying safe in the High Country

Make sure you pack the right things to stay safe on your trip.
High Country trails are challenging enough that a reduction in tyre pressure is advised, so be sure to pack a 12v-powered compressor and a suitable tyre gauge.
You can use a an all-in-one deflator, or a pressure gauge and a small stick can work just as well; after the third or fourth time, you'll become pretty adept at letting air out and putting it back in!
Whether you're travelling in convoy or by yourself, communication is vital. A decent car-mounted UHF radio is a great idea; they can be rented from comms specialists in most big cities if you don't want to have one in your car all the time.
Phone communication is patchy at best, and varies hugely between all three Australian networks, so don't rely on your iPhone as your only communication tool.
4 Driving tips for the High Country

Make sure to maintain a safe distance when travelling in a group.
When you're with a few other people, too, make sure to keep a safe distance between vehicles, in case the driver ahead needs to reverse down a hill. It also keeps the risk of stone damage to windscreens and radiators to a minimum.
As well, use your gearing to best advantage. There are areas where low-range gearing will stay engaged for hours on end, and if you use too much of your brakes to keep speed under control, you might find you don't have any left at a very inopportune time. Gear down early, drive to the conditions and give yourself time.
5 High Country hot spots

There are numerous stunning vistas to be seen in Victoria's High Country.
Sheepyard Flat, Howqua River – a beautiful plan that offers access to the Howqua River, and it's not a bad point to kick off your adventure.
Trig station, Blue Rag trail – a relatively short trail that offers a great reward. The views from the trig station turnpoint are simply stunning.
Bindaree Falls – a short hike off the Circuit Road reveals a hidden treasure that wouldn't look out of place in Jurassic Park.
Do you have any extra tips for getting the most out of Victoria's High Country? Tell us what you would add in the comments below.