How to find the best drawers for your ute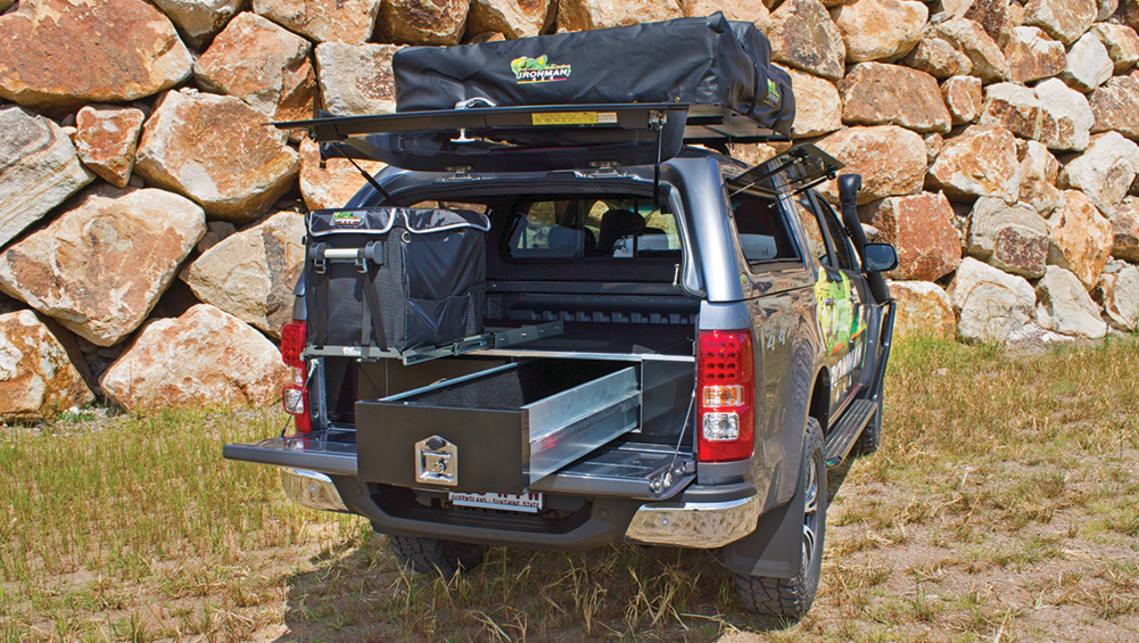 Whether you have a Ford Ranger, Toyota HiLux or Mitsubishi Triton – or any ute really – your trusty workhorse will benefit from a high-quality set of ute drawers.
Lockable ute drawers, whether they're installed into your ute's canopy as slide out drawers, or integrated as ute tray drawers under the load space, add another level of safety and security to your work truck/off-road tourer, by keeping your tools and any other gear protected from the weather and prying fingers.

Drawers range from shallow ones, such as this, through to deeper versions. (image credit: Tom White)
Ute sliding drawers, or sliding drawers for vans, also add another level of functionality to your ute, helping you to keep tools, camping gear and bits and pieces, neat and tidy and, if necessary, stored away separately from each other in the same drawer space. And – bonus – ute rear drawers are easy to access and use.
Here is our guide to finding the best sliding drawers for your ute. Read on.
Different types of ute drawers

A drawer will help to keep your tools stored away. (image credit: Dean McCartney)
There are numerous choices available, from single- to double-drawer storage systems, as well as shallow and segmented drawers, and deeper single-space receptacles.
Drawer dimensions will vary depending on the type of drawer system you want but materials will generally remain much the same: aluminium body and rails/runners, stainless-steel latches, an interior lined with UV-stabilised heavy-duty marine-grade carpet, as well as an aluminium top, or marine-grade plywood and carpet top or a rubberised surface over the top of the drawers.
While ute drawers may differ in size and configuration, they will remain rather similar in terms of the features offered as standard, depending on price. As a minimum, a drawer should be lockable, be on a smooth-sliding rail system (or something similar), and have a pin which stops the drawer from sliding when the vehicle is parked on an incline. 
A drawer should be able to cop 100kg per drawer or more and some ute storage drawers slide out further than their frame for easy access.
How much does a ute storage drawer cost?

Drifta drawers that stash work tools during the week can be switched into camping mode on weekends. (image credit: Brendan Batty)
Because your options range from DIY ute drawers, second hand, through to off the shelf, and custom made, prices vary greatly. However, expect anything from around $250 for second hand ute drawers, and up to $2000 or more, depending on the complexity and customisation of your desired drawer system. 
For example, Gloucester, NSW-based Drifta Camping and 4WD specialises in camping fit-outs but there's no reason why your ute drawers can't be used for work and play. This respected company does a storage drawer package ("the most popular set-up for every dual cab", they reckon) for $1725 and that includes two full-length drawers and a table unit.
Well-respected Australian aftermarket brands, Ironman 4x4 and ARB, do a stack of different drawer set-ups, single and twin. Prices available on request.
Just remember: highly customised and specifically purpose-built ute drawers will cost even more than off-the-shelf drawer versions.
Warranties for ute drawers range from 12 months, two years to a lifetime, depending on the brand/manufacturer involved – but check the fine print as that warranty may apply only to repair and replacement and also only to the original owner.
Who are the leading brands & manufacturers? Best places to buy?

Ute drawers needn't be for tools only. (image credit: ARB)
Focus your shopping research on local well-respected aftermarket brands and manufacturers, including Ironman 4x4, ARB, Flexiglass, NorWeld, Carryboy Australia, Opposite Lock, and TJM, and these companies have branches in most capital cities including Sydney, Melbourne, Perth and Adelaide.
Contact any of these local mobs for a set of ute drawers:
Find your nearest ARB store here.
Find your nearest Ironman 4x4 store here.
Visit the Norweld website for your nearest stockist.
Visit CarryBoy to find your nearest stockist.
Visit Flexiglass (and go to 'Locate a Distributor') for your nearest stockist.
Find your nearest Wolf 4x4 store here.
Visit Opposite Lock to find your nearest store.
Find the nearest TJM store here.